Finding the best F1 betting site in the USA might seem a daunting task but once you check out our reviews, you'll have a clear idea about the best Formula One sportsbooks on the market. In this guide we don't just run you through our list of sportsbook options but also give you some insights into how to sharpen your F1 betting skills. So, if you are looking to find a top-quality F1 betting site and hone your betting skills all at the same time, then read on to learn more!
The Best F1 Betting Sportsbooks List
Sportsbooks in our list of the top F1 betting sites are all licensed in the US and are prominent platforms with plenty of exciting features.
BetMGM – The best F1 betting site in the US
Borgata – A top F1 betting site with ample deposit options
FanDuel – A good selection of F1 betting markets
DraftKings – The best F1 betting app
PointsBet – The best F1 betting site for live betting
Unibet – Lucrative promotions and bonuses
Best F1 Betting Sites Reviewed
We have reviewed the top F1 betting sites so that you can make an informed decision before choosing one. So, read on and find the best platform for your betting interests.
1. BetMGM – The Best F1 Betting Site in the US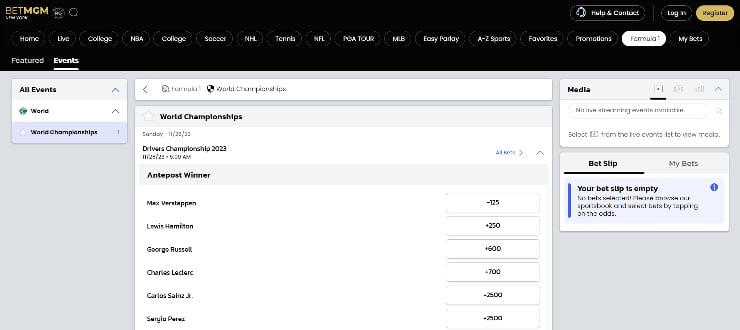 As far as popular sportsbooks in the US go, you won't find much better than BetMGM. With a good selection of F1 betting markets and a host of different sports to bet on, the BetMGM platform gives a comprehensive sportsbook experience. Along with the array of sports, BetMGM also has an excellent range of betting markets. Also, gamblers that sign up to the site can grab a very nifty BetMGM betting welcome bonus code, in addition to the tons of different promotions they have running.
BetMGM also offers users plenty of payment methods to choose from, including the likes of Visa, MasterCard, Apple Pay, online banking, Discover, and many more. Moreover, if you want to learn more about potential transaction fees or anything related to betting on MGM, you can easily get information from their helpful customer support members. To summarize, BetMGM should be at the top of your list of F1 sportsbooks to check out.
Pros:
Plenty of promotions
Great customer care
Superb user interface
A multitude of betting markets
Cons:
Tough bonus wagering requirements
Limited bonuses in some states
2. Borgata – A Top F1 Betting Site With Ample Deposit Options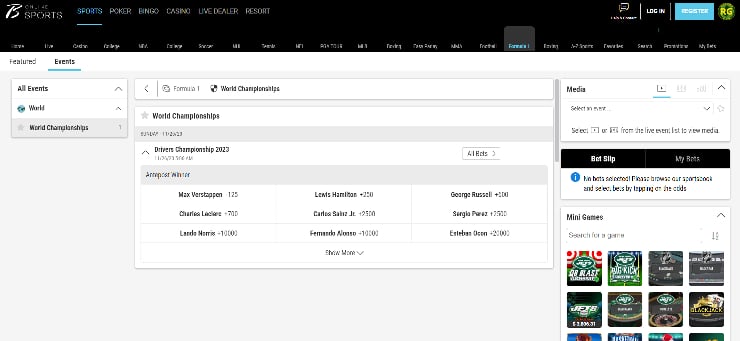 The first thing that you notice on the Borgata platform is how well it has been put together. Everything is exceptionally easy to access, from the range of sports they offer and their payment method options to customer support and Borgata betting bonus codes. As a result, you won't be stuck aimlessly surfing the site in search of its features. Borgata also has over 20 different sports for you to bet on, which of course, includes all the F1 races and ice hockey, with it ranking among the top NHL sportsbooks.
Further, the betting markets match the diversity of the sports on the site, as we found hundreds of different pre-match and live markets for F1 betting. Upon further inspection, we found over 10 different deposit methods that you could choose from to fund the sportsbook. In addition, there are no transaction fees, and you can, for the most part, withdraw cash within 2 days. However, your deposits are almost always instantaneous.
Pros:
Excellent UI
Plenty of deposit options
Rich in betting markets
Excellent welcome bonus offer
Cons:
Live betting can be slow at times
3. FanDuel – A Good Selection of F1 Betting Markets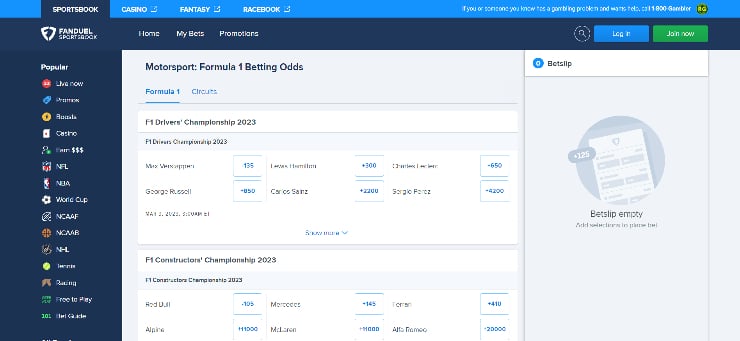 FanDuel has become a household name across the US. They offer exquisite FanDuel betting bonus codes and promotions for new and existing players to claim. Moreover, the sportsbook itself is also a dream to use as all everything is effortless. Hence, FanDuel is ideal for newer F1 betting fans, as they won't feel overwhelmed by what it offers.
As far as the sportsbook itself goes, FanDuel covers all of the F1 events throughout the year and also offers the chance to bet on plenty of other national and international sporting leagues and tournaments. We were also really impressed with the competitive F1 betting odds offered by FanDuel.
If you are looking to make your first deposit on the site, you can do so by choosing from the plethora of eWallet and traditional banking options that they provide. In addition, should you run into an issue with your account or if you just need some advice, you can always reach out to their professional customer service team.
Pros:
Rewarding bonuses on offer
Excellent GUI
Helpful customer support team
Comprehensive coverage of F1 markets
Cons:
Fewer cashout options
Limited F1-specific promotions
4. DraftKings – The Best F1 Betting App
Quite simply, DraftKings has become a juggernaut of the online sports betting scene in the US right now. In fact, DraftKings offers one of the best online gambling sites in the USA, and it has seemingly done the trick as thousands of gamblers have flocked to join the site. Among these are plenty of F1 betting fans, as the sportsbook does a great job with F1 betting options.
Aside from F1, you can also bet on sports like basketball, rugby, soccer, football, and baseball. In fact it is one of the best MLB sportsbooks in the US. In addition, all of these sports have ample markets for you to choose from, so you won't feel the least bit limited in your options. Of course, you'll have the same kind of experience with payment methods as well, as there is a multitude of eWallets and online banking options to choose from. So, be sure to check DraftKings out if you haven't already.
Pros:
Great fantasy sports selection
Good range of F1 markets
Multiple deposit options
Superb UI
Cons:
The rewards system is overly complicated
Live streaming can be laggy
5. PointsBet – Best F1 Betting Site for Live Markets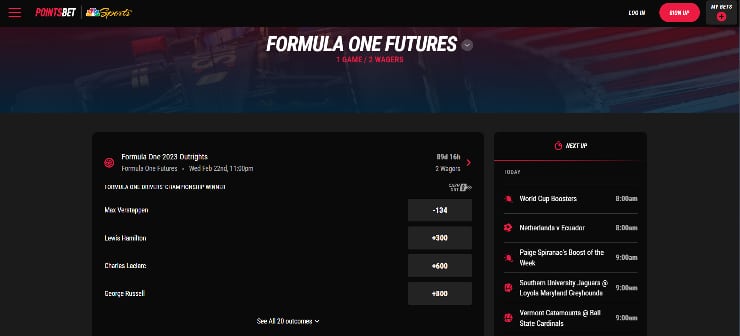 Pointsbet is an excellent option for F1 betting fans, especially for its live betting section. After testing the site out, we found that placing a bet on an F1 race was super straightforward. The betting slip makes your life easy, and selecting your markets is super simple too. Of course, if you want to change things up, you can place bets on other events, with Pointsbet offering a decent range of sports and also ranking as one of the top NFL betting sites.
There are plenty of deposit options to choose from, and if you want to know more about them, don't be shy to reach out to the support team. In fact, we wanted to find out more about the PointsBet betting bonus codes, so we chatted with one of the support staff members. We found them to be genuinely invested in our questions and super friendly as well. It's one of the big reasons why we suggest you check out the platform yourself.
Pros:
Simple and easily-navigable UI
Reliable customer support
Ample deposit options
F1 coverage is comprehensive
Cons:
Limited alternate sports
A bit light on betting markets
6. Unibet – Lucrative Promotions and Bonuses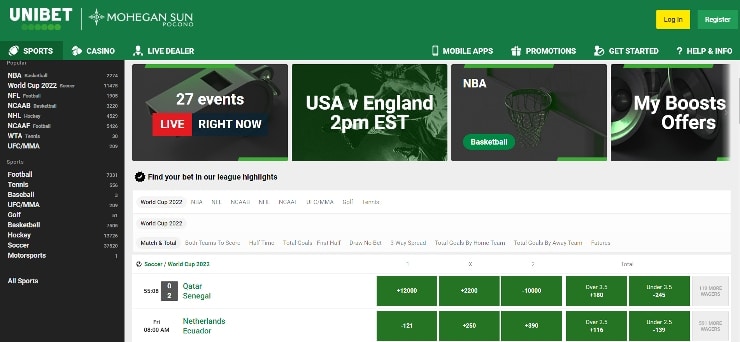 Unibet is a massive online sportsbook that caters to just about every single state that allows legal online sports betting. They cover just about every sport you could possibly think of, and their F1 betting markets are just as diverse. You can also get your hands on some of the most generous promotions via the latest Unibet betting bonus codes.
Unibet offers a plethora of eWallets and online banking options. Their customer support team is dependable, and the site itself is reliable, too, never lagging or going offline. You can rest assured that this follows suit with their live betting feature as well. So if you aren't sold on the other F1 betting options we mentioned, we are confident you will be with Unibet.
Pros:
The seamless and quick deposit process
Offers live betting and streaming
Reliable customer support
Tons of sports to bet on
Cons:
Fewer eWallet options
Bonus offers have strict terms and conditions
FAQs
Below, we've touched on the most common questions and their answers to help you better understand F1 betting online.
Is F1 Betting Profitable?
How Do I Bet on F1 Online?
Comparing the Best F1 Betting Sites
Let's take a quick look at how these F1 sportsbooks differ in terms of the bonuses they offer you and whether or not they offer live betting and live streaming.
| | | | | | |
| --- | --- | --- | --- | --- | --- |
| Sportsbook | Sign-Up Bonus | Bonus Code | Sports to bet on | Live Betting | Live Streaming |
| BetMGM | Risk-free bet, up to $1000 | N/A | 20+ | ✅ | ✅ |
| Borgata | Risk Free First Bet up to $500 | N/A | 20+ | ✅ | ✅ |
| FanDuel | Risk Free First Bet up to $1000 | N/A | 20+ | ✅ | ✅ |
| DraftKings | 20% up to a maximum of $1,000 | N/A | 15+ | ✅ | ✅ |
| Pointsbet | Four $200 Second Chance Bets | N/A | 15+ | ✅ | ✅ |
| Unibet | Risk free bet up to $500 | N/A | 15+ | ✅ | ✅ |
F1 Betting Explained
F1 is one of the biggest sports in the world and is undoubtedly the most watched motorsport. With fans from all across the globe, F1 is another opportunity for sports betting fans to place bets on major events.
F1 betting is not all that difficult to understand. As we mentioned earlier, all you need to do is find a reputable sportsbook to sign up with. Once you have done that, you can then start crafting your bets on these F1 racing events. Again, there are a number of markets for you to choose from, so don't hesitate to get creative with your betting slips.
F1 Betting Markets
As we have just mentioned, Formula 1 betting doesn't need to be quite as dull as simply betting on who you think will win a race (although that is an option for you). Instead, most online sportsbooks will offer you a good variety of betting markets to choose from. So, in this section, we'll take a look at some of the popular F1 betting markets.
Drivers' Championship
You'll be betting on a driver to win the championship in this market. In addition, most of the best sportsbooks in the US also accept wagers on other positions in the championship standings, like runners-up, to finish last, etc.
Constructors' Championship
In this market, you'll be betting on the Constructors' Championship at the end of the season. The trophy is awarded on the basis of the total points collected by both cars in the team. 
Race Winner/Positions
Unlike the above two markets, here you'll only be concerned with the winner of a single race instead of the whole season. Moreover, the best F1 betting sites also accept bets on the final race positions, including podium finishes, top 10 finishes, DNFs, etc.
Other Popular Bets
Other than the markets mentioned above, you can also bet on things like who will have the fastest lap in the race, which drivers will crash out of a race, who will finish in the top 3, what team will pit first, etc. Furthermore, you can also place futures bets, like who will have the most pole positions, fastest laps, DNFs, etc. 
Bonuses Available at F1 Betting Sites
When you sign up with one of the best Formula 1 betting sites, you will find that you will have the chance to claim bonus offers. There are a couple of different types of bonus offers that you can cash in on, some of which don't always come as a welcome offer for new players.
Match Deposit Bonuses
One of the more common bonuses you will come across on F1 betting platforms is the matched deposit bonus. A matched deposit bonus is typically found as a welcome bonus but can come as a reload bonus as well. These bonuses can vary greatly in terms of what they offer you, so let's look at a quick example.
A sportsbook may offer new players who sign up to their site a 100% matched deposit offer of up to $300. This means that if you make a first deposit of $300, then the sportsbook will match that with an additional $300, giving you $600 in total to play with. But keep in mind these percentages can vary from anywhere between 50% and 200%, and they usually come with minimum deposit limits as well.
No Deposit Bonuses
Now, this is a type of bonus that really gets gamblers excited. As you can probably tell by the name, a no-deposit bonus is something that requires little to nothing from the gamblers themselves. All you need to do to claim a no-deposit bonus is sign up on the site. In addition, these bonuses are very rare, so when you see one, it's always a good idea to grab it with both hands.
An example of a no-deposit bonus could be something like this. An F1 betting sportsbook will give you a straight $20 bonus simply for signing up to their site. The bonus amount will generally be a lot lower than a matched deposit offer, as the sportsbook doesn't want to give away too much cash for free.
Free Bets
A free bet offer can come in a few different variations. Put simply, the sportsbook will give you a free bet offer to a certain value. In some cases, you may have to place a qualifying bet first before you can access your free bet bonus. For example, you may receive a $20 free bet offer from the sportsbook, but only after you have placed a qualifying bet of the same value. Once that bet clears (win or lose), you will then be credited with your free bet offer.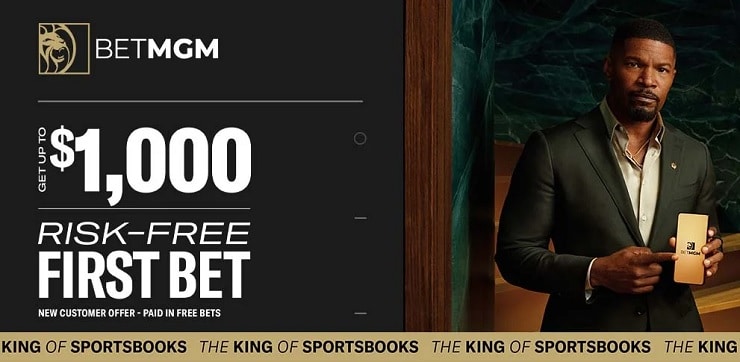 Live Betting with Formula 1 Sportsbooks
Pre-race betting markets are popular among F1 betting fans, but it is not your only avenue. Something that offers you a bit more dynamism and excitement is live betting. Put simply, you are able to place bets on a race while the race is still unfolding. This gives you plenty of exciting opportunities.
For example, if you see that certain drivers are performing well halfway through the race, you can place a live bet on him to finish above a certain position. Keep in mind that your odds may be less favorable than they were before the race, as you naturally have more information available to you while the race is actually happening. Although, that can work both ways.
If we had to pick out our favorite site for live betting, it would have to be BetMGM. BetMGM not only offers you plenty of live betting markets to choose from, but their live betting feature runs like a dream. Moreover, the section hardly ever lags, which is crucial when you are placing live bets, as every second counts.
F1 Sportsbooks with Live Streaming
Some sportsbooks will go one step further to offering just live betting by live streaming the events on the sportsbook. Let's have a look at which of the sportsbooks we have mentioned allow you to live stream on their platforms.
BetMGM – offers live streaming
Borgata – offers live streaming
FanDuel – offers live streaming
DraftKings – offers live streaming
PointsBet – offers live streaming
Unibet – offers live streaming
Biggest F1 Races to Bet On
Below, we've run through the biggest races of the year that you simply cannot miss out on!
Monaco
Silverstone
Spa-Francorchamps
Albert park
Monaco Street Circuit, Monaco Grand Prix
As far as affluence and class go, there are few events throughout the season that can match the glamor of the Monaco Grand Prix. While the circuit itself has arguably been outgrown by F1 cars today, it is still an absolute spectacle, one in which F1 fans can relish the excitement that the high-speed street circuit provides.
Silverstone, British Grand Prix
A race with one of the richest histories, the British Grand Prix is a legendary event in the F1 season. The first race in the modern F1 era took place at Silverstone all the way back in 1950. Since then, it has become a staple in the F1 season. With its old-school open track, Silverstone always provides a few twists and turns.
Spa-Francorchamps, Belgian Grand Prix
The Belgian Grand Prix is beloved for many reasons, but one thing it is absolutely known for is the difficulty of its corners. The circuit is one of the trickier obstacles for drivers during the F1 season, but for the fans, it is a race that is always highly anticipated.
Albert Park, Australian Grand Prix
There are few tracks around the world that so seamlessly blend permanent track features with street features. The circuit poses a unique challenge to drivers because of this extraordinary blend. In addition, the track underwent a major renovation in 2019, which has now made it even more appealing to F1 fans.
Is F1 Betting Legal in the US?
If you enjoy watching F1, then chances are you already enjoy some F1 betting as well. However, not everyone in the US has the luxury of being able to bet on F1 legally. This is due to the fact that many states still do not allow legal online sportsbooks within their borders. As it stands, these are the states that legalized online sports betting and, therefore, offer legal F1 betting opportunities:
Arizona
Arkansas
Colorado
Connecticut
Illinois
Indiana
Iowa
Louisiana
Michigan
Nevada
New Hampshire
New Jersey
New York
Ohio
Oregon
Pennsylvania
Rhode Island
Tennessee
Virginia
West Virginia
Wyoming
Payment Methods available at F1 Betting Sites
F1 betting can be a truly exciting experience, but you need to know that you can fund your bets with a reputable and reliable deposit method first. There are a number of deposit options available with the best sportsbooks, but they may vary from site to site. Let's have a look at some of the main payment methods you can make use of on these sites.
eWallet Betting Options
A favorite for many who enjoy F1 betting is eWallets, as they are super fast and reliable, depending on the service you use. The best eWallet options on F1 sportsbooks right now include the likes of Neteller, Skrill, EcoPayz, PayPal, Apple Pay, and AstroPay. Of course, there are plenty of other trustworthy options to use, but these are certainly the most popular.
eWallet deposits are instant, which means you can top up your account swiftly, even if you are running short on time before a race starts. In addition, the best part about eWallets is that you can also withdraw your cash instantaneously. This is why so many F1 betting fans choose to go with an eWallet.
Traditional Payment Methods
If you are someone that would prefer to use a more traditional payment method, you are well within your rights to do so. The best sportsbooks in the US will provide you with several traditional payment methods like online banking, debit/credit cards like Visa, MasterCard, Amex, etc., and more.
These options will be instant when you make a deposit but withdrawal times may vary either depending on your bank or on how long the sportsbook takes to process your transaction. On average, a debit card withdrawal can take up to 2 days to arrive in your account.
Tips for F1 Betting
Before we head to the end of our guide, we wanted to leave you with a few useful tips to keep in mind. These tips will help you to better navigate F1 betting when you ultimately decide which site you want to sign up to.
Keep An Eye on the Weather
When it comes to F1, weather plays a crucial role. In fact, the way a driver and his team approach a race can drastically change with the weather on race day. There are specific tires used when the track is wet or when it is dry. Some drivers even take risks with their tires in the pursuit of speed, even when the track is wet. So, know what the weather is going to be like and how different drivers approach a race on a rainy day.
Know Your Track History
Some drivers have a stellar history when it comes to certain tracks. Even if a driver is not at the top of the championship standings, they may still pull a win out of the bag on a certain track because they feel comfortable performing well there. So it's always a good idea to look at a track's history to see who has performed consistently well there.
Driver Form
One of the more obvious things to keep in mind is the overall form of the drivers. If a driver has been in poor form all season, you'll know to steer clear of adding them to your bets. On the other hand, if a driver has a decent run of form going in recent races, then you may want to take a gamble on them in the next race. Hence, always keep the form of the drivers in mind before you place your bets come race day.
Manage Your Bankroll
It's a good idea to consider how much money you are willing to wager on F1 betting odds that you find. Basically, you should never spend money on your F1 bets that you aren't already comfortable losing in the first place. From there, keep your bets small to start with and then build up your bankroll until you can start placing bigger bets.
Make Use of Free Bets
There is nothing quite like cashing in on a free bet with the best F1 sportsbooks. These free bets are a great way to give your bankroll a boost. Try to use these free bets wisely but with a healthy degree of risk. You don't want to bet on an outrageously unrealistic result, but you may want to take a chance on an outside favorite in a race.
How to Bet on F1 Online in the USA
For the sake of this example, we are going to show how you can create your account with a top sportsbook like BetMGM. The whole process is actually very straightforward and shouldn't take you longer than a couple of minutes to complete.
Step 1: Sign Up
Firstly, you need to head to the BetMGM platform. Once there, you will see a "register" button. Click it and wait to be taken to the next page.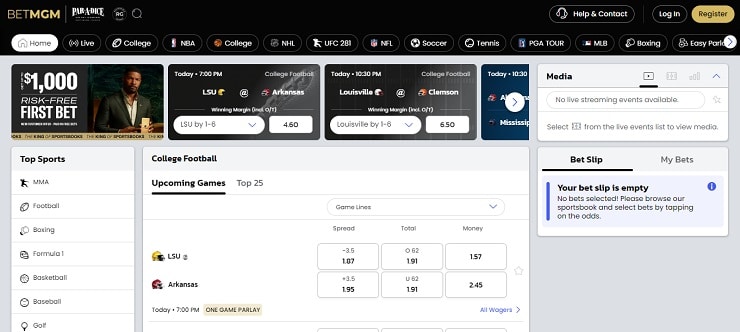 Step 2: Fill in Required Details and Verify Your Email
You will first need to enter an email address and a preferred password. Once you have done that, you will then need to enter your name, surname, the last 4 digits of your social security number, and your date of birth. Lastly, you will need to enter your home address and your mobile number. Once you have done that, you will need to tick the boxes that say you agree to the terms of the site. Before you can get started with your account, you will need to verify your email. BetMGM will send you an email. Once you have verified that email, you can move on to funding your account.
Step 3: Make Your First Deposit
Now that your account is all set up, it's time to make your first deposit. Head to the payments method page, select the method you prefer, and then enter the amount you would like to deposit into your account. Once done, the funds should clear in your betting account immediately.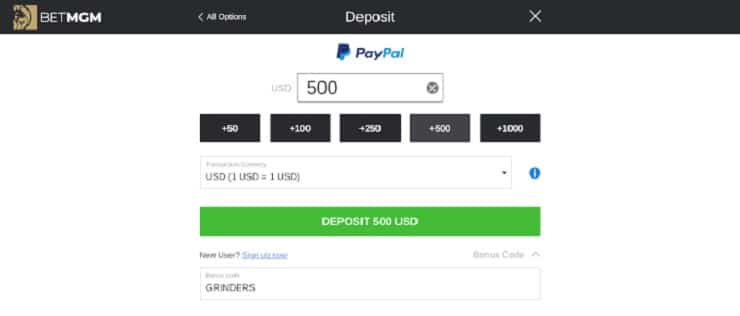 Step 4: Start betting!
You are now ready to kick off your F1 betting journey. With cash in the account, you can start hunting for the best possible betting opportunities on the site. And remember to cash in on those exciting promotions and bonuses that BetMGM is always running!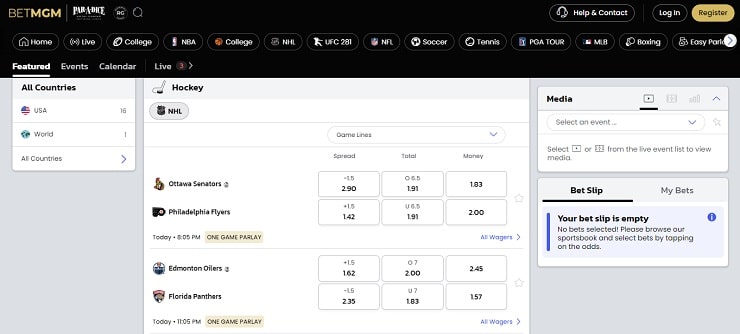 Conclusion
Now it should be clear to you that there are plenty of sportsbooks in the US for you to choose from for your F1 betting needs. All the sites we have reviewed in this guide are reliable and trustworthy. So, it all falls to you and your personal preferences when it comes to the final decision.
With that being said, we highly recommend checking BetMGM out first. It doesn't just have an excellent range of F1 betting markets, but the site itself is really a joy to use for beginner and veteran F1 betting fans alike. Hence, if you haven't already, be sure to check out this stellar online sportsbook.