New York has a rich heritage when it comes to sports and the NY sports betting scene is alive and kicking.
Sports betting in New York predominantly takes place online, so this page will detail the best sportsbooks to play at. You can expect to find details regarding legislation as well as how bonuses work.
List of the Best Sports Betting Sites in New York
Only a few sites have been handed licenses for NY online sports betting. That said, the operators that are fully regulated are some of the best online sportsbooks in the nation. To drill down your search, we have listed the best operators for betting in the Big Apple.
DraftKings – Overall best site for New York sports betting
BetMGM –  NY mobile sports betting platform with live streaming
PointsBet – Top NY sports betting operator with unique features
BetRivers – Excellent site for sports betting in New York with fabulous promotions
FanDuel – Reputable NY sports betting site complete with DFS markets
The Latest New York Sports Betting News
Given that New York sports betting is in the nascent stages, it is important to keep tabs on the latest developments. We have summed these up for you below:
September 19, 2022 – New York sports betting sites flourish as they post a revenue record of $330 million for bets placed during the first week of the NFL regular season.
September 6, 2022 – NY mobile sports betting handle eclipses $10 billion since its launch in January.
March 2022 – New bills are introduced which will see the number of active online sportsbooks in New York rise from 9 to 16 by 2024.
Reviews of the Best Betting Sites in New York
Our toplist of the best sites for sports betting in NY is based on hours of meticulous research. We have done the groundwork for you, so picking a site shouldn't be too tricky. Anyway, let's give you the full lowdown on what makes these five sites great to play at. Remember, they are all legitimate sites and they are safe for mobile betting.
1. DraftKings – Overall best site for New York sports betting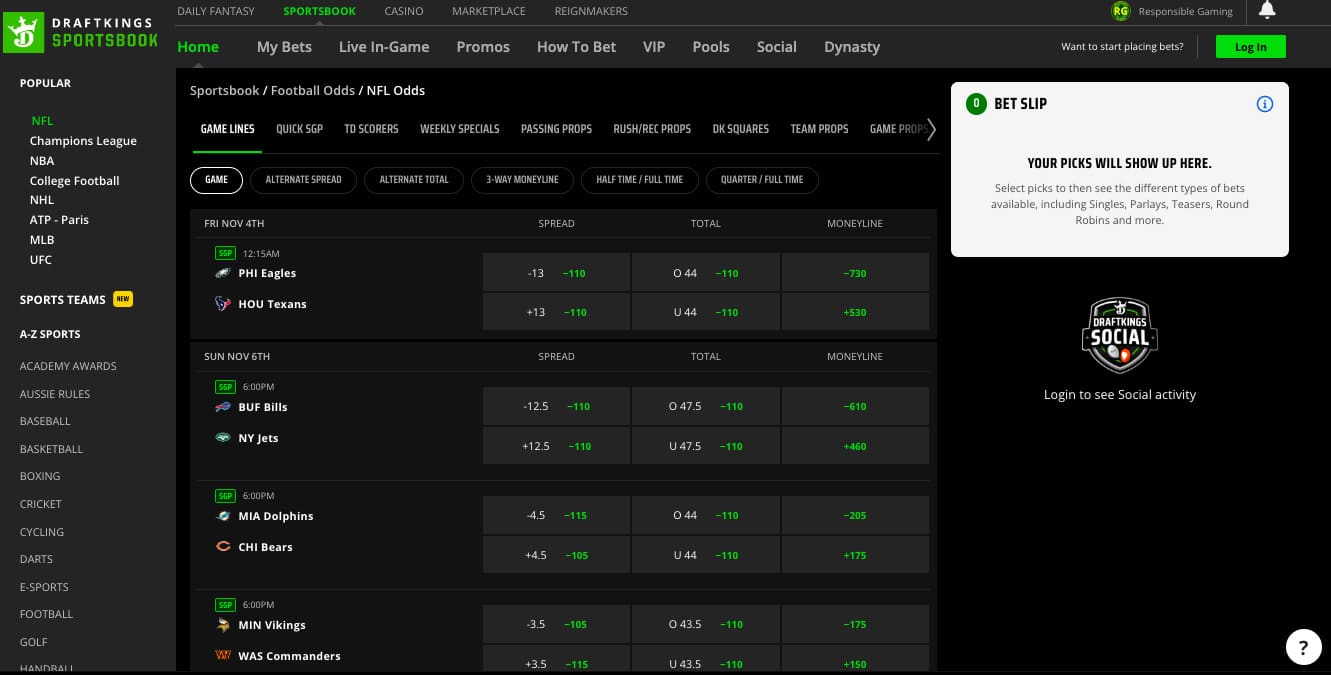 DraftKings Sportsbook has been deemed the best site for NY online sports betting, and residents love playing there. Once you join, you will see a full slate of bet types, including future bets, parlay bets, teasers, and much more.
This site has its finger on the pulse when it comes to mobile betting, and the platform is extremely user-friendly. The app is very slick, and is compatible with Android and iOS devices. But it is also a go-to option for wagering on the NFL and NBA, and you can find same-game parlays here. Aside from that, you can also find traditional moneylines, totals, futures bets, and much more.
Previously, DraftKings was merely a Daily Fantasy Sports platform, but it is so much more than just that. It has expanded with its sports offering, and you will find all the traditional sports available here, including NBA, NFL, soccer, and much more.
One of the standout features is its cash-out option, so you can resolve wagers in their entirety before an event finishes, and it comes with low betting amounts compared to most of its rivals. You can also pick up a cool bonus by visiting the homepage.
Perhaps DraftKings needs to address its support options. It is lacking when it comes to a live chat facility for customers to get in touch, however, you will find a comprehensive FAQs section.
Pros:
Fabulous Daily Fantasy Sports platform
Awesome interface on sportsbook app
Cash Out option available
Great for live betting
Cons:
Withdrawals can take up to five days to process
2. BetMGM – NY mobile sports betting platform with live streaming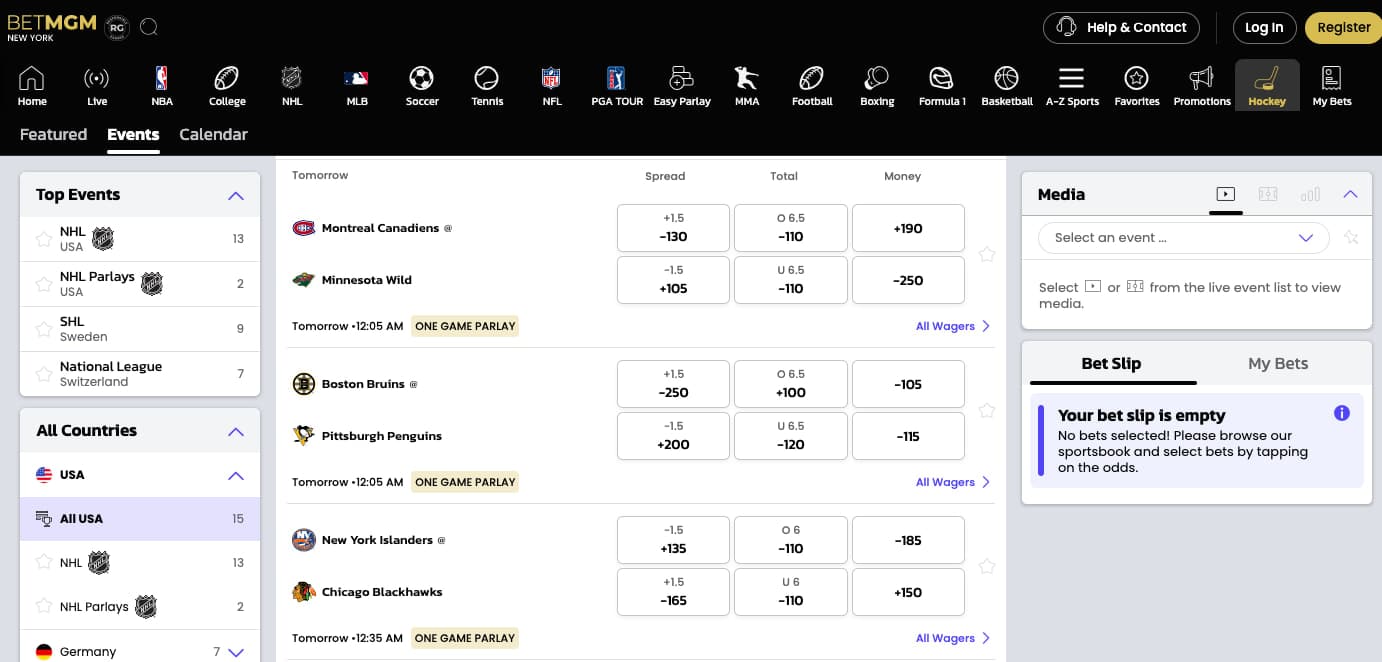 BetMGM warrants the number two spot for NY sports betting and it is one of the biggest online brands. The site is aggressive with the quality of its odds, and odds boosts are part and parcel of the BetMGM betting experience. With over a dozen sports to bet on here, BetMGM is a haven for gamblers.
When it comes to coverage, BetMGM is spread well across the top US sports disciplines, such as NBA, NFL and MLB, and what's even better is that live streaming is facilitated. So, no matter where you are, you will be able to watch your favorite teams in action.
Although BetMGM is well stocked with payment methods, the app may sometimes come across as quite cluttered. BetMGM, however, pushes its promotions quite well, so make sure you don't miss out when you sign up.
BetMGM also provides value when it comes to customer support and it has one of the best 24/7 live chat facilities in the industry.
Pros:
Mobile sportsbook apps for iPhone and Android users
Quality odds available
Live streaming for big matches
Exclusive rewards for betting online
Cons:
App can look a bit cluttered at times
3. PointsBet – Fabulous NY sports betting operator with unique features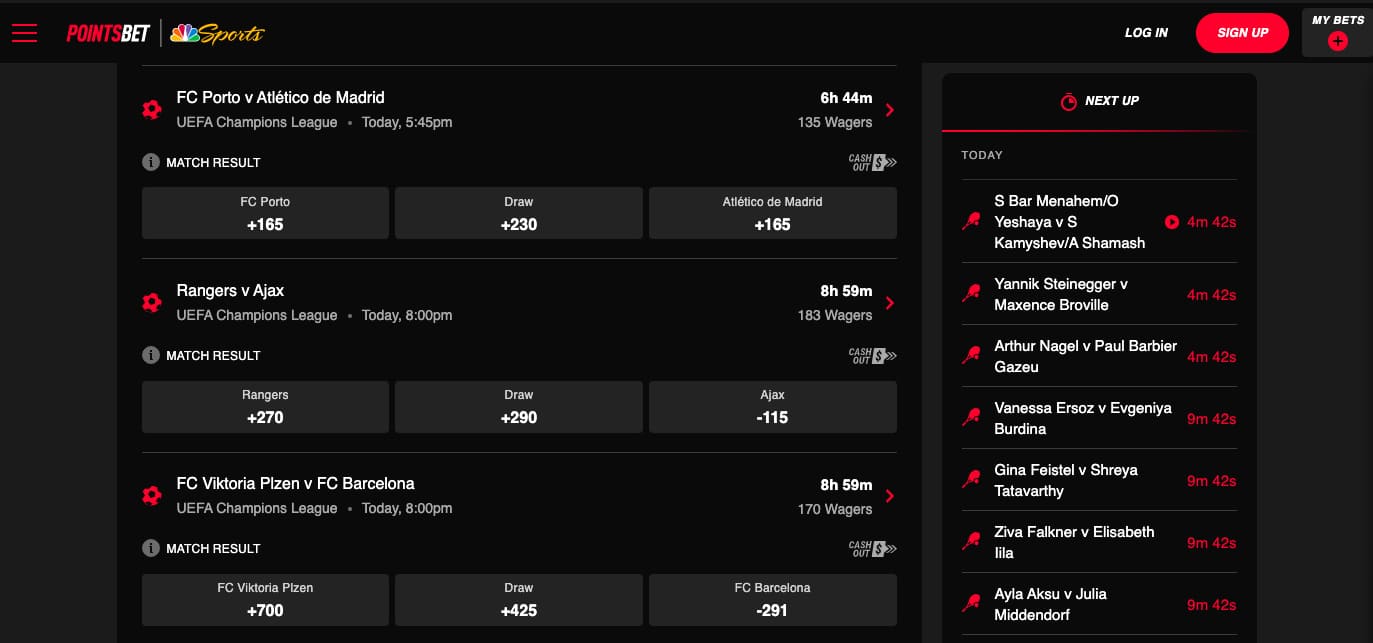 For sports betting in NY, PointsBet deserves a special mention. One of the main selling points of the site, is that you can find an array of exciting features, including points betting which is a high-risk, high-reward form of betting. You will be awarded more points based on the number of correct predictions made. You will even find a dedicated tab covering points betting, but it is also great for fixed odds.
The PointsBet site is very user-friendly, as you will find a drop-down menu with an A-Z of covered sports and whether you are looking for a fixed-odds bet or a live bet, and everything is easily accessible on one page.
But we were impressed with the quality of customer support. In particular, the live chat facility is great for use on the desktop version of the site, or on the app and it is available 24/7, so the team can respond quickly to issues.
Perhaps one of its only shortcomings is that there are limited methods for making deposits, as it is restricted to debit and credit cards, Trustly, PayNearMe and ACH.
Pros:
Unique features such as points betting
Good customer support options
Site is very user-friendly
Can request a bet
Cons:
Limited payment options for making deposits
4. BetRivers – Excellent site for sports betting in New York with fabulous promotions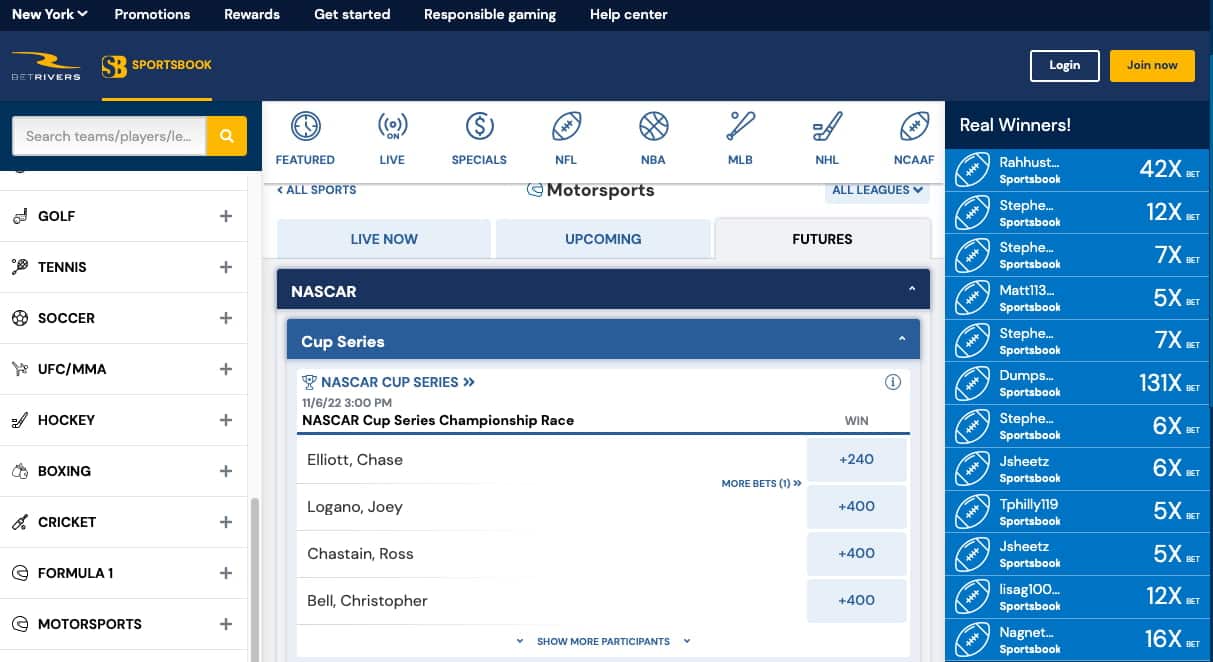 Originally known as SugarHouse, BetRivers has blossomed into one of the best NY sports betting operators. The site is complete with juicy lines and quick payouts too which is always a plus in our eyes.
BetRivers is fairly comprehensive in its scope of covering sports as you will find markets for Lacrosse, darts, and much more. We quite like the tool that you can use for compiling spreads and totals, but we are waiting on a same game parlay builder to be incorporated into the site.
On top of that, BetRivers has a rewards program for BetRivers NY customers. Known as iRush rewards, players can earn points while betting. You can use the points you rack up for free bets and other rewards. And if you want a welcome bonus, BetRivers isn't short in that department.
This site, which has an app for iOS and Android users, is aesthetically pleasing from a design perspective and we experienced few buffering issues. Although some scrolling is required to find prop bets, it has been laid out in an intuitive manner.
Pros:
App is very intuitive
Covers a good range of niche sports well
Boasts plenty of juicy lines
Good rewards programs
Cons:
Still waiting on parlay game builder function
5. FanDuel – Reputable NY sports betting site complete with DFS markets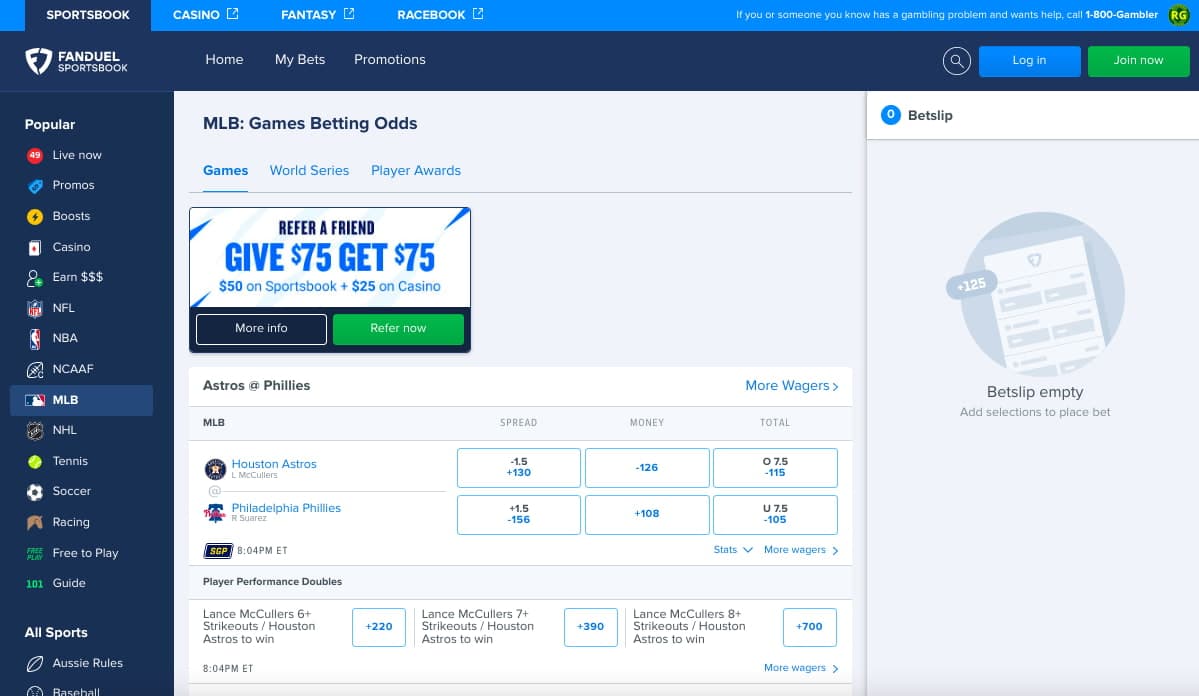 Arguably the most famous DFS operator in the business, FanDuel stands out as a solid choice. There are dozens of contests covering the NFL, NBA, NHL, and MLB where prize pools can top $10,000.
FanDuel is a delight as a NY online sports betting platform with a wealth of markets. But it is also clean cut as a mobile betting platform as it is bright and vibrant, and you can collect bonuses with just a couple of taps.
The customer support team is also excellent, as there is a 24/7 live chat facility that can be used on the site and on mobile apps. There is also a comprehensive FAQs section that will help users untangle various elements of the site.
One thing missing is the lack of a loyalty program. While support options are also quite scarce, there is a detailed FAQs section that should answer any pressing issues you may have.
Pros:
Excellent customer support
Fast and reliable app
Wealth of sports markets available
Renowned for its DFS coverage
Cons:
Missing a loyalty program
Frequently Asked Questions about Sports Betting in New York
When did sports betting become legal in NY?
When will online sports betting be legal in NY?
How many people in New York do sports betting?
Is DraftKings legal in NY?
Comparing Sportsbooks in New York
Now, we have seen the top five sportsbooks in action, it's time to put them to the test and see how they compare across several key performance indicators. Our handy table shows more.
| | | | | | |
| --- | --- | --- | --- | --- | --- |
| Sportsbook | Sign-Up Bonus | Bonus Code | Sports to bet on | Live Betting | Live Streaming |
| DraftKings | 20% Bonus up to $1,000 | N/A | 20+ | ✅ | ❌ |
| BetMGM | Risk-Free Bet up to $1,000 | N/A | 14+ | ✅ | ✅ |
| PointsBet | Risk-Free Bets up to $2,000 | WELCOME | 13+ | ✅ | ✅ |
| BetRivers | Risk-Free bet up to $100 | N/A | 12+ | ✅ | ✅ |
| FanDuel | Risk-Free Bet up to $1,000 | N/A | 12+ | ✅ | ✅ |
Looking for more betting offers? Have a look at our detailed guide of the best sportsbook promo codes available for US players.
Is Sports Betting Legal in New York?
Yes, NY sports betting is legal so fans can compete for real money at sportsbooks. Initially, sports betting in the state was restricted to wagering in commercial casinos, while land-based sportsbooks came into being in July 2019.
Governor Andrew Cuomo set the wheels in motion to bring about online sports betting and licensed operators went live in January 2022.
Currently, NY online sports betting only has nine registered sites for betting at. However, we can expect there to be an amendment in the law which will see a change in the coming years.
Who can Legally Bet on Sports in New York?
To enjoy NY sports betting, customers will have to be at least 21 years old and be located within state borders. These are the two main terms imposed by the current regulations. Operators will verify the location using a plug-in for the browser, or location access on the phone when using a NY mobile sports betting app.
You don't have to be a resident in the state as visitors can also access the online sportsbooks and bet real money. There are also some other details that will be required when registering, so you will have to supply your social security number and name.
How to bet on Sports Online in New York
NY sports betting is fun and you could be up and running in just a matter of minutes. We have provided a step-by-step guide of how to do so, using our top-rated sportsbook in this guide – DraftKings – as the example.
Step 1: Create a DraftKings Account
Firstly, head over to the DraftKings main page and once you are in the lobby, click the "Join" button which can be found in the top right-hand corner of the site.
Step 2: Fill in the Registration Form
You will now be asked to fill in the registration form along with a series of personal details, such as name, address, age, and social security number. Make sure all sections of the form are complete and tick that you agree with the T&Cs.
Step 3: Verify Your Email
You will then be sent a confirmation request by the DraftKings team to prove you say who you are. Click on the link and follow the instructions to verify your email.
Step 4: Make your First Deposit
After your email has been verified, go to the cashier page on the site and select your preferred banking method. Enter the amount you wish to add and fill out the details as well as claim any necessary bonus and make sure you can make deposits and withdrawals with your preferred method.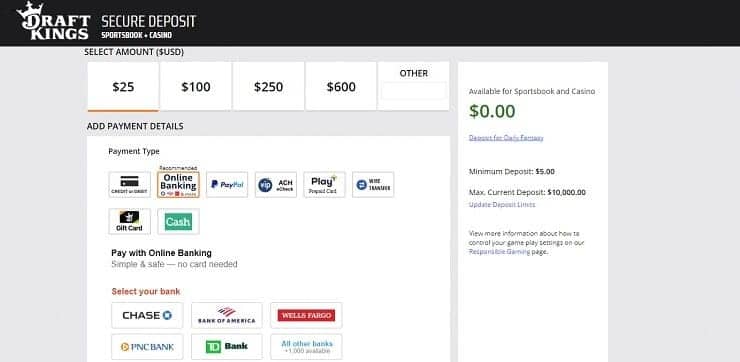 Step 5: Begin Betting!
Once everything has been approved and you have completed all the necessary steps, you can start betting as you wish. Go to the main lobby and pick your preferred markets.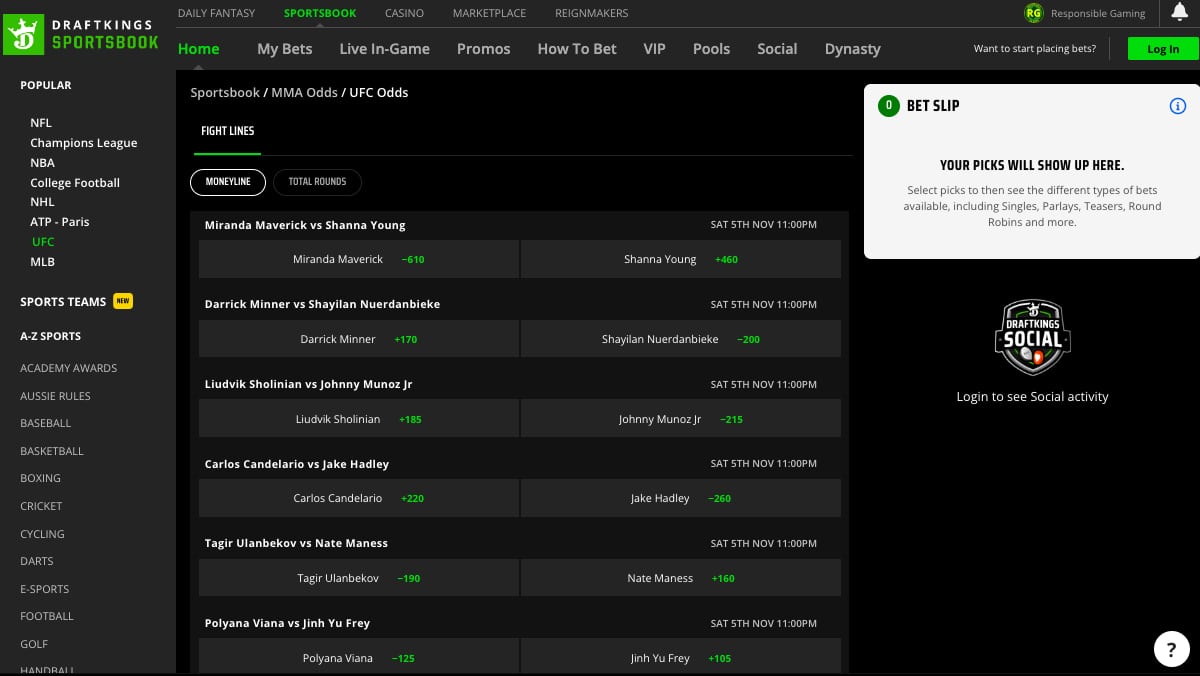 Previous Sports Betting Bills in New York
NY sports betting took a bit of time before it came to fruition, and there were some hurdles that had to be cleared. We have chronicled the journey, looking at some of the past betting bills that helped pave the way for sports betting to be introduced to the state.
2019
• SB S17D – This passed through the Senate but it never came up for a vote in the Assembly.
Tax on Sports Betting Winnings in New York
NY sports betting carries large taxes for operators, which sees many have to pay 51% of their revenues. In comparison, nearby states such as New Jersey have to pay 13.5% in tax.
For bettors, the tax reflects many other markets. There is a fixed federal tax of 24% that applies to all winnings. Most operators will withhold this amount from the payout and file the taxes on the user's behalf. New York City residents have to pay an additional city income tax that ranges from around 3% to 3.876% for those earning more than $50,000 annually.
Payment Methods available at New York Betting Sites
NY sports betting sites realize the importance of catering to the needs of customers by having a diverse range of payment methods. The top sites will make it seamless to carry out deposits and withdrawals, but as we will see, some methods are quicker than others.
Crypto Betting Options
Cryptocurrencies are gaining traction quickly. However, they haven't made their way yet to legalize New York sports betting sites just yet. So, don't expect to find Bitcoin, Ethereum, Litecoin, or other similar cryptos in the cashier at the top sites.
E-Wallet Betting Options
E-wallets have also risen in popularity for use at NY sports betting sites. The best online sportsbooks in US will facilitate PayPal, Apple Pay, Skrill, and other options. The main benefit, is that it allows for instant deposits and fast withdrawals without any fees. The downside is that players will have to set up eWallets and fund them through other methods.
Traditional Payment Methods
This remains the most trusted method for players using sites for sports betting in New York. Users therefore can deposit through debit cards, credit cards, bank transfers, or PayNearMe. You can also request a check my mail when withdrawing your winnings.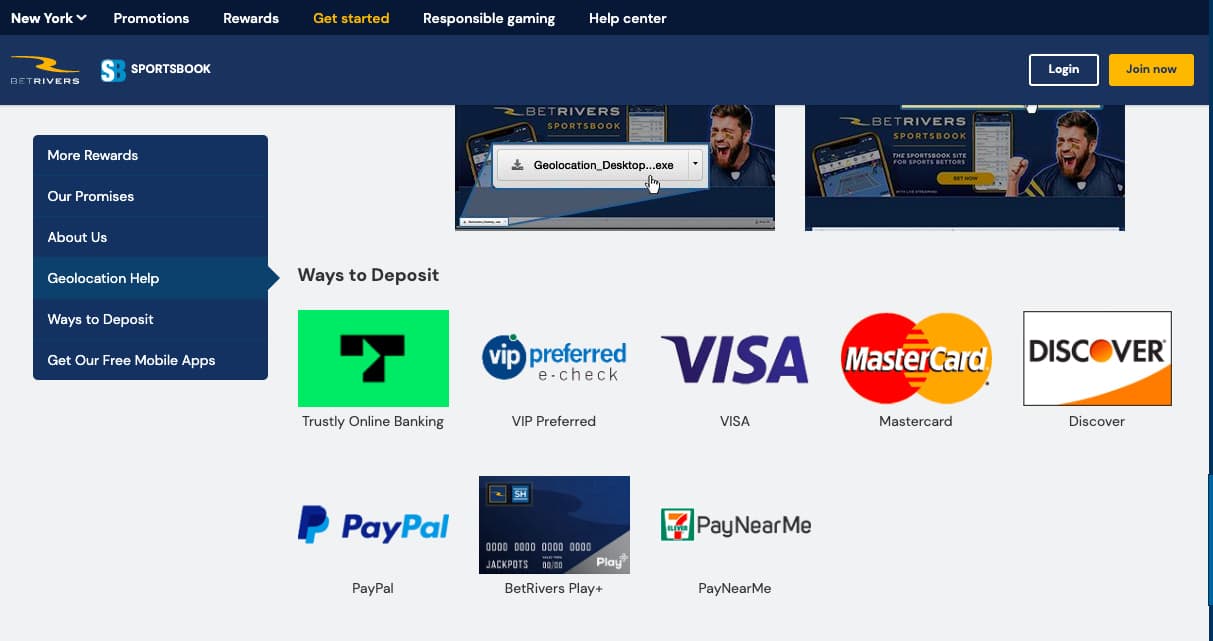 Bonuses Available at New York Sports Betting Sites
Bonuses are a fundamental part of signing up for NY sports betting sites, so let's look at some of the most attractive style of offers you will encounter:
Match Deposit Bonuses
The standard match deposit bonus will give you extra funds based on the size of the deposit. The actual value can range from 10% to over 100% and it depends on the operator. However, most NY sports betting operators don't offer this type of match deposit bonuses.
The only exception right now is FanDuel with its 20% match deposit welcome bonus. Although users don't get the extra 20% bonus right away, they can unlock the offer by betting on the sports on the site.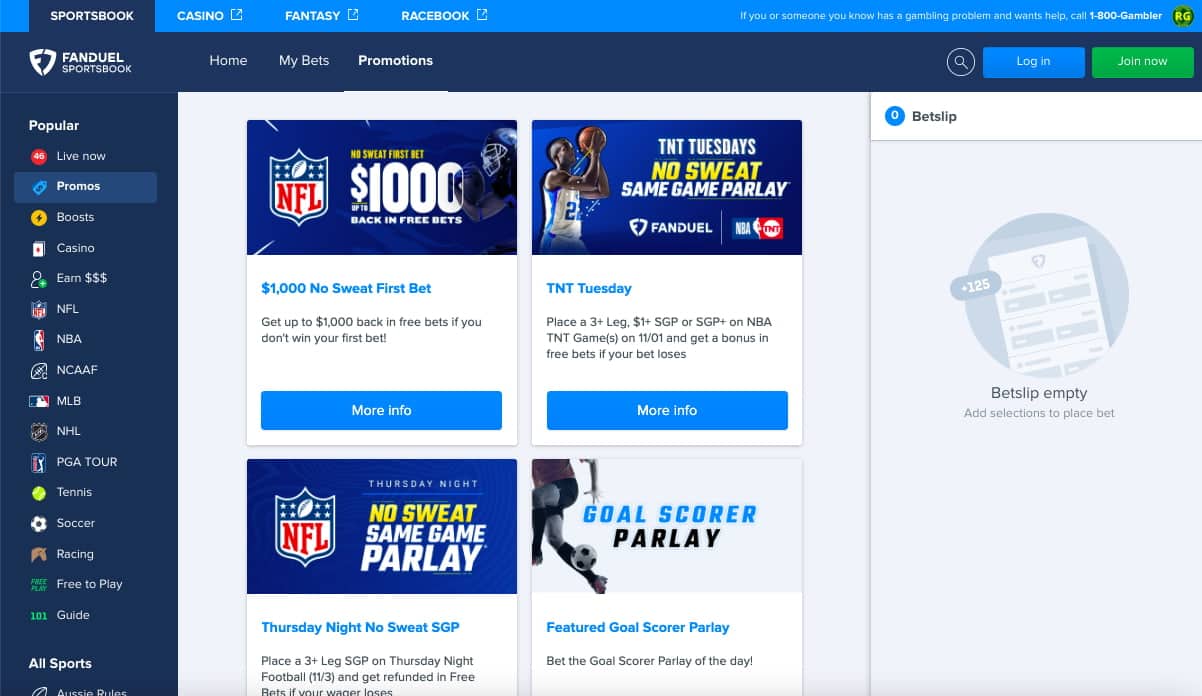 No Deposit Bonuses
A No Deposit Bonus will reward players simply for signing up. At NY sports betting sites, players will be handed free credits to place wagers. These are essentially risk free, and it is a nice sweetener to lure new players to a site.
With BetMGM, players can pick up loyalty points when betting with real money, and they can use these points for things, such as hotel upgrades and free bets.
Free Bets
Free bets are essentially extra credits that you can use instead of the stake on the site. Most of the top New York sports betting sites offer free bets from their promotions. However, be aware that these wagering requirements may be steeper – usually 30x or 40x. so, if you bet $300 on an event that carries a 30x wagering requirement, then you will have to bet $900 before you collect any winnings.
Popular Sports to Bet on in New York
You'll find dozens of sports available for betting on with New York operators, so let's look through the most popular picks.
NFL Betting at NY Sportsbooks
NFL betting is huge and all our listed betting sites cover the matches throughout the regular season, the playoffs, and culminating with the Super Bowl. This is one of the biggest sporting events of the year, which draws in more bets. Below are the three NFL teams based in New York:
• New York Giants
• New York Jets
• Buffalo Bills

NBA Betting at NY Sportsbooks
Basketball, in particular, the NBA is big for betting. Generally, you will find an array of prop lines and other exciting pre-game lines to use at sportsbooks. These are the two New York-based NBA teams:
• New York Knicks
• Brooklyn Nets
MLB Betting at NY Sportsbooks
Home to the New York Yankees and New York Mets, few sports in the state captures the heart and minds of the residents in the way MLB does, and all the roads lead to the World Series. Here are the MLB teams in New York:
• New York Yankees
• New York Mets

NHL At NY Sportsbooks
NHL games feature heavily at many top sportsbooks, in particular BetMGM, where they have commercial deals with some of the teams. Here is the list of NHL teams in New York:
• New York Rangers
• New York Islanders
• Buffalo Sabres
NCAA Football at NY Sportsbooks
Sportsbooks are not allowed to offer markets for matches involving NY colleges. Moreover, the platforms also don't cover NCAA football games that take place in New York. As for all other games, you will be able to bet freely online.
NCAA Basketball at NY Sportsbooks
The same college rules also applies to NCAA basketball events. Games that are held in New York are strictly off limits. But for everything else, you will find sharp odds available.
Golf at NY Sportsbooks
Golf is a staple of all the top NY sportsbooks. This will entail all the PGA Tour tournaments, including Majors, and at many sites, you will see prices for top 10 finishes as well as other prop bets.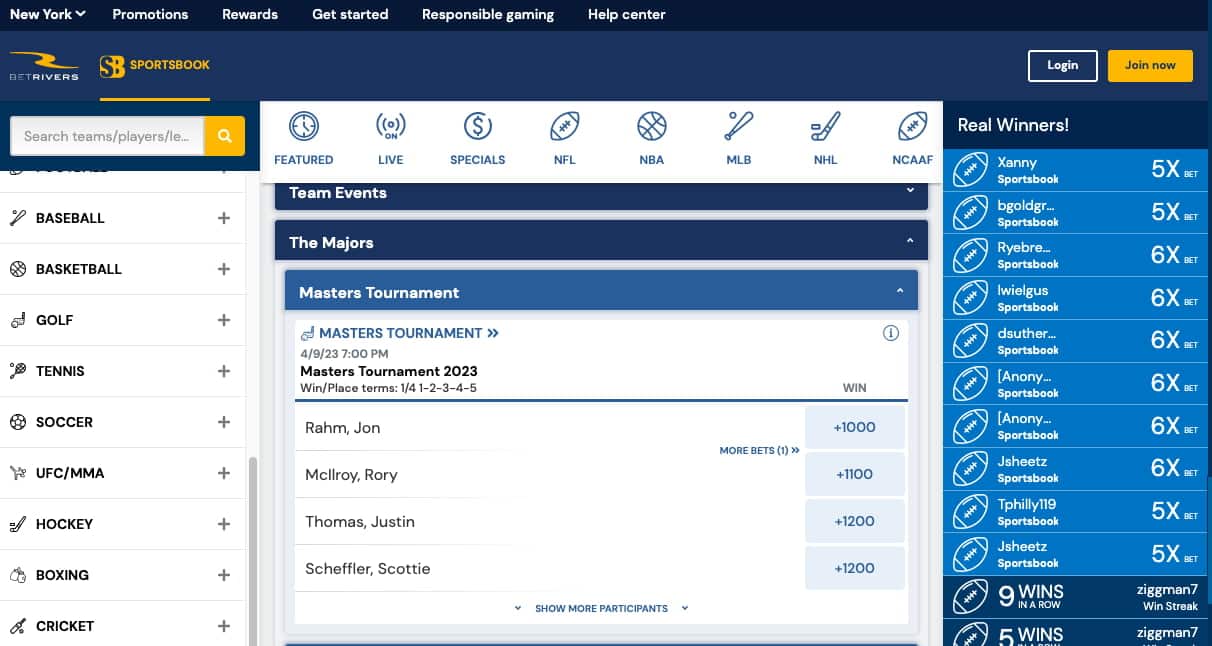 Horse Racing at NY Sportsbooks
Unfortunately, most online sports betting sites in the state won't have horse racing odds due to local regulations. FanDuel is an exception and it has a dedicated racebook. It allows users to bet on a wide range of horse racing meetings and it also offers dedicated bonuses.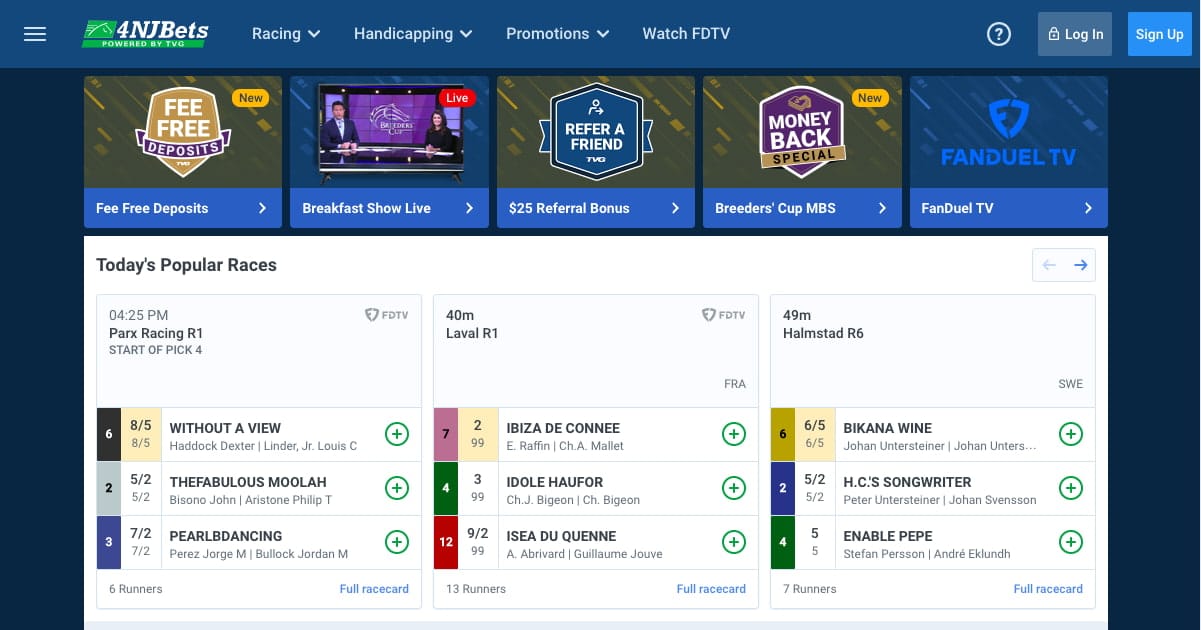 DFS at NY Sportsbooks
Daily Fantasy Sports was legalized in March 2022, as it is deemed a game of skill and not a game of chance. The two biggest providers in the state are FanDuel and DraftKings.
Live Betting with New York Sports Betting Sites
Live betting quickly rose in popularity when NY sports betting sites surfaced. This feature allows users to wager on matches as the action unfolds and the odds will also change when the game progresses. Experienced bettors can take advantage if they can spot patterns, and they can cash out their wagers early to retrieve winnings before an event closes.
All the leading sportsbooks in this guide support live betting. Some will be more extensive than others when it comes to the way they reflect statistics, while others will even have live streaming. There's little we can fault with BetMGM when it comes to live betting.
Bets that are Illegal in New York
You will only be able to place bets with licensed and approved operators in New York. More specifically, some sports markets will be prohibited, and that is mainly for college teams. You won't be able to wager on interstate collegiate teams.
Also, you won't be able to be able to bet on events if you are under 21 years old.
How New York Sports Betting Compares to its Neighboring States
New York is quite accommodating and this applies to states in close proximity. New Jersey was the first state of its neighbors to regulate and launch online sportsbooks, back in 2018. While the regulations are a bit different between these two states, they actually share a lot of similarities. New Jersey was an example for New York when drafting the new sports betting law.
Pennsylvania also launched online sports betting in 2019. It hosts some of the biggest brands in the nation, some of which are also found in New York. Sportsbooks like DraftKings, BetMGM and FanDuel stand out here.
Connecticut was later to the party as sports betting was up and running a year ago. This was only two weeks after retail sports betting became available in the state. However, the new regulations in Connecticut only allow for a few online sportsbooks, which operate in collaboration with local tribes and the state lottery.
Casinos with Sports Betting in New York
New York paved the way for retail sports betting in the summer of 2019. Initially, four casinos were approved for in-person sports betting, but now you will find over a dozen sportsbooks in the state. We have shone a light on some of the best ones.
Caesars Sportsbook at Turning Stone Casino
• Address: 5218 Patrick Rd, Verona, NY 13478
• Opening Hours: Mon-Fri: Noon–10pm ET, Sat-Sun: 10am-10pm ET
This Caesars sportsbook is located close to the entry and quickly makes an impression when you enter the casino resort thanks to the massive TV wall. In addition to sharp odds, bettors here can also benefit from award-winning dining and a premium golf course.
Caesars Sportsbook at Point Place Casino
• Address: 450 452, NY-31, Bridgeport, NY 13030
• Opening Hours: Mon-Fri: Noon–10pm ET, Sat-Sun: 10am-10pm ET
Another Caesars sportsbook that will take your breath away is the one at Point Palace Casino. The sports betting floor is huge with 30 TVs scattered throughout the room, and the sportsbook has a great welcome bonus.
DraftKings Sportsbook At Del Lago Resort Casino
• Address: 1133 NY-414, Waterloo, NY 13165
• Opening Hours: Sun-Thu: 8am-midnight ET, Fri-Sat: 8am-2am ET
Although the retail sportsbook isn't open at night, bettors can still place their wagers here thanks to the 20 betting kiosks that are open 24/7. All the big sporting events are screened and the high-end bar can be the perfect place to wait and see if your selections were correct.
FanDuel Sportsbook At Tioga Downs Casino
• Address: 2384 W River Rd., Nichols, NY 13812
• Opening Hours: Tue-Fri: 11am-11pm ET, Sat-Mon: 9am-midnight ET
Although not the largest retail sportsbook in New York, FanDuel at Tioga Downs Casino Resort can still hold up to 50 people. Plus, there is also a racetrack here and so people are always moving back and forth, creating a busy atmosphere with plenty of winners.
BetRivers Sportsbook At Rivers Casino Schenectady
• Address: 1 Rush St., Schenectady, NY 12305
• Opening Hours: Mon-Thu: 10am – midnight ET, Fri-Sun: 9am-1am ET
BetRivers is one of the biggest betting brands in New York. Its experience from the land-based sector is now available online. However, for users who want to bet locally, Rivers Casino has it all, including a huge sportsbook with betting kiosks and walls of TVs.
The Best Sports Betting Site in New York
DraftKings is one of the top operators in New York and it is a premium brand that offers sharp odds as well as more than a dozen sports to bet on.
With a clean cut and immersive betting app for iOS and Android users, you can find some great same-game parlays and it is more than just a DFS platform. There are plenty of loyalty programs, and if you want to join a modern sportsbook, then you should sign up today and claim the welcome bonus.