The launch of PointsBet Sportsbook in Pennsylvania brings another exciting betting option for sports fans to enjoy. The sportsbook has been receiving positive feedback and is rapidly growing in popularity.
PointsBet offers a variety of game options and interesting wager types for users to explore. In this review, we will delve into the various aspects of their online sportsbook, including the PointsBet promo codes specific to Pennsylvania, available gameplay options, and rewards programs.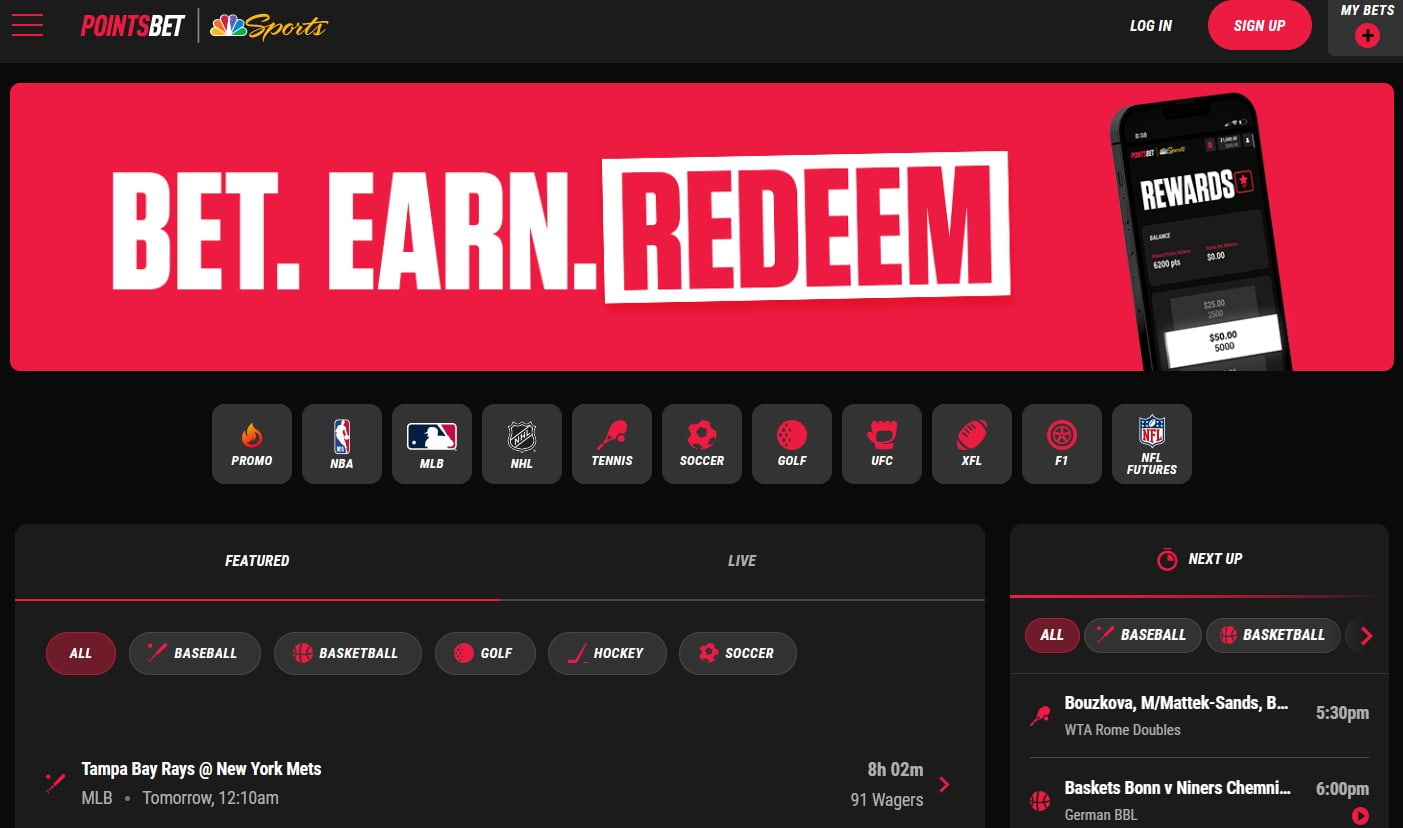 Is PointsBet Sportsbook legal in Pennsylvania?
Yes, PointsBet PA is legal and regulated. The state passed legislation in 2017 to allow online sports betting, and PointsBet obtained a license to operate in the Keystone State. This ensures that users can enjoy a safe and secure betting experience while complying with Pennsylvania's gambling regulations.
How to sign up for PointsBet Sportsbook
To sign up with PointsBet Sportsbook, you will need to fill out an online form. You can find this at the top of the homepage, and it should look like this:
1. Click on 'Sign up': Visit the PointsBet website and click on the 'Sign up' button located at the top of the homepage. You will be prompted to enter your first name, last name, email address, and password. Make sure to read and agree to the terms and conditions before proceeding.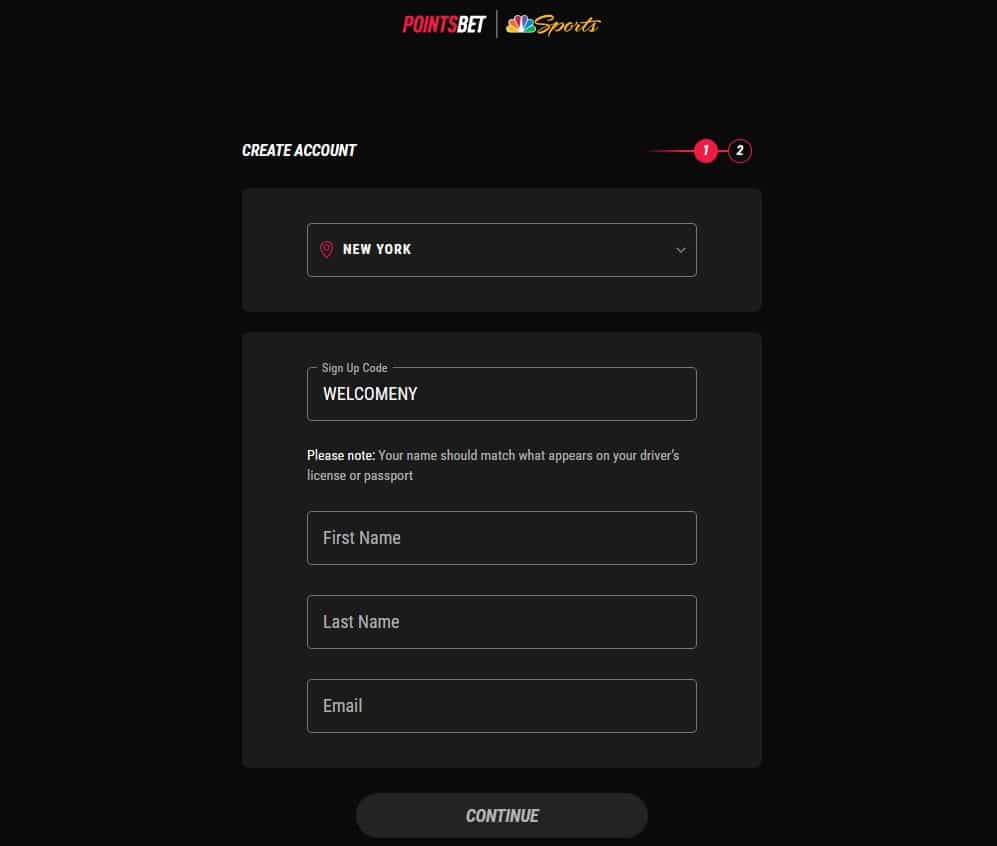 2. Provide personal information: Fill out the required personal information, including your name and address, to complete the sign-up process. Depending on the platform, you may also be asked to provide details such as your bank account information (routing number and account number). If using a mobile device, ensure you provide a valid telephone number and email address. You will also need to create a password and enter a confirmation code.
3. Verify account – After submitting the required information, you will need to verify your mobile phone number before finalizing the sign-up process.
4. Deposit: Pick from the range of deposit options on PointsBet Sportsbook. Enter the deposit details and the amount you wish to deposit. Also look out for any PointsBet deposit code.
5. Enter promo code: Enter the PointsBet promo code to get any bonus that PointsBet PA has on offer. Sign-up bonuses will usually be added automatically but may require a PointsBet promo code to be entered.
6. Start betting: Navigate to the sports betting page and place your bets.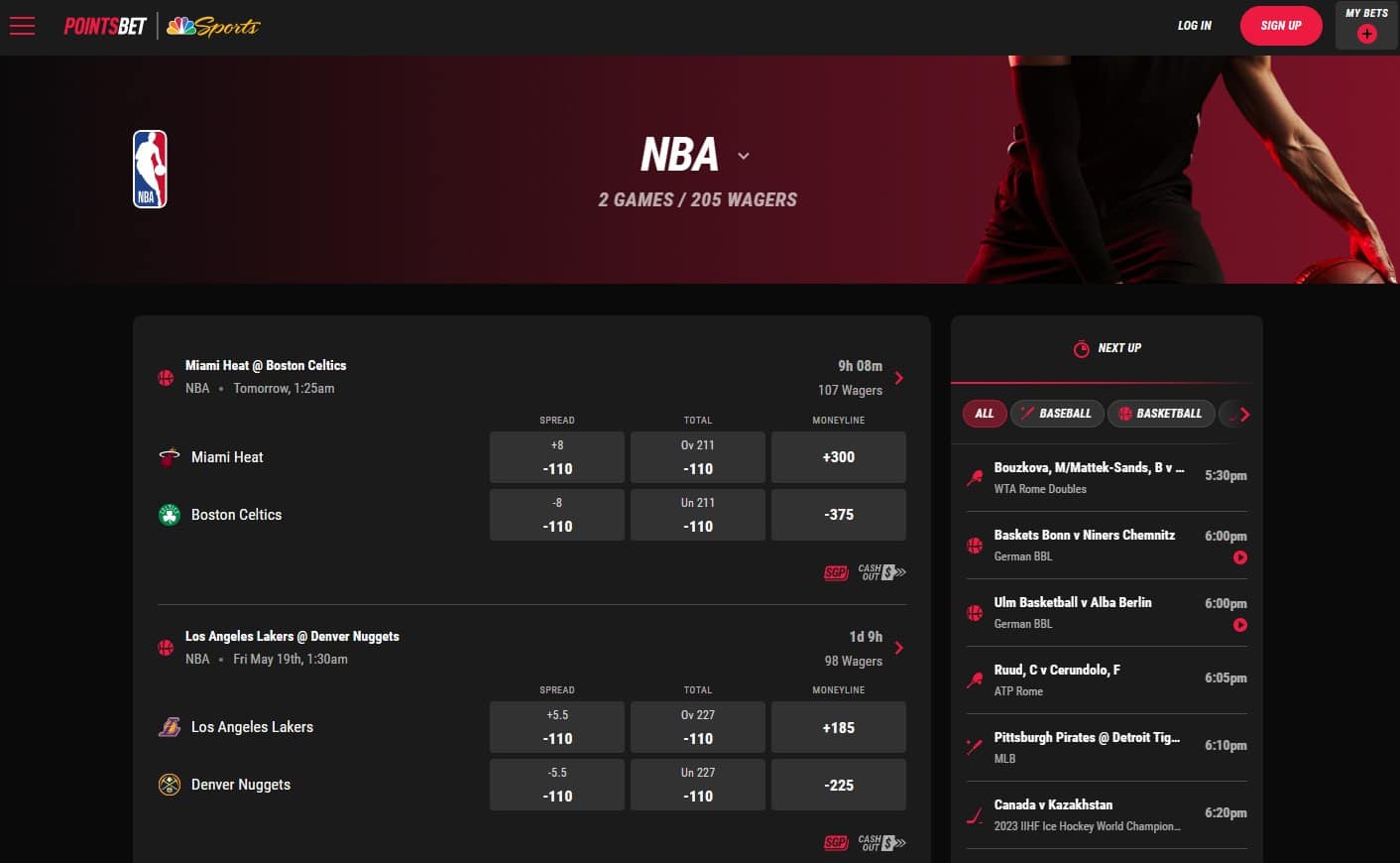 PointsBet Sportsbook Pennsylvania App – Mini Review
The PointsBet Sportsbook app is an online platform available in Pennsylvania, allowing users to engage in sports betting. Developed by PointsBet Gaming Ltd., it was introduced in 2018 and supports both iOS and Android devices. The PointsBet app can be downloaded from authorized sources such as the Apple App Store, Google Play Store, and other trusted third-party platforms.
With its intuitive interface, the PointsBet app enables seamless navigation through various betting options. Users can effortlessly browse through the listed games on the home page and explore their odds by accessing the dedicated "odds" tab at the top of the screen. This provides insights into the favored teams, expected points, and money lines.
The PointsBet PA mobile betting app extends beyond a mere platform for checking odds and placing sports bets. It encompasses a wide array of features that enhance the enjoyment of favorite games. The app's user-friendliness stands out from the moment of installation, with a clear layout that ensures even novice users can quickly and easily engage with its features.
Browsing through the sports tabs is a seamless experience, with dedicated tabs for popular sports such as football, basketball, baseball, soccer, tennis, and golf. Each event has its page, presenting the odds in a clear and easily comprehensible manner, enabling users to make informed decisions before placing their wagers.
Once users identify an event of interest, a simple click enables them to select their desired side of the bet, indicating the required points for a win or loss when the next score is achieved.
The PointsBet app has to rate as one of the best sports betting apps out there and boasts several user-friendly features, including:
Live Betting
The live betting feature allows users to place bets while games are in progress. It incorporates real-time odds updates, ensuring accurate information about the ongoing events on the field or court.
Cash Out
The cash-out feature empowers users to secure their profits before a game concludes or a match begins. By selecting the desired amount, users can determine the value of their bet at any given moment. If the bet is successful, funds are immediately paid out; otherwise, the user receives an automatic refund without incurring additional costs.
Pointsbetting
Unlike traditional fixed odds betting, pointsbetting builds excitement until the clock hits zero. Every single point matters. Your payout changes up until the last second of the game:
Downloading the PointsBet App in PA
PointsBet's app simplicity makes it easy to place bets and track progress. Compatible with various devices, including Android phones, iPhones, iPads, and other iOS or Android-operated systems, it caters to a wide range of users.
Upon launching the PointsBet app, users are greeted with a main screen displaying a comprehensive list of available events, along with their corresponding odds and payouts. By scrolling through this list, users can locate their preferred events and select them from the top menu bar.
Tabbed navigation enhances the user experience, simplifying access to desired features. The tabs include "Sports," encompassing diverse betting options offered by PointsBet; "Live Betting," facilitating real-money bets during ongoing events; "My Account," providing management of account settings and viewing of winnings; and finally, "Help & Support," offering assistance and answers to user queries about the PointsBet PA app and website.
To download the app, follow these steps:
Click on the "Download" button located below the "App Store" logo. This will open the App Store. Please note that you need an Apple account to access the store. If you don't have an account, you'll have to sign up by clicking on the "Create New Account" button in the "Sign In" section at the top right corner of your screen. After creating an account, click "Continue" at the bottom of the screen. To proceed with the download, you'll be required to enter your payment information. Rest assured that Apple doesn't store this information and it's only used for purchases made through their service.
Once you've entered your payment details, click "Next" at the bottom right corner of your screen. If this is your first purchase on Apple, you may be asked some personal questions before finalizing the transaction.
Once everything is confirmed, click "Continue" at the bottom right corner of your screen, and then select "Install" under the PointsBet Sportsbook app icon to initiate the download onto your device.
Downloading the PointsBet Sportsbook app on Android
To download the PointsBet app on your Android device, follow these instructions:
Open your browser and go to the Google Play store.
Search for "PointsBet" to find the application.
Click on the app and then press the "Install" button located in the top right-hand corner of your screen. You might be prompted to grant permissions for certain features, such as location services or camera access. Accept these permissions to proceed with the installation.
The app will then install itself onto your Android device, and it will be ready for use.
Popular Sports Pennsylvania Bettors Love to Bet On PointsBet Sportsbook
Pennsylvania bettors are spoilt for choice when it comes to sports available for betting on PointsBet Sportsbook. Find all the mainstream sports, foreign leagues, and the less popular sports on the PointsBet platform.
Football: Bet on football games, including professional leagues like the NFL and college football. Enjoy a wide range of betting options such as point spreads, over/under totals, player props, and more.
Basketball: Basketball is a very popular sport in Pennsylvania to bet on, this includes the NBA and college basketball. You can wager on individual games, player performances, team totals, and various other betting markets.
Baseball: PointsBet offers a plethora of baseball games from Major League Baseball (MLB) and other leagues to bet on. Choose from options like moneyline bets, run lines, totals, and player-specific wagers.
Soccer: Soccer matches from domestic and international leagues are available on PointsBet Sportsbook in Pennsylvania, including the MLS, Premier League, La Liga, and more. Explore various betting markets such as match outcomes, goal totals, Asian handicaps, and first goalscorer.
Hockey: Ice hockey betting in the NHL  is very popular with Pennsylvania bettors who use PointsBet PA to make their hockey bets. Place bets on moneylines, puck lines, totals, and individual player performances.
Tennis: PointsBet offers betting on tennis matches from major tournaments like the Grand Slams, ATP, and WTA events. Wager on match winners, set totals, game handicaps, and more.
Golf: Bet on professional golf tournaments, including the PGA Tour and major championships. Bet on outright winners, top finishes, head-to-head matchups, and other golf-specific betting options.
Motorsports: Bet on races from popular motorsports events such as NASCAR and Formula 1 on PointsBet Sportsbook. Wager on race winners, podium finishes, fastest lap times, and more.
MMA (Mixed Martial Arts): Place a wager on UFC fights and other MMA events. Place bets on winners, method of victory, fight duration, and other fight-related outcomes.
Boxing: Bet on professional boxing matches featuring renowned fighters. Wager on fight winners, round outcomes, and other boxing-specific betting options.
Aussie Rules Football: Bet on Australian Rules Football matches, also known as AFL. Enjoy various betting markets specific to this sport, including match outcomes, player performance, and quarter/half betting.
Rugby: Bet on rugby union and rugby league matches. Wager on match results, handicaps, total points, and other rugby-specific betting options.
Accepted Payment Methods of PointsBet Sportsbook PA
PointsBet Sportsbook in Pennsylvania offers a range of payment methods to facilitate deposits and withdrawals. While specific options may vary based on your location, here are some commonly available payment methods and a brief description of each:
Credit/Debit Cards: PointsBet PA accepts major credit and debit cards such as Visa and Mastercard. You can securely link your card to your PointsBet account and make deposits directly. Withdrawals are usually processed back to the same card used for depositing.
Bank Transfers: Bank transfers allow you to transfer funds directly from your bank account to your PointsBet account. This method may require you to provide your bank account details and initiate the transfer through online banking or by contacting your bank. Withdrawals from PointsBet can also be processed via bank transfer.
E-wallets: PointsBet in PA may support popular e-wallets like PayPal, Skrill, or Neteller. E-wallets provide an additional layer of security and convenience as you can fund your e-wallet account and then transfer the funds to your PointsBet account. Withdrawals can be processed back to your e-wallet.
Prepaid Cards: PointsBet Sportsbook in Pennsylvania accepts prepaid cards as a payment option. Prepaid cards function like debit cards, but they are pre-loaded with a specific amount of money. You can purchase these cards from retailers and use them to deposit funds into your PointsBet account.
Online Banking: PointsBet offers online banking options that allow you to initiate transfers directly from your bank account through their platform. This method usually requires you to select your bank, login to your online banking, and authorize the transfer.
PayNearMe: PayNearMe is a cash payment service that enables you to make deposits in person at participating retail locations. You generate a barcode or PaySlip on the PointsBet platform, take it to a nearby retailer, and pay with cash. The funds are then credited to your PointsBet account.
Wire Transfer: Wire transfers allow you to transfer funds electronically from your bank account to your PointsBet account. This method is suitable for larger transactions but may involve additional fees and longer processing times compared to other options.
Remember to consider factors like transaction fees, processing times, and any potential limitations or restrictions associated with each payment method when choosing the most suitable option for your needs – and also keep a look out for any specific PointsBet deposit code.
Pros and cons of PointsBet Sportsbook
Pros
✅ Plethora of betting markets – PointsBet PA offers a distinctive range of betting options that are not found in other sportsbooks. These include parlays, teasers, and other exotic bets. The platform also provides futures bets on individual players and contracts between two parties based on specific conditions. Additionally, PointsBet features a "Vegas Strip" bet, allowing users to create their own prop bets by selecting from a list of potential outcomes.
✅ Many sports to bet on – PointsBet Sportsbook in PA offers a wide array of tournaments and contests from across the world.
✅ Online casino – Abundance of games and slots to bet on if you don't want to bet on sports.
✅ Great UX – PointsBet boasts an intuitive and user-friendly interface. Designed with mobile devices in mind, the site offers seamless navigation across various screens and device sizes.
Cons
❌ Slow withdrawal times – Withdrawal times at PointsBet are subject to some limitations. While there are no specific withdrawal limits, there is a waiting period before funds are returned. The minimum withdrawal request is $1, and processing times vary depending on the withdrawal amount and destination (e-wallet or bank account). Unfortunately, same-day withdrawals are not available, so those seeking faster transactions may need to explore alternative options.
❌ Poor customer service – Customer service isn't great for PointsBet Sportsbook. The company has been criticized for its subpar customer service, often leading to delays in addressing player inquiries or complaints. Speaking to a customer agent live person can be challenging, as the only customer support option is a live chat feature on the website. Individuals who prefer phone or email communication may encounter difficulties when seeking assistance from PointsBet.
Different bonus types on PointsBet Sportsbook in PA
What types of bets are available on the PointsBet sportsbook in PA? Below is a list of different types of bonuses usually available at the PointsBet sportsbook in Pennsylvania: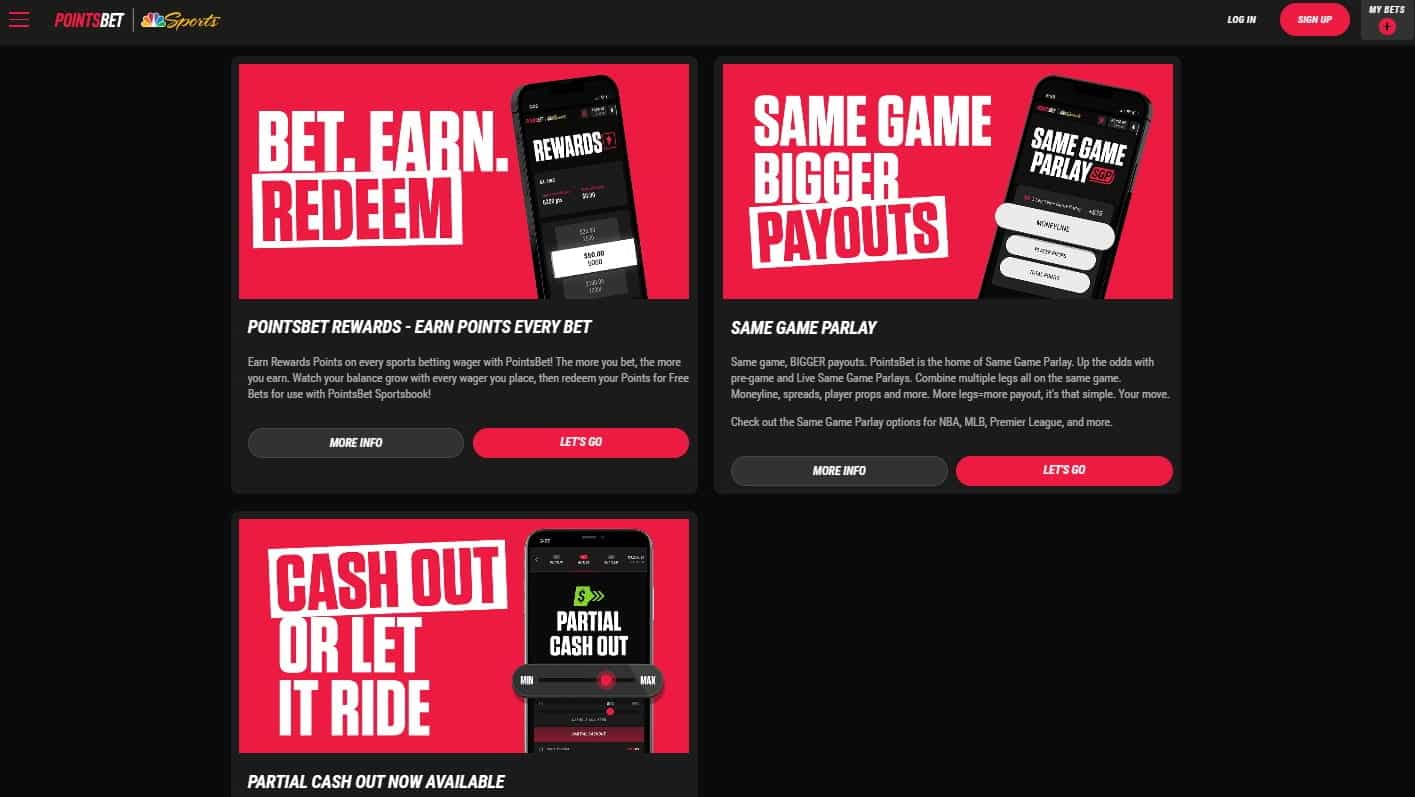 Welcome Bonus: PointsBet Sportsbook in Pennsylvania often offers a generous welcome bonus to new users. This bonus usually involves a match deposit bonus, where PointsBet matches a percentage of the user's initial deposit, up to a specified amount – keep a look out for any PointsBet deposit code.
Risk-Free Bet: PointsBet PA commonly provides a risk-free bet promotion, allowing users to place their first bet without the risk of losing money. If the bet loses, PointsBet will refund your wager amount in the form of bonus funds or site credits.
Deposit Match Bonus: A deposit match bonus entails PointsBet matching a percentage of your deposit, providing additional funds to bet with. For example, PointsBet may offer a 100% deposit match up to a certain limit.
Enhanced Odds: PointsBet occasionally offers enhanced odds or boosted odds on select games or events. These PointsBet promo offers increase the potential winnings for specific bets, providing you with a higher payout if your bet is successful.
Parlay Boost: PointsBet may offer a parlay boost promotion, where Pennsylvania bettors receive an additional percentage of winnings on winning parlays. This bonus incentivizes users to place parlay bets and enhances their potential returns.
Reload Bonus: As an incentive for existing users to continue betting, PointsBet sometimes offers to reload bonuses. These bonuses provide users with additional funds or bonus credits when they make subsequent deposits into their accounts.
Free Bets: PointsBet Sportsbook may reward users with free bets, which allow them to place wagers without using their own funds. These free bets often have specific terms and conditions, such as minimum odds requirements or limitations on the types of bets they can be used for.
Refer-a-Friend Bonus: PointsBet encourages users to refer their friends to the platform by offering a refer-a-friend bonus. When a referred friend signs up and meets certain criteria, both the referrer and the new user receive a bonus, such as free bets or bonus funds.
Seasonal or Event-Specific Promotions: PointsBet frequently runs promotions tied to specific sports seasons or major events, such as playoffs, championships, or marquee matchups. These PointsBet promo offers may include special odds boosts, cashback offers, or exclusive bonuses related to the event.
It's important to note that specific bonus offerings can change over time, and it's advisable to check the PointsBet Sportsbook website or app for the most up-to-date information on available PointsBet promo codes, promotions and bonuses.
PointsBet Sportsbook Customer Service in Pennsylvania
To access the official website of PointsBet Sportsbook, follow these steps:
1. Go to the official website of PointsBet Sportsbook.
2. Locate the "Contact Us" option either at the top of the page or in the bottom right corner of the screen.
3. Alternatively, you can click on the "Help" section to find more information on effectively using their website.
4. Clicking on "Contact Us" will direct you to a new page where you must provide your personal details such as name, email address, etc. Fill in the required information along with your query related to PointsBet PA or any other account-related concerns.
PointsBet Sportsbook live chat support
1. Visit the website.
2. On the left-hand side of the page, click on the "Live Chat" option.
3. To initiate a live chat, click on "Get Started." If you prefer to send an email instead, click on "Email."
4. Fill in your details and choose a topic that matches your query, such as sports betting, casino games, esports, etc. If your specific issue is not listed, select "Other Topic" and provide details in the provided space.
If you need to contact PointsBet Sportsbook's customer service department, you have the following options:
Customer Service Number: 1-800-420-7244
Customer service: Available during business hours from 9:00 AM to 5:00 PM Pacific Time, Monday through Friday. Note that they may not answer calls outside of these specified times.
Email communication: You can reach PointsBet customer service at [email protected]. Send an email to this address, and they will respond within 24 hours.
Is PointsBet Sportsbook in PA legit?
Is PointsBet the best sportsbook in Pennsylvania?
What is the legal age to bet on sports on PointsBet in PA?