Online sports betting in Pennsylvania is becoming increasingly popular, with more and more bettors taking advantage of the convenience and excitement of placing bets online.
This article will discuss the basics of online sports betting in Pennsylvania, including the types of bets available, the different online sportsbooks available, and the legal and regulatory landscape.
We'll also provide some useful tips for getting started with online sports betting in Pennsylvania. So, read more about the exciting world of Pennsylvania sports betting.
Best PA Online Sportsbooks
Online sportsbooks in Pennsylvania are in no short supply. The state has some of the best sportsbooks available for locals to bet on everything from soccer to tennis. Let's look at what Pennsylvania sportsbooks are available.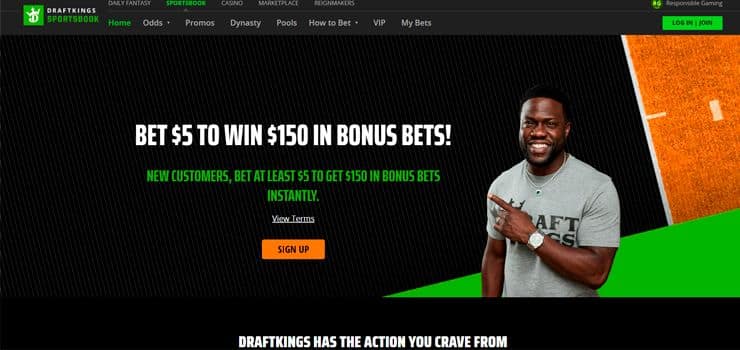 DraftKings is a sports wagering and casino gambling website that is available in Pennsylvania. The US sports betting platform was founded in 2012 and has been consistently growing ever since. It is available in multiple countries all around the world, but the service is mainly focused on American bettors.
DK Sportsbook in PA supports more than 22 different sports, and the coverage is very thorough. You are able to wager on both major international events and on various local competitions including even college football teams. Every match available on DraftKings has a wide range of betting markets including victories, totals, spreads, and tons of proposition bets that are different for every sport.
The platform is also well-known for its fair system of promotions. The rules of the bonuses are always transparent and clear. Even though the maximum sums obtained through the offers of DraftKings are not huge, the wagering requirements for them are usually significantly lower than average.
Pros:
Over 10 years old
Local and international competitions
Amazing Daily Fantasy Sports markets
Cons:
Bettors needs to pay juice
2. FanDuel Sportsbook – Multi-Functional Sports Betting Platform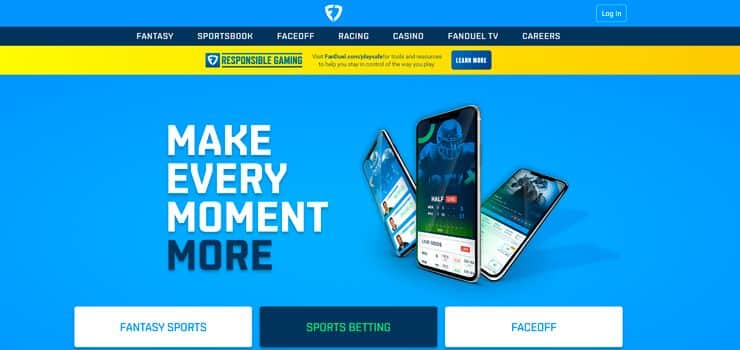 FanDuel Sportsbook in Pennsylvania is a multi-functional platform that combines a variety of experiences in one place. The services FanDuel offers include sports betting, casino iGaming, horse racing, Daily Fantasy, and Faceoff. The company was founded in 2009 in the United Kingdom and has grown to offer its services in dozens of other countries, including the USA.
The sportsbook of Fanduel covers 19 different sports. It is possible to place wagers on all top-tier sports events as well as on smaller competitions such as second divisions of various national leagues in different sports. In total, there are more than 2,000 events available in the pre-match section at any time.
The main benefit of this platform is the variety of activities it provides. With Fanduel, the players won't need to search for multiple websites or applications to try different types of gambling services. Fanduel has a web version for desktops and a downloadable app for portable devices.
Pros:
Real-time results and stats
FaceOff feature
Easy-to-use platform
Cons:
Promos are not as great as other sportsbooks
Loyalty program is lacking
3. Caesars Sportsbook – Part of the Legendary Caesars in Vegas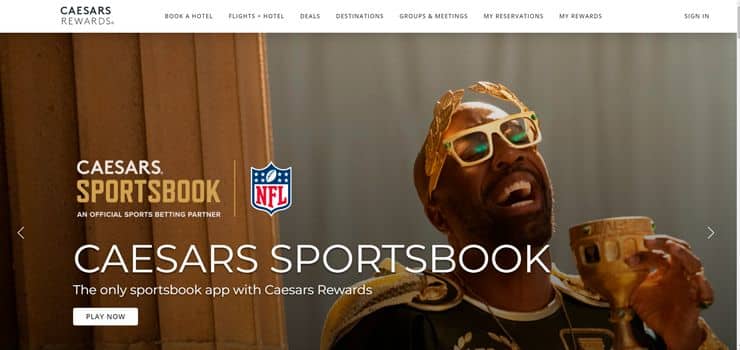 Bettors in Pennsylvania opt for Caesars Sportsbook due to its reputation in US betting. Caesars Sportsbook in PA Caesars Entertainment Corporation is a huge player in the American gambling market. It is a company behind many famous luxurious gambling establishments and hotels, and it also has an online Pennsylvania sports betting service. Caesars was originally founded all the way back in 1937, and its brand power in the United States is almost unparalleled.
The Pennsylvania sportsbook is available both on mobile devices as a downloadable application and as a web online betting service offered in browsers. Expectedly, the service is strongly oriented toward clients of local Caesar's establishments. The betting platform is rather basic, but it would be more than enough for most casual bettors.
The sheer size of Caesars Entertainment Corporation allows it to offer some exclusive promotions that other bookmakers cannot afford. For example, the Caesars loyalty program enables the players to earn exclusive VIP rewards and Reward Credits that can be exchanged for various gifts and benefits.
Pros:
Well-known US betting brand
Exclusive promotions
VIP loyalty program
Cons:
Basic design for site and app
4. Barstool Sportsbook – The Sports Bettor's Sportsbook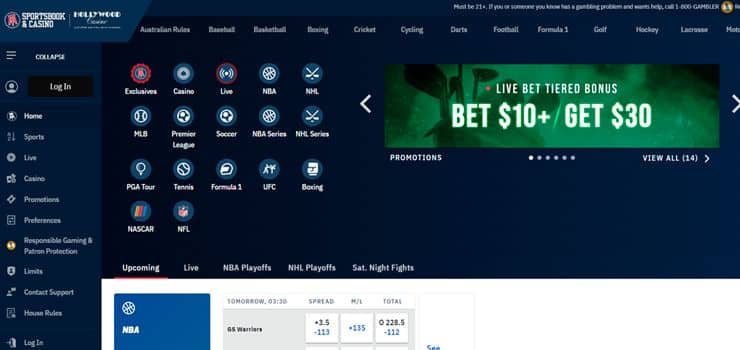 Barstool Sportsbook in PA is the go-to place for many local bettors. As many fans of sports in the US know, Barstool Sports is a popular content platform. It was founded in 2003 and has also entered the Pennsylvania sports betting market recently. Its online wagering service has a decent reputation among Pennsylvania bettors and a positive rating on all independent review platforms.
Barstool is rather comprehensive: offering hundreds of betting markets for every match supports four different types of wagers, and has some exclusive additional features for experienced users. The coverage is also great, as there are 19 sports and thousands of events available for betting on.
The interface of the website is one of its main advantages. There are multiple types of filters the bettors can use to navigate through the events. The page of every match is also split into multiple categories for the players to easily find the markets they need.
Pros:
Flexible parlay bets
Comprehensive betting markets
Cons:
Odds lack compared to other sportsbooks
5. BetMGM Sportsbook – A Sportsbook for Casual Bettors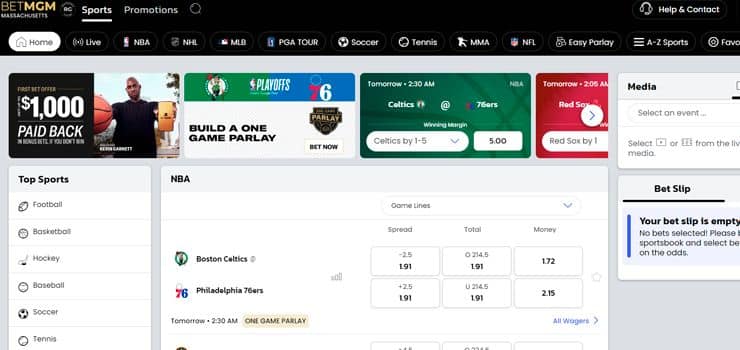 BetMGM Sportsbook in Pennsylvania is a sports betting service provided by MGM Resorts International. Launched in 2018, BetMGM Sportsbook quickly became popular in the United States thanks to the powerful brand behind it. The sportsbook has a web edition that is available on mobile devices and desktops as well as a downloadable application that is offered on Android and iOS.
There are 23 different sports available on the BetMGM platform, and the coverage is rather decent. Even though the platform focuses on casual punters and offers the best coverage for major events, it is still possible to find less-trending events in the sportsbook. The service offers both pre-match and in-play betting.
One of the most notable aspects of the BetMGM Sportsbook is its referral program. BetMGM grants a generous bonus for every user who invites their friends to play on the platform, and every punter can receive up to twenty rewards of this kind.
Pros:
Generous referral program
Unique bets and promos
Live streaming feature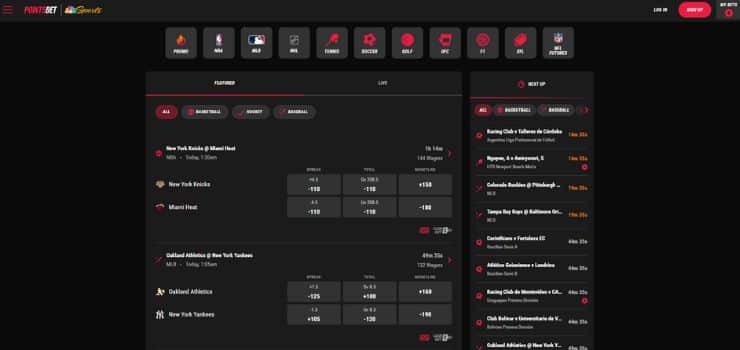 PointsBet Sportsbook stands out from the other Pennsylvania sportsbooks in the state due to its unique features. PointsBetting is one such feature, a risk/reward points system that can either enhance your winnings or you can lose multiple of your initial bet – an exciting feature some PA bettors find adds to the excitement.
Live same-game parlay betting is another popular feature on PointsBet. At the time of writing, PointsBet is the only sportsbook in the US that offers live, same-game parlay betting on NFL and NBA games.
E-sports is available for Pennsylvania punters to place bets on through PointsBet. The comprehensive betting platform also has an online casino that you can easily switch to from the sportsbook section.
Pros:
Unique PointsBetting system
Live same-game parlays
Online casino available
Cons:
PointsBetting feature can be risky
7. BetRivers Sportsbook  – Go-To Sportsbook For In-Play Betting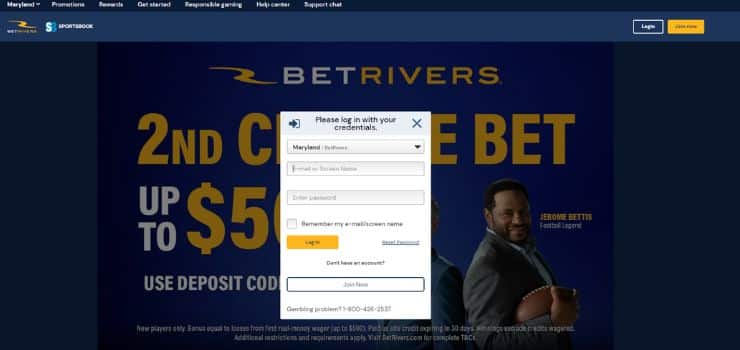 Betrivers Sportsbook in Pennsylvania is a favorite amongst locals due to the sportsbook's abundance of betting markets and competitive odds. Operating in 14 states of the USA, BetRivers was launched in 2012 and has been building a positive reputation among bettors in the country ever since. The service has received multiple major updates, enabling it to remain fresh a decade after its original release.
The sportsbook has a strong focus on in-play wagering: it has impressive coverage in this section. There are hundreds of live events available for betting on at any given moment. The pre-match betting aspect of the platform is also worth exploring, as it offers a comprehensive system of combined wagers.
BetRivers is very famous for its comprehensive VIP program with eleven different tiers the players can reach. Each tier grants some exclusive rewards that include Bonus Store Access, Exclusive Promotions, Dedicated Managers, VIP Events, and other luxury gifts. The eleventh tier is invitation-only, so only the most active bettors will be able to receive the best rewards.
Pros:
In-play betting
Exclusive tiered reward system
Fresh and updated platform
Cons:
Promos are not as great as other sportsbooks
App needs updating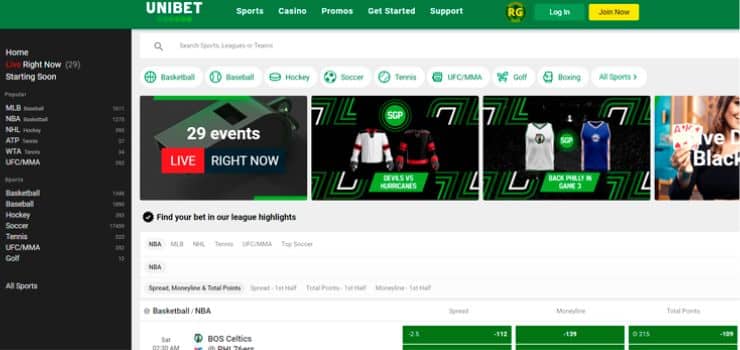 Unibet Sportsbook in Pennsylvania is a multi-functional platform that offers sports betting, iGaming, Bingo, and Poker experiences. The company was founded in 1997 and has managed to maintain a positive reputation throughout this entire time. Unibet is now available in dozens of countries around the world, including the United States.
The selection of sports available for wagering on Unibet's platform is rather narrow, as the bookmaker mostly covers first-tier events. The sportsbook still has a feature of in-play betting, where the users can select from dozens of betting markets. There are three types of wagers accepted: Singles, Parlays, and Round Robins.
The platform has a very distinctive greenish design with a rather simple interface. Unibet mostly caters to casual bettors, so the advanced additional features are hidden behind sub-menus. Unibet also has a new bonus offer every day, making it interesting for the users to visit the website every day.
Pros:
Multi-functional site
In-play betting available
Advanced features for serious bettors
Cons:
Customer service isn't to a high standard
9. SugarHouse Sportsbook – 11-Tier Loyalty Program With Many Rewards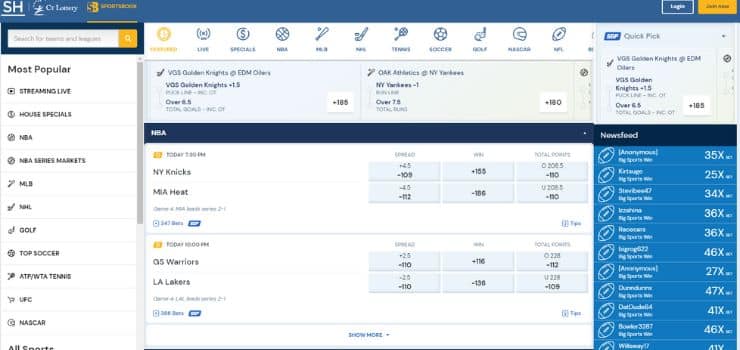 SugarHouse Sportsbook is a large provider of sports betting in Pennsylvania and the rest of the United States. It offers both casino gambling and sports wagering experiences to users of desktops and mobile devices. It has a unique visual design and a comfortable layout, which is perfect for experienced bettors.
There are a total of 24 different sports covered by the SugarHouse sportsbook. It has a comprehensive loyalty program with eleven tiers that the bettors can progress towards. On top of that, the betting service is enhanced with multiple Responsible Gambling features. For example, bettors can set a weekly deposit limit on their accounts to avoid spending more than intended.
One of the interesting features available at SugarHouse is the Newsfeed. It shows the latest major victories of the players on the platform. It both reminds the users they can always win big and enhances their victories by showing them to every other player.
Pros:
Online casino available
Lets you know the latest big wins
Uniquely designed with UX in mind
Cons:
Live betting feature isn't always working
App and site need to be updated
10. BetFred Sportsbook – UK Sportsbook Competing With The US Sportsbooks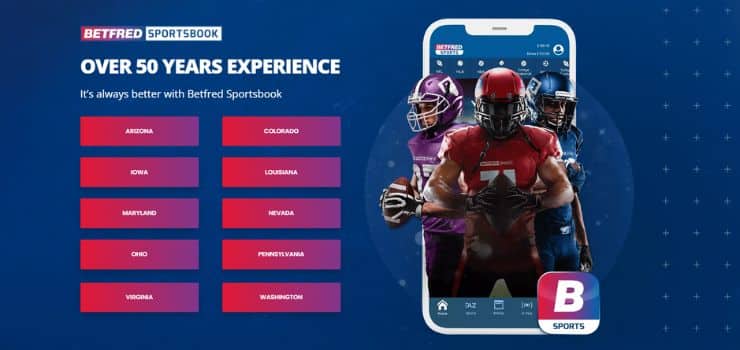 Betfred is a sports betting company with a long history. It was founded in 1967 in Great Britain and is now available in dozens of countries all around the globe, including the USA. The online betting service is exclusively available through downloadable applications on Android and iOS.
The BetFred app is extremely user-friendly and intuitive. Its design has been carefully thought-out, and the layout will make it comfortable for beginners to navigate. Traditionally, the sportsbook app offers both in-play and pre-match betting options, and the coverage is mostly great. All the major sports events are supported by the sportsbook.
BetFred is also one of the few Pennsylvania sportsbooks with an Early Cash Out feature. As its name suggests, this feature grants the bettors an option to withdraw their wagers before the event is over. The resulting payout is based on the current odds in in-play. It can be used to save a portion of a losing bet or redeem a successful wager while it's winning.
Pros:
In-play and pre-match betting options
Beginner-friendly design
Earlycash-out feature
Cons:
Withdrawals can take a while
11. BetPARX Sportsbook – Owned By The Largest Land Casino in PA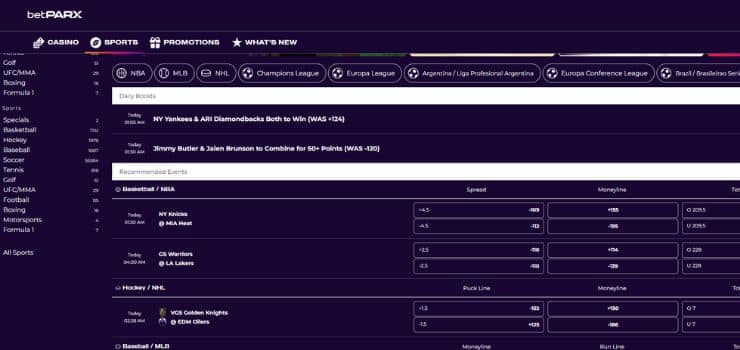 BetPARK Sportsbook in Pennsylvania is owned by Parx Casino in Bensalem, the biggest casino in Pennsylvania. Originally catering to Pennsylvania bettors online only, the casino has since expanded its online platform and is now fully licensed and operational in Ohio and New Jersey.
80+ live betting markets can be wagered on for an individual game on BetPARX. All types of sports including college sports are available to bet on the Pennsylvania sportsbook. For a sports betting site that's not well-known across the US, BetPARX has an impressive betting market with tens of thousands of options available for bettors each day.
BetPARX is available on Android and iPhone with the sportsbook and online casino sharing the same app.
Pros:
Operated by a local well-known casino
Online casino is available on the same app as the sportsbook
Tens of thousands of daily betting options
Cons:
Outdated interface
No live data or game trackers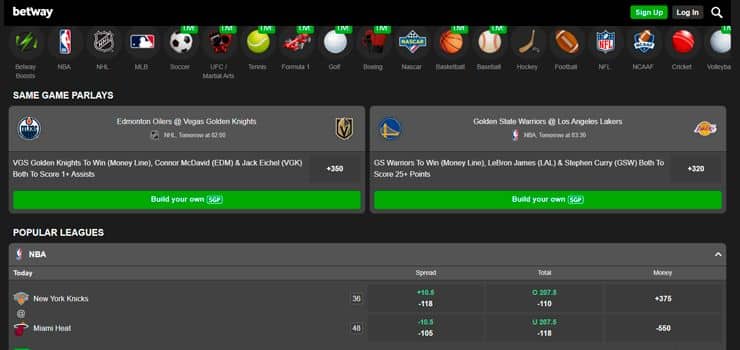 Betway Sportsbook in PA is a legendary sports wagering platform. It was launched in 2006 and is now available in eight states of the US: Arizona, Colorado, Indiana, Iowa, New Jersey, Ohio, Pennsylvania, and Virginia. The bookmaker has downloadable applications for desktops and mobile devices, and all users can also use the web version of the service.
The sportsbook is well-known for its advanced features, such as an option to build your own Same Game Parlay (SGP) wagers. It also covers 21 different sports and offers both in-play and pre-match wagering. Every single match available in Betway contains more than 50 betting markets to choose from.
For popular matches, the number of offered markets may easily reach 200. The good news for Pennsylvania bettors is that it is comfortable to navigate through all the betting options. First of all, the markets are split into several sections. On top of that, every section contains drop-down menus with different types of wagers.
Pros:
Same game parlay feature
50+ betting markets for every match
Extensive betting types
Cons:
Customer support isn't great
Limited deposit options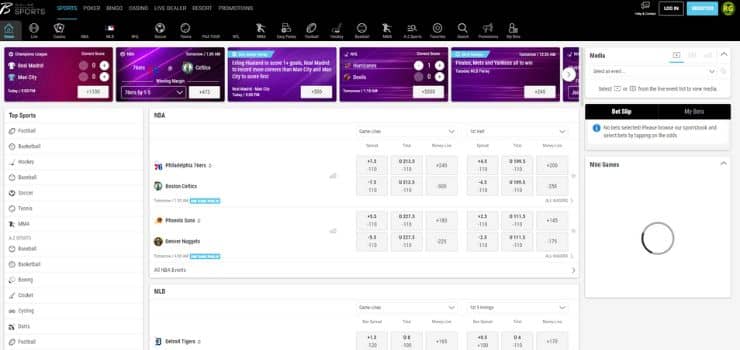 Borgota Sportsbook in Pennsylvania is proving to be a popular choice for bettors in the state. Offering 21 sports to wager on, Borgota Sportsbook offers all the mainstream sports where you can bet on all your favorite Pennsylvania sports teams.
Live betting is available and you can bet on sports markets from around the world with the latest stats and odds displayed. Promos and bonuses can be found by clicking the 'Promos' tab at the top of the page, where you can find the latest promotions on offer. Sports betting guides and other important info can be found in the promos section also, so the sportsbook is beginner friendly.
Online casino, online poker, bingo, and a live dealer feature are also available and you can easily switch back and forward from the sportsbook to all 3.
Pros:
iRewards Loyalty Program
Online casino, poker, and bingo available
Parlay insurance for NBA games and other sports
14. FOXbet Sportsbook – Result of  Two Gaming Giants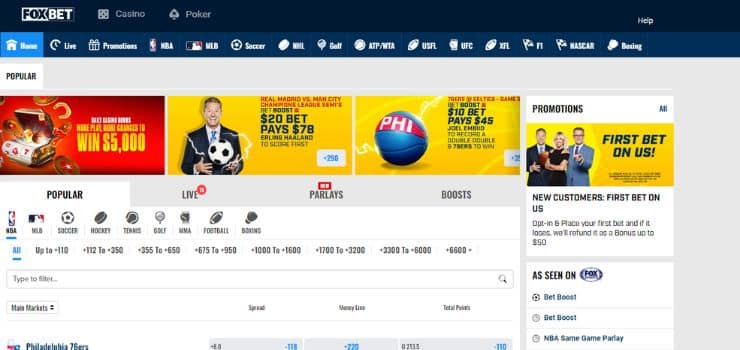 FOXbet Sportsbook in PA was established after BetStars and FOXsports merged. Pennsylvania bettors can bet with peace of mind they are using a sportsbook with two gaming giants behind the platform. FOXbet's user interface is super beginner friendly and designed with the user in mind.
Promotions on FOXbet Sportsbook are plentiful, with the latest bonuses found in the 'Promotions' tab on the menu. You will find promos such as Daily Odds Boost, insurance offers, and challenges for you to take on.
FOXbet's design is nice and simple with no cluttered or spammy-looking offers that will annoy you when betting. FOXbet also has an online casino and poker available, with many bonuses and promotion offers for sports bettors.
Pros:
Custom bets for many betting markets
Great odds on many sports and games
Cons:
Sportsbook app and site can be slow loading
Is Sports Betting Legal in Pennsylvania?
Yes, you can legally bet on sports in Pennsylvania. Pennsylvania is one of the few states that has fully embraced sports betting and created a framework to regulate it. Pennsylvania sports betting was legalized in 2017 after House Bill 271 was put forward when the state passed a law allowing online and in-person sports betting.
Pennsylvania became her seventh state to legalize sports betting after the Supreme Court overturned a federal ban.
Since then, Pennsylvania has seen a surge in sports betting and online sports betting platforms. The state has also been active in passing sports betting-related legislation, including a 2019 bill allowing betting on college sports.
One of the most significant developments in Pennsylvania's sports betting industry is the introduction of online sports betting platforms. Bettors can now easily place bets from the comfort of their own homes or on the go. Pennsylvania also has a strong regulatory framework to ensure fair and transparent sports betting with legislation such as Bill 1421 to protect customers.
The Pennsylvania Gaming Control Board oversees the industry and ensures that all sportsbooks and online sportsbooks comply with state regulations. In addition to Pennsylvania sports betting, the state has also legalized online casino games, poker, and daily fantasy sports. These developments have made Pennsylvania one of the most gambling-friendly states in the country.
How To Bet On Sports in PA
Sports betting has become popular in Pennsylvania since it was legalized in 2018. If you're new to sports betting, getting started cannot be very clear. That's why we've put together this guide on how to bet on sports in Pennsylvania. Bet on your favorite team or sport by following these simple steps.
Find a Pennsylvania Sportsbook – The first step to sports betting in Pennsylvania is finding a sports bookmaker. Pennsylvania has both online and individual sports betting. Pennsylvania has 12 retail sportsbooks and ten online sportsbooks, so you have a lot to choose from. Consider the interface, available sports and events, and promotions when choosing a sportsbook. Popular sportsbooks in Pennsylvania include BetRivers, FanDuel Sportsbook, and DraftKings Sportsbook.
Sign Up – Once you have chosen a sportsbook, the next step is to sign up. This process varies slightly depending on the sportsbook but generally involves providing personal information like your name, date of birth, and email address. To sign up, visit the sportsbook's website or download their app. You'll need to create a username and password and may be required to verify your identity.
Enter Promo Code – Many Pennsylvania sportsbooks offer promotions and bonuses to new users. When signing up, you may need to enter a promo code to take advantage of these offers. Promo codes are typically listed on the sportsbook's website or in advertising materials. Promotions can include free bets, deposit matches, and other incentives to encourage you to start betting.
Deposit – Before you can start betting, you must deposit funds into your account. Most Pennsylvania sportsbooks offer a variety of deposit methods, including credit and debit cards, bank transfers, and e-wallets like PayPal. Check the minimum and maximum deposit amounts and any applicable fees before depositing.
Bet on Sports – Once you have set up your account and deposited funds, you can start betting. Select the sport and event you want to bet on and select your bet type. A common type of bet is the money line bet. Point spread betting and over/under betting. Some sportsbooks also offer props to bet on specific events or outcomes within the game. When you place a wager, you will receive a confirmation, and the money will be deducted from your account. If you win, the winnings will be credited to your account.
Popular Pennsylvania Teams To Bet On
Pennsylvania is a state rich in sports history and culture, with some of the most passionate fans in the country. From Philadelphia to Pittsburgh, the state is home to various professional sports teams that appeal to fans throughout the region. Whether you're a die-hard fan or want to bet on your favorite team, here are some of the most popular Pennsylvania teams.
⦁ Philadelphia Phillies: Phillies have been a staple of Philadelphia's Major League Baseball team for over a century. They have won his two World Series titles and have a devoted fan base that fills his Citizens Bank park on game days. With Bryce Harper and his J.T. Realmoot leading the game, the Phillies are always a team to watch, especially in summer.
⦁ Philadelphia Eagles: The National Football League team has captivated Philadelphia fans since its inception in 1933. They have won four NFL championships, including a dramatic victory in Super Bowl LII. Led by quarterback Carson Wentz and a talented defense, the Eagles always have playoff prospects. If you're looking to get involved with some NFl betting, then check out our Top 5 NFL Betting Tips.
⦁ Pittsburgh Penguins: The Penguins are a professional ice hockey team that has won five Stanley Cups championships, making them one of the most successful teams in the NHL. With superstars like Sidney Crosby and Evgeni Malkin leading the way, the Penguins are always a team to watch come playoff time. The Pennsylvania sportsbooks listed here provide markets for the biggest NHL Conferences And Divisions to bet on.
⦁ Philadelphia 76ers: The 76ers are a National Basketball Association team with a rich history from the 1960s. Led by stars like Joel Embiid and Ben Simmons, the 76ers have become one of the most exciting teams in the NBA. With a talented roster and a new head coach in Doc Rivers, the 76ers are poised to make a deep playoff run this season.
⦁ Pittsburgh Pirates: The Pirates have been a Major League Baseball team fixture in Pittsburgh since the 19th century. While they have struggled in recent years, the Pirates have a loyal fan base that is always rooting for them. With up-and-coming stars like Ke'Bryan Hayes and Mitch Keller, the Pirates are a team to watch for the future.
Types of Online Sports Betting Bonuses in PA
Pennsylvania is one of the few states in the United States to legalize online sports betting, and it continues to grow within the state – in January 2023, Pennsylvania generated a total of $57.98m from sports betting.
It offers a wide range of bonuses and promotions to attract and retain customers with online sports betting. These bonuses come in many forms and are a great way to increase your bankroll and chances of winning.
Sign-up Bonus  – A sign-up bonus is the most common bonus offered by online sportsbooks. As the name suggests, these bonuses are given to new customers when they sign up for an account. The bonus can be free bets, match deposit bonuses, or a combination of both, depending on the sportsbook.
No-Risk Bonus – A no-risk bonus is a great way to try out a new sportsbook without risking any of your own money. These bonuses are typically offered to new customers and are risk-free bets. If your bet loses, the sportsbook will refund your stake up to a certain amount.
Free Bet Bonus – Free bet bonuses are another popular bonus offered by online Pennsylvania sportsbooks. These bonuses are often given to existing customers and can be used to place a bet on any sporting event. Remember that free bets usually have certain restrictions, such as minimum odds or a maximum stake.
Cashback Bonus – A cashback bonus is a type of promotion that refunds a percentage of your losses over a certain period. For example, a sportsbook might offer a 10% cashback bonus on all weekly losses. It is a great way to recoup some losses and keep the game going longer.
Boosted Odds Bonus – A boosted odds bonus is a promotion that offers better odds than usual on a particular bet. These offers are usually limited-time only and can be a great way to increase your potential winnings.
Matched Bet Bonus – A matched bet bonus is a type of promotion where the sportsbook matches your initial bet up to a certain amount. For example, if you place a $50 bet, the sportsbook will give you an additional $50 in free bets.
Matched Deposit Bonus – A matched deposit bonus is a promotion where the sportsbook matches your initial deposit up to a certain amount. For example, if you deposit $100, the sportsbook will give you an additional $100 bonus fund.
Can You Bet On Horse Racing Online in Pennsylvania?
Yes, you can bet on horse racing online in Pennsylvania. Horse racing is one of the state's most popular sports betting options. There are multiple online racebooks and simulcast venues where bettors can wager on races worldwide. The Pennsylvania Horse Racing Commission (PHRC) regulates the industry and ensures that betting is safe and fair for all involved. If you're looking for some pointers, then here are some horse racing betting systems and strategies.
What is the legal age for online sports betting in Pennsylvania?
Who regulates online sports betting in Pennsylvania?
Can You Bet on College Sports Online in Pennsylvania?