If you're a UFC (Ultimate Fighting Championship) fan and want to learn more about UFC betting, this guide is what you need. Forming a large portion of MMA sport, the UFC has gained popularity over more recent years, leaving it as a top sport to wager.
In this article, we take you through the ins and outs of UFC wagering, from whether it's legal, what betting lines are available, and how to place a wager on this sport. Additionally, we rank and review the top regulated sportsbooks that offer UFC betting in the US. So, read on to learn more.
List of the Best UFC Betting Sites 2023
As sports betting gains legality across the US, more sportsbooks offering UFC betting are popping up. However, only some provide premium wagering on the sport. So, to help you find those sites that do, our experts tried them all and have compiled their list below of the sportsbooks they most recommend.
BetMGM – Best UFC Betting Site Overall
BetRivers – Most Exciting Promos for UFC Bettors
FanDuel – Top Betting Lines for UFC Wagering
DraftKings – User-Friendly Betting App for UFC Fans
PointsBet – The Best Live Betting in the Ring
Reviews of the Best UFC Sportsbooks
To provide a more transparent outline of why we chose the regulated UFC betting sites above, we have reviewed each in detail, giving insight into what they offer and why each one made it onto our list.
1. BetMGM – Best UFC Betting Site Overall
If you're a fan of UFC betting and are looking to place wagers on fight night, BetMGM is the place to be. However, while the sportsbook covers various UFC events and provides excellent odds on fighters and matches, the site also covers other sports, like NASCAR, F1, the NHL, MLB, and NBA. Further, the sportsbook makes its mark as one of the best NFL betting sites.
While diverse sports markets are fun, so are varied betting lines, and BetMGM understands this, which is why the sportsbook offers several, including spreads, moneylines, totals, props, parlays, and futures. But the fun doesn't end there. Instead, bettors can place in-match wagers on fights already taking place by visiting BetMGM's live betting suite.
To help bettors place more of the UFC wagers they love, this betting site provides a selection of promotions that boost bankrolls. Bettors can claim these bonuses by using BetMGM promo codes when depositing funds. Which leads us to another impressive feature offered by the site – bettors can transact using several payment methods, like Visa, MasterCard, and PayPal, making it simpler to deposit, withdraw, and access rewards.
Pros:
Quick payouts
Three ways to display odds
Live wagering on UFC matches
Quick registration process
Cons:
Limited to select states
Only a few payout options
2. BetRivers – Most Exciting Promos for UFC Bettors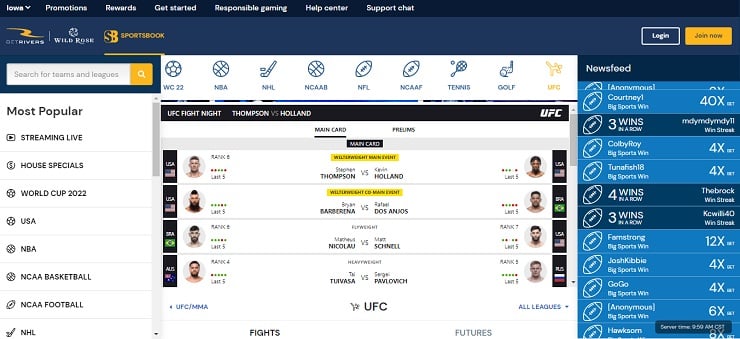 The promotions an online sportsbook provides set the standards for the rest of its offerings. Since BetRivers is keenly aware of this, the site offers UFC betting fans a range of options, including reload rewards, welcome bonuses, free bets, and fight night promos. Since these bonuses allow bettors to boost and sometimes double their bankrolls, many bettors sign up and unlock them using promo codes when they fund their accounts. Because bettors can use transaction methods like Discover, PayNearMe, PayPal, eCheck, Visa, MasterCard, and Play+, the process becomes even easier.
While BetRivers provides diverse payment methods, the site isn't limited by any means in its sports markets, covering over 20 options, including UFC, NFL, NBA, MLB, golf, and cricket. However, the sportsbook makes its mark as one of the best NHL betting sites the US has to offer. In addition, bettors can discover various betting lines like totals, moneylines, spreads, futures, player props, and parlays. Finally, those who enjoy in-game action will find the live betting suite impressive.
Pros:
Promos for new and existing bettors
Excellent NHL wagering options
Slim wagering requirements
Exciting free bets
Cons:
Welcome promo could use improvement
Doesn't accept cryptocurrency
3. FanDuel – Top Betting Lines for UFC Wagering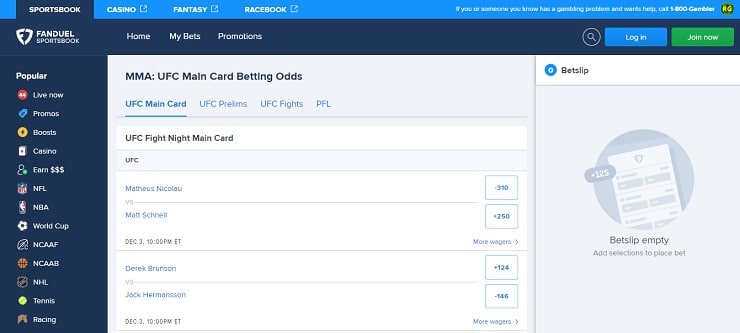 FanDuel stands out as one of two leading Daily Fantasy Sports betting sites in the US. However, bettors also recognize FanDuel as a leading sportsbook that provides some of the best and most unique betting lines, especially player and game props. As a result, UFC betting fans can place a range of fun and nail-biting wagers on their favorite fighters. Further, these lines extend from pre-game betting to in-play wagering, giving an even more unique betting experience.
Besides UFC betting, FanDuel covers over 20 additional sports markets, including rugby, basketball, baseball, hockey, Aussie Rules, soccer, motorsports, collegiate sports, and tennis. Further, it ranks as one of the best rugby betting sites. When funding their accounts, bettors can enjoy several options, like credit cards, PayPal, FanDuel gift cards, Green Dot MoneyPak, PayNearMe, money orders or checks, and bank wire transfers. And they can boost their betting funds by using FanDuel promo codes when making their deposits to unlock generous and exciting rewards.
Pros:
Offers FanDuel gift cards
Includes DFS betting
Unique prop bets for fight night
Has several payment options
Cons:
Withdrawal fees are high
Doesn't cover many unique sports
4. DraftKings – User-Friendly Betting App for UFC Fans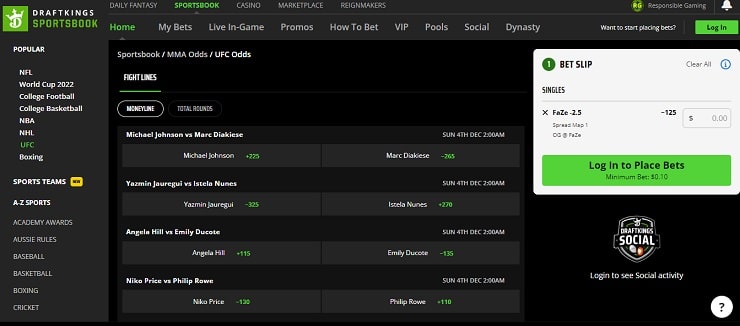 UFC betting fans looking for a regulated sportsbook that provides a user-friendly mobile app may want to try DraftKings. Besides being easy to use, the DraftKings betting app is quick to download and offers compatibility with iOS and Android devices, offering bettors the option to enjoy UFC betting on the go. While DraftKings also ranks as a leading DFS betting site, it also features a sportsbook with over 20 sports markets, ranging from UFC and cricket to Esports, snooker, baseball, and rugby. The betting lines at DraftKings are just as diverse and allow bettors to place props, parlays, moneylines, point spreads, and totals, and even include in-play betting.
Bettors using DraftKings can claim bonuses and promos by using DraftKings promo codes when funding their accounts. However, the payment options offered are limited and only go so far as to include bank wire transfers, MasterCard and Visa credit cards, DraftKings gift cards, eWallets like PayPal, and cash payments bettors can make at select locations.
Pros:
Daily Fantasy Sports
Highly compatible downloadable app
Excellent odds on UFC fights
Several unique rewards
Cons:
Geofenced in some states
Minimal withdrawal methods
5. PointsBet – The Best Live Betting in the Ring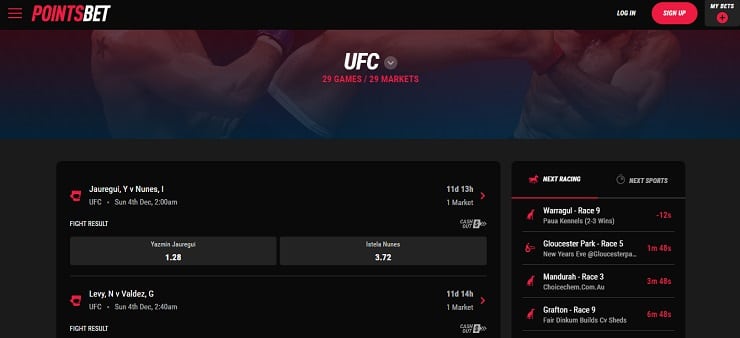 The only thing more exciting than watching a UFC fight live is wagering on it after the fight has begun. Luckily for UFC betting fans, Pointsbet offers both. When visiting the sportsbook's live betting suite, bettors can place in-play wagers and watch the fights in real-time. Further, bettors can place a series of wagers, from parlays, props, spreads, and moneylines. Besides an exciting betting experience, Pointsbet makes it simple for high rollers to place high-stake wagers by accepting maximum bets that reach into the thousands. Further, everyone can feel like a high roller at this sportsbook by claiming one of many bonuses by inputting Pointsbet promo codes.
Pointsbet offers bettors convenience by accepting diverse payment options, like PayNearMe, eCheck, online banking with Trustly, and a debit or credit card from Visa or MasterCard. And after depositing their funds, bettors can enjoy placing wagers on more than just the UFC. Pointsbet features several sports markets, including the rugby MLB, NBA, NCAA, darts, MMA, cycling, Aussie Rules, and cricket, and ranks as one of the best MLB betting sites. Finally, the sportsbook provides in-depth stats and news on current teams and events.
Pros:
Covers the latest sports news
Top selection of national and international fights
Diverse sports markets
Caters to high rolling bettors
Cons:
Withdrawals take up to five days
Limited odds
FAQs about UFC Betting
How do betting odds work in UFC?
How does UFC betting work?
What is round betting in UFC?
How many rounds are there in UFC?
What is the best site for UFC betting?
Comparing the Best UFC Betting Sites
Now that you have been through our mini-reviews of the best UFC betting sites, let's summarize by looking at the table below. Here, you will find a quick comparison of each site's features and offerings.
| | | | | |
| --- | --- | --- | --- | --- |
| Sportsbook | Sport Bonus | Parlays | Live UFC Betting | Live UFC Streaming |
| BetMGM | Risk-Free Bet up to $1,000 | ✅ | ✅ | ✅ |
| BetRivers | Free Bet up to $500 | ✅ | ✅ | ✅ |
| FanDuel | FanDuel No Sweat First Bet up to $1,000 | ✅ | ✅ | ✅ |
| DraftKings | 20% up to $1,000 | ✅ | ✅ | ✅ |
| PointsBet | $500 in Free Bets | ✅ | ✅ | ✅ |
Is UFC Betting Legal in the US?
Yes, UFC betting is legal in the United States. However, it is essential to note that it is only permitted in some states. Since the Supreme Court of the United States repealed PASPA in 2018, it opened the gates for each state to pass laws independently, permitting legal sports betting. As a result, over 30 states have legalized either online or in-person sports wagering or both.
But bettors cannot legally place bets on UFC fights in states that have yet to introduce legal sports betting. Further, in states where sportsbooks are permitted, bettors must first consider whether the state accepts online or in-person wagers on UFC matches.
Since each of the sites on our list are state-regulated and legally allowed to operate, bettors can access them to place a variety of UFC wagers on various fights and matches. So, for the best UFC betting, take a look at our list.
Our Criteria for Choosing a Top UFC Betting Site
When selecting the top UFC betting sites, our experts consider several aspects to ensure their picks provide a high standard of online wagering. Below, we look at the criteria they use to pinpoint the best UFC sportsbooks available.
Range of UFC Bets
A key factor to consider when choosing a UFC betting site is the range and diversity of betting lines offered by the sportsbook. While traditional moneylines are great, other options like totals, spreads, props, and futures add additional excitement and more ways to win.
Choice of UFC Events
Another aspect worth looking into is the selection of UFC fights and events the sportsbook covers. It is pointless signing up with a UFC betting site that doesn't feature half the fights you want to wager on, especially main and title fights and events. As a result, we recommend reviewing the diversity and depth of the site's UFC coverage before signing up.
Bonus & Promotions
Taking advantage of the promotions and bonuses a UFC betting site provides makes it easier to place those wagers you wouldn't otherwise try or place high-stakes bets. As a result, it is a good option to look for a sportsbook that offers generous rewards, but that has low and attainable wagering requirements attached to the promotions.
Safety & Security
Bettors signing up with UFC betting sites must input personal details and banking information to create and fund their accounts. As a result, it is always best practice to opt for a sportsbook that utilizes SSL encryption that protects this information against hackers. Further, it is an excellent option to choose a sportsbook that is licensed (like those on our list), as these must adhere to a high standard of gaming and offer fair play.
Payment Methods
UFC betting sites that provide bettors with several ways to deposit and withdraw funds from their accounts offer convenience and allow bettors to select a transaction method that suits their budget and available funds. As a result, we suggest narrowing your UFC betting picks to those sites that accept several payment options, including eWallets and traditional options like credit cards, debit cards, checks, and bank wire transfers. Additionally, opt for a sportsbook that has fast payouts and minimal transaction fees.
Customer Support
Finally, it is always helpful to consider the customer service a UFC betting site provides. For example, a site that attends to your queries instantly, like one that offers a 24-hour phone line or live chat. In contrast, a sportsbook with an email-only contact or ticketing system could take days to attend to matters.
How to Sign Up and Bet on UFC
Chances are you've visited a UFC betting site before. However, if this is your first time and you need a little assistance with the registration process, the step-by-step guide below will help you create your account and deposit funds so you can start wagering in no time.
Step One – Register with BetMGM
Begin by launching the BetMGM website. Then, select the state you are located in. Next, click the gold "Register" button on the top right of the home page. Lastly, complete the registration form that opens before hitting the "Continue" button.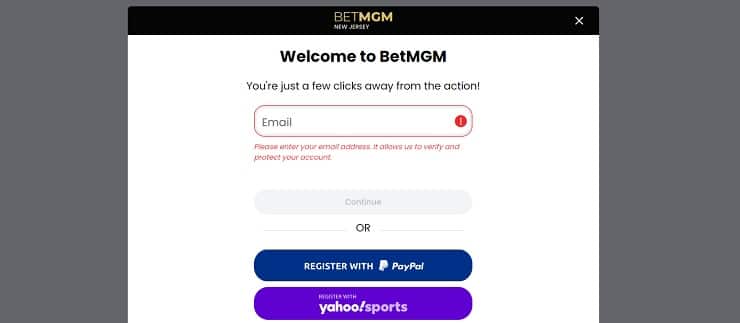 Step Two – Verify Your Account
Following registration, you'll need to verify your BetMGM account. So, open your email inbox and the mail sent to you by the sportsbook. Then, click the link inside to verify your new account before signing back into BetMGM with your new username and password.
Step Three – Fund Your Account
The next step is to deposit funds into your BetMGM account. So, click the green "Deposit" button on the top right of the home page (this will only come up when you are signed in). Then select your preferred payment method from the options provided and type in the amount you wish to deposit. Don't forget to input your bonus promo code before clicking "deposit." Finally, follow the prompts to complete your payment.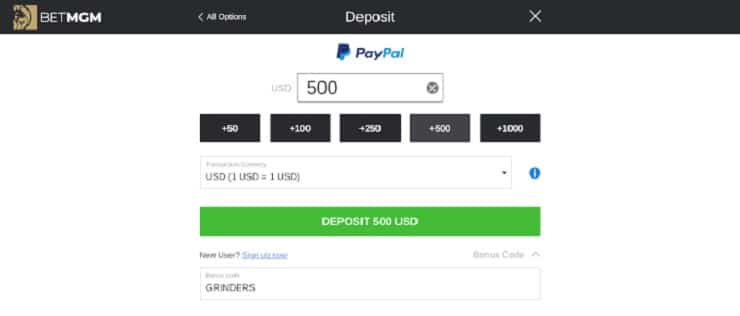 Step Four – Start Wagering
Once your funds reflect in your BetMGM account, it's time to start the fun part – wagering. So head to the sportsbook tab and find the UFC match you want to wager on. Then, type in your bet amount onto the bet slip on the right of the screen. Lastly, hit "Place Bet."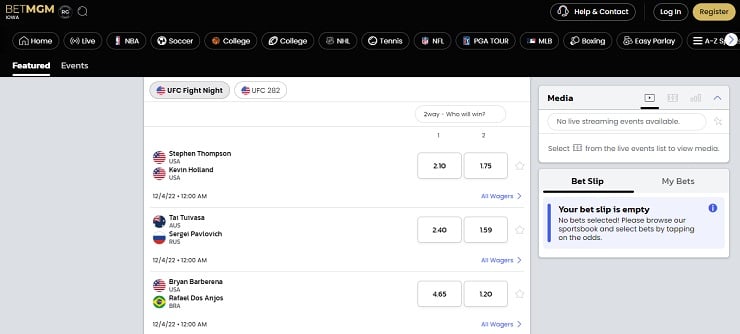 How UFC Betting Works
UFC betting is relatively straightforward. While most sportsbooks offer odds in three different formats, American, Decimal, and Fractional, the default is usually American odds. In this case, the betting site denotes the favorite (the fighter with the greater likelihood of winning) with a minus (-) sign followed by three digits. These digits represent the value a bettor must wager to earn back $100 should the fighter win.
In contrast, the underdog is represented with a plus sign (+) with a three-digit figure, which shows how much a bettor will earn off a $100 wager should that fighter win. For instance, say BetMGM offered odds of -150 for the favorite and +150 for their opponent, the underdog. In that case, if you were to wager $150 on the favorite and they won, you'd receive $100. However, if you bet $100 on the underdog and they won, you'd win an additional $150 on a $100 wager.
Further, the higher the number placed next to a fighter's name, the lower their chances of winning.
Popular Types of UFC Betting Markets
When visiting the best sportsbooks, bettors will discover several UFC betting lines to enjoy. Below, we consider all the options, the types of wagers they offer, and how they work.
Moneyline Bets
The most straightforward of all the UFC betting lines, the Moneyline sees bettors back the fighter they predict will win the match overall. Generally, the favorite (punted to win) will feature a minus sign next to their name, while the underdog is represented with a plus sign. Below, we provide a table showing you what moneyline odds look like.
Example: 
| | |
| --- | --- |
| Fighter | Odds |
| Conor McGregor |  – 450 |
| Kamaru Usman | + 700 |
Methods of Victory
Similar to a moneyline bet, bettors can wager on how their chosen fighter will win the fight. Here, a bettor can wager whether the fighter will win by a decision, a submission, a knockout (KO), or a total knockout (TKO).
Example: 
| | |
| --- | --- |
| Fighter | Odds |
| Conor McGregor by TKO |  – 450 |
| Conor McGregor by Points |  – 370 |
| Kamaru Usman by TKO |  + 600 |
| Kamaru Usman by Points |  + 550 |
Total/Round Betting
One of the more popular UFC betting lines is wagering on the number of rounds a fight will last or in which round the fight will end. Additionally, bettors can wager on whether they predict the fight will make it past the first round or not.
Example:
| | |
| --- | --- |
| Fighter | Odds |
| Over 3 rounds |  – 180 |
| Under 3 rounds |  + 120 |
Prop Bets
In contrast to most UFC betting lines, prop bets don't focus on the final outcome of a fight. Instead, they allow bettors to place wagers on other aspects, like the number of takedowns a fighter may attempt, how many takedowns were successful, or how many fouls were committed. While these aren't easy bets to win, they provide greater payouts and more exciting ways to wager.
Example:
| | |
| --- | --- |
| Go the Distance | Odds |
| Conor McGregor (Yes) |  – 450 |
| Conor McGregor (No) |  + 170 |
| Kamaru Usman (Yes) |  + 600 |
| Kamaru Usman (No) |  – 150 |
Futures
Generally, futures work in terms of tournaments. In this case, bettors place wagers on who they predict will win the tournament overall. For instance, a bettor may wager on who they think will win the PFL Tournament.
Parlays
Another UFC betting line is a parlay bet. A parlay bet sees several single wagers grouped together. However, a bettor must win each leg of their parlay in order to win the bet. But if they lose one leg, they lose the entire wager. For example, a bettor may place a parlay that Conor McGregor, Steve Garcia, Jiri Prochazka, and Calvin Kattar all win their fights.
Live UFC Betting
When visiting UFC betting sites, bettors can place a selection of pre-game wagers and relatively fixed odds. However, the best sportsbooks allow bettors to place wagers on fights already underway in what they call live or in-play betting.
Further, the top betting sites offer competitive UFC betting odds for live wagering, and in many instances, live-stream UFC fights on their websites and apps, allowing bettors to catch the fight in real-time.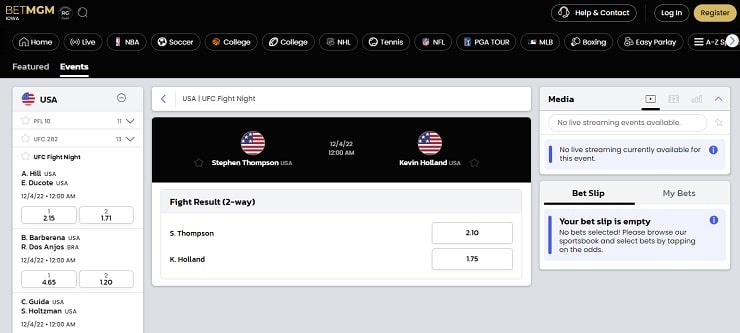 UFC Betting Strategies & Systems
Although wagering on the UFC is relatively tricky and unpredictable, bettors can follow a few strategies to improve their chances of placing a winning bet. So, let's take a look below at a few strategies that bettors can try:
Follow the Weigh-Ins
Currently, the UFC weighs its competitors on the morning of the day before the fight. Since this does not give a fighter with a massive weight cut sufficient time to rehydrate, watching a weigh-in offers excellent insight into how a fighter may perform the following evening.
Consider the Size of the Octagon
Generally, the UFC has two different-sized octagons that it uses for fights. A larger octagon with 746 square feet of fighting surface is used more commonly. However, there is a smaller one that features only 518 square feet. Since the smaller ring offers less space for movement-based fighters, this is an aspect worth considering when making UFC betting picks.
Look at the Age of the Two Fighters
Since top UFC athletes don't earn salaries anywhere near those received by top football or soccer players, many of them continue to fight beyond what most would consider a good retiring age. Because statistical evidence exists, highlighting that older fighters experience knock-outs at a higher rate than their younger counterparts, it is essential to consider the age of the fighters when placing your wager.
Our Top 5 UFC Betting Tips
While strategies may help bettors when making their UFC betting picks, having a few tricks won't hurt either. So, take a look below for our top five UFC betting tips.
Research Before Betting
One of the best ways to boost your chances of placing a winning wager when UFC betting, is to do some research before the fight. Besides understanding the fighters and how they match up against their opponent, knowing their strengths and weaknesses will help you place a winning wager. Further, looking at betting tips before selecting your UFC betting picks is also beneficial.
Don't Place All Your Focus on Past Results
Don't place all your focus on a fighter's results from past matches. Instead, consider that each opponent is different and that they all have varying strengths and weaknesses. As a result, we suggest understanding both fighters in a match and where one may take the advantage; this will help you predict more accurately who to bet on.
Don't Wager on a Draw
While the odds for a draw are often impressive, don't let this swindle you into backing this option. Since fights have an odd number of rounds (three or five typically), there is almost always a winner, even if the method of victory is by decision, making your bet a loss.
Increase Your Odds with Parlays
While UFC betting is fun, bettors may not always want to place large sums of money on a single fight. Here, they have two choices. First, they can spread their betting budget over a few individual wagers. However, this decreases the chances of winning and may not earn you much. Alternatively, they can place funds on a parlay bet, increasing the chances of winning. So, if you're confident in your betting, this may be the choice for you, but remember, parlays are risky.
Beware the Underdog
While the underdog often has much greater odds and higher payouts, they are the underdog for a reason. As a result, we suggest betting on the favorite if you're looking to win, especially if you are new to UFC betting..
Biggest UFC Tournaments to Bet on
The UFC gained popularity in the US in early 1993. Since then, several events and tournaments have been established. We take a look at the most prominent ones below:
"Fight Night" Events
UFC Fight Nights feature high-profile fights and championship bouts with some of the biggest stars on the UFC circuit. As a result, these fights draw a large UFC betting crowd, and many online sportsbooks offer unique promos around these events, like doubling winnings on fight night.
UFC Championships
Ultimate Fighting Championships see fighters in eight different weight classes battle it out in their division to become a UFC Champion. Currently, there are eight men's weight divisions:
Heavyweight (206 – 265 Ibs)
Light heavyweight (186 – 205 Ibs)
Middleweight (171 – 185 lbs)
Welterweight (156 – 170 lbs)
Lightweight (146 – 155 lbs)
Featherweight (136 – 145 lbs)
Bantamweight (126 – 135 lbs)
Flyweight (125 lbs)
And four women's weight divisions:
Featherweight (136 – 145 Ibs)
Bantamweight (126 – 135 Ibs)
Flyweight (116 – 125 lbs)
Strawweight (106 – 116 lbs)
Bonuses for UFC Betting Online
The best UFC betting sites offer bettors a selection of promotions and bonuses. Generally, these are generous and have relatively attainable wagering requirements. While these rewards gain new bettors for sportsbooks (and keep existing bettors returning), they also allow bettors to increase or double their betting funds. So, let's look at some of the best bonuses on offer:
Match Deposit Sign Up Bonuses
An exciting promotion offered by UFC betting sites to new bettors is the sign-up match deposit. In this case, the sportsbook rewards bettors for funding their accounts for the first time by matching their deposits up to a specific amount. For instance, a UFC betting site offering a 100% welcome match deposit of up to $2,000 will give a bettor depositing $1,850 an additional $1,850 to spend.
No Deposit Bonus
In contrast to a match deposit promotion that requires bettors to make a deposit, the no deposit bonus rewards them for simply creating an account with the sportsbook. In this case, the UFC betting site gives a bettor complimentary site credits, allowing them to place risk-free wagers. However, once the credits run out, bettors usually deposit funds to continue wagering, securing a new bettor for the sportsbook.
Free Bets
Another exciting reward offered by UFC betting sites is free bets. Generally, free bets come as site vouchers, coupons, or credits that allow a bettor to place a risk-free wager. In other words, if a bettor places a free bet and loses the wager, they don't risk any of their own funds. However, if they win their bet, they can keep the earnings.
Reload or Top-Up Bonuses
The best UFC betting sites reward existing bettors for their continued loyalty and to keep them returning by offering them reload bonuses. Generally, the best reload bonuses come as a match deposit or a lifetime reload reward that sees the sportsbook matching a bettor's deposit up to a specific amount each time they fund their account.
Risk-Free Bets
Generally, a risk-free bet is the same as a free bet and sees a UFC betting site giving a bettor credits that allow them to place wagers without spending or risking their own deposited funds.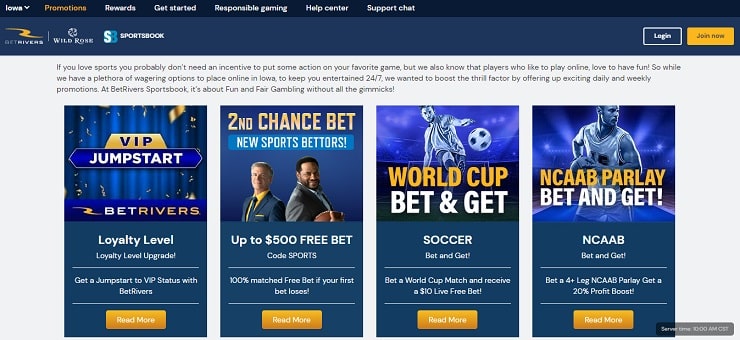 The Best Payment Methods for UFC Betting
The bet UFC betting sites provide bettors with more than one payment option, making it easier to fund their accounts by offering convenience. So, let's look at the most common payment options online sportsbooks offer.
eWallet Betting Options
When looking for payment methods to use when funding their UFC betting accounts, bettors tend to opt for those that provide a greater level of security. Since eWallets act as intermediaries between a bettor's bank account and online sportsbook account, they protect against fraud, making them a popular choice. As a result, regulated sportsbooks work with eWallet providers like PayPal, EcoPayz, Skrill, PayForIt, and Neteller. So, for the best PayPal UFC betting sites, visit FanDuel and DraftKings.
Traditional Payment Methods
Although eWallets are gaining popularity, many bettors prefer using traditional payment methods to fund their sportsbook accounts. As a result, the best UFC betting sites accept deposits using checks, credit cards, debit cards, online banking, and bank wire transfers. So, for the best sportsbooks that accept Visa, visit any of the sites on our list.
UFC Apps & Mobile Betting
In addition to offering desktop websites, the best UFC betting sites provide bettors with best sports betting apps or mobile-optimized websites. In the case of the sportsbooks on our list, each one provides a downloadable app compatible with iOS and Android operating systems and various devices like tablets and smartphones.
Generally, both options offer the same features, with a few minor differences. However, they make it simple for bettors to wager on the go and enjoy UFC betting from just about anywhere.
2022 UFC Schedule
One of the best ways to get in on all the UFC betting action is to have a detailed schedule of all the upcoming fights and events. So, we created the UFC schedule below, highlighting all the fights of the year and their venues.
| | | | |
| --- | --- | --- | --- |
| Date | Tournament  | Venue | Location |
| Oct 22 | UFC 280: Oliviera vs. Makhachev | Etihad Arena | Abu Dhabi, United Arab Emirates |
| Oct 28 | UFC Fight Night: Kattar vs.Allen | UFC Apex | Las Vegas, Nevada |
| Nov 5 | UFC Fight Night: Mitchel vs. Evloev | UFC Apex | Las Vegas, Nevada |
| Nov 12 | UFC 281: Adesanya vs. Pereira | Madison Square Garden | NY, New York |
| Nov 20 | UFC Fight Night: Lewis vs. Spivac | UFC Apex | Las Vegas, Nevada |
| Dec 3 | UFC Fight Night: Thompson vs. Holland | Amway Center | Orlando, Florida |
| Dec 10 | UFC 282: TBC | T-Mobile Arena | Las Vegas, Nevada |
| Dec 17 | UFC Fight Night: Cannonier vs. Strickland | UFC Apex | Las Vegas, NV |
| Jan 21 (2023) | UFC 283: TBC | Jeunesse Stadium | Rio de Janiero, Brazil |
| Feb 11 (2023) | UFC 284: TBC | RAC Arena | Perth, Australia |
UFC Betting Terms
Every sport has its own terminology and vocabulary. For instance, the scrum is unique to rugby, while a run line is limited to MLB betting. Similarly, UFC betting has its own lingo. So, to help you make sense of what these unique terms mean, we created the UFC glossary below:
Moneyline – UFC betting odds that show the payout should either fighter win the game.
Live Betting – This is where the UFC betting site allows bettors to place wagers on a game already in play.
Even Money – When two fighters are evenly pitted
Dime Bet – this refers to a $1,000 wager.
Dime Line – When the difference in the commission a sportsbook charges on a wager (juice) between odds is ten cents (a dime). For example +110 and -120. 
Reduced Juice – When the commission charged by a UFC betting site is lower that the industry standard.
Chalk – Another term for the "Favorite" (The fighter chalked to win)
Favorite – The fighter predicted to win by the sportsbook or the public.
Underdog – The fighter opposing the favorite with less favorable odds of winning.
Bankroll – The funds a bettor has to wager with.
KO – The abbreviation for a Knock Out.
TKO – An abbreviation for a Total Knock Out.
Technical Draw – When the ref stops the fight before the 5th round for a reason other than a knockout, a technical knockout, or a disqualification 
Unanimous Decision – When all the judges score the fight for one athlete
Split Decision – When two judges score the fight for one athlete but one judge scores it for the other fighter.
Majority Decision – When two judges score the fight for one athlete but one judge scores it for a draw.
Betting on UFC Near Me
Over 30 US states offer legal sports betting. However, only some provide retail sports betting establishments, while others only have online sports wagering. As a result, to participate in UFC betting by visiting a sportsbook establishment, bettors must first find out whether their state offers in-person sports betting. For instance, bettors can enjoy UFC betting in person at the best Iowa sportsbooks or the top New Jersey sports betting establishments. Alternatively, bettors can also visit Mississippi sportsbooks or Illinois sports betting locations.
The Best UFC Betting Site in the US
UFC betting is gaining popularity in the US, with more and more sportsbooks offering several betting lines on the sport. However, some of the best online sportsbooks to visit for wagering on fight night and championships can be found on our list of the best UFC betting sites.
However, if you still need to choose the sportsbook that most suits your needs, we recommend BetMGM. In addition to covering all the top UFC events, the sportsbook offers exciting promotions, competitive odds, and diverse betting lines. So, don't miss out on backing your favorite fighter. Instead, sign up with BetMGM and get your money on that bout.