DraftKings has gained prominence in the legal sports betting market by leveraging its brand familiarity and first-mover advantage in Pennsylvania. While primarily known for its daily fantasy website, DraftKings expanded its offerings in 2018 to include its own sportsbook.
This comprehensive guide will provide you with all the information you need about DraftKings Sportsbook in Pennsylvania, including its pros and cons, available sports, sign-up process, and more.
Is DraftKings Sportsbook in Pennsylvania Legal?
Yes, DraftKings Sportsbook in Pennsylvania is legal. Online sports betting became legal in Pennsylvania in May 2019 and DK Sportsbook officially launched in November 2019 after making a deal with Penn National Gaming.
A Step-by-Step Guide to Signing Up for DraftKings Sportsbook in Pennsylvania
Here is a step-by-step guide to signing up for DraftKings Sportsbook in Pennsylvania. The account creation process has certain restrictions, such as age and physical presence within the state's borders. However, if you are signing up online, following these steps will make the process accessible and straightforward.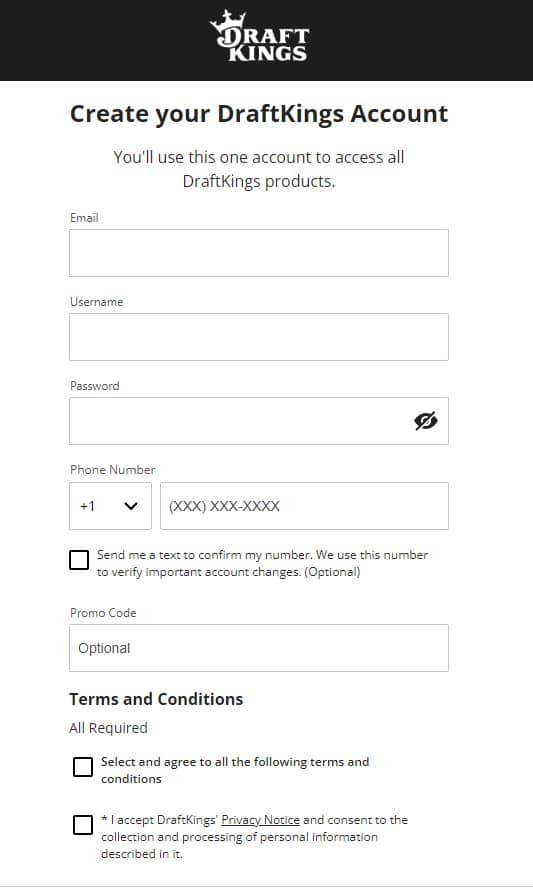 Visit the DK site or download the app – Create a DraftKings Pennsylvania account by visiting the DK website or using the app, which is preferred by most people for its practicality.
Click sign up – Once you have downloaded the app or accessed the website, click on the sign-up button.
Enter your details – Provide your personal information, including your full name, home address, phone number, birth date, and the last 4 digits of your Social Security Number, to open an account.
Input promo code – If there are any available promos in Pennsylvania, use a promo code to redeem their latest welcome bonus.
Add money to your DK account – Deposit money into your account using your chosen payment method.
Start betting – Navigate to the sports betting page and choose your bets.
Pros and Cons of DraftKings Sportsbook in Pennsylvania
DraftKings Sportsbook provides an excellent platform for online sports betting in Pennsylvania, but it has pros and cons. Let's examine them:
Pros:
Solid Reputation
Free contests
DFS League
Competitive odds and promotions
Live streaming and in-gaming betting
Cons:
Geolocation restrictions
Limited withdrawal options
Pros expanded
Solid reputation: DraftKings Sportsbook Pennsylvania is fully legitimate, regulated, and licensed by the New Jersey Division of Gaming Enforcement. It has built a reputation for providing a safe and secure environment for bettors, making it one of the safest sportsbooks currently operating.
Popularity: DraftKings is one of the most popular legal sportsbooks in the US, with over 8 million users. It has a significant market share and is well-known for its success in DFS.
Free contests: DraftKings offers a variety of thrilling competitions where players can win great rewards. Participating in these contests is an excellent way to increase your online bankroll.
DFS League: DraftKings is the pioneer of Daily Fantasy Sports and is still the go-to place for Pennsylvania bettors.
Competitive odds and promotions: DraftKings Sportsbook offers competitive odds on a wide range of sports and events. Additionally, they frequently run promotions and bonuses, such as odds boosts, deposit matches, and free bets, providing added value to users.
Live streaming and in-game betting: DraftKings Sportsbook provides live streaming of select games, allowing users to watch the action unfold while placing bets in real time. This enhances the overall betting experience and enables users to make more informed decisions.
Cons expanded
Geolocation restrictions: To use DraftKings Sportsbook in Pennsylvania, you must be physically located within the state's borders. Geolocation technology is used to verify your location, which can be a drawback if traveling outside the state or near its borders.
Limited withdrawal options: While DraftKings offers various deposit options, including credit/debit cards, PayPal, and online bank transfers, the withdrawal options are relatively limited. Currently, users in Pennsylvania can withdraw funds via PayPal, ACH/eCheck, or by requesting a check by mail.
Overwhelming interface for some: While the user interface of DraftKings Sportsbook is generally user-friendly, some users may find it overwhelming due to the amount of information and options available. The platform can be cluttered, especially during peak betting times or on busy sports days.
Payment Methods on DraftKings Sportsbook in PA
DraftKings Sportsbook in Pennsylvania offers a variety of convenient payment methods for both depositing and withdrawing funds. As a prominent player in the US sports betting market, DraftKings ensures a seamless and secure payment experience for its users. Here are the available payment methods along with a brief description of each:
PayPal: DraftKings accepts deposits made through PayPal, provided you are not using a business account. To utilize this method, your DraftKings account details must match your * PayPal account details. PayPal serves as an e-wallet, allowing you to withdraw funds if you have already used it to fund your betting account.
Play+: The Play+ online payment platform is another option with no minimum deposit requirement. However, there is a cap of $25,000 for withdrawals.
Online banking: Withdrawals made through online banking have no minimum threshold. However, there is a maximum withdrawal amount of $100,000.
Neteller: Neteller is a payment method with no minimum withdrawal requirement. However, the maximum withdrawal amount is set at $15,000.
American Express: American Express, a popular credit card similar to Visa and Mastercard, can be used for funding your DraftKings account. The acceptance of AMEX cards as payment may vary depending on your state. In Pennsylvania (PA), you have the option to use your AMEX card.
Venmo: Venmo is an online payment provider that originated in 2009, focusing on mobile payments. It was initially designed for peer-to-peer transactions, bill sharing, and money transfers to friends and family. Venmo has since expanded to include business transactions. It is available only in the United States, and you can connect your bank account, credit card, or debit card to your Venmo account for seamless money transfers.
Skrill: Skrill is a payment method that offers a quick deposit option with a minimum deposit requirement of $1 and a maximum deposit limit of $60,000.
And many more: DraftKings Sportsbook provides a wide range of additional payment methods, each with suitable maximum and minimum limits. These options may vary and could include popular methods like credit/debit cards, online bank transfers, and other e-wallet solutions.
Popular Sports Pennsylvania Bettors Can Wager On With DraftKings Sportsbook
DraftKings Sportsbook in Pennsylvania offers an abundance of sports to bet on. You can find some of the most popular below.
Football – The comprehensive list of sports available for betting naturally includes the National Football League (NFL), which enjoys immense popularity. Football offers a wide range of betting opportunities, making it a must-have for DraftKings. DK Sportsbook provides various standard wagering options for football games, including point spreads, moneylines, over/under bets, live or in-game betting, parlays, futures, and prop bets. Pennsylvania residents can root for their favorite NFL teams and engage in exciting wagering experiences.
Basketball – Pennsylvania residents also have a strong affinity for basketball. The National Basketball Association (NBA) ranks as the second-largest betting market in terms of wager volume for licensed online sportsbooks. NBA fans, regardless of their team preferences, can enjoy following the regular season games and championships. DraftKings offers a variety of basketball betting options, including player props, NBA games, futures, and more. With a wide selection of matches, high-scoring action, and opportunities for live betting, basketball betting adds excitement to the sportsbook experience.
Baseball – Major League Baseball (MLB) and Baseball provide numerous betting options, allowing participants to enjoy the game and potentially make money. DraftKings offers a range of baseball wagers, including run lines, parlays, totals, futures, prop bets, moneylines, and live or in-game wagering. Baseball is known for its unpredictability and variance, so bettors need to familiarize themselves with teams, players, and their abilities to make informed bets. It's crucial to avoid relying solely on personal preferences and instead focus on statistical analysis. Additionally, managing payroll and avoiding teasers and parlays can contribute to a more successful betting experience.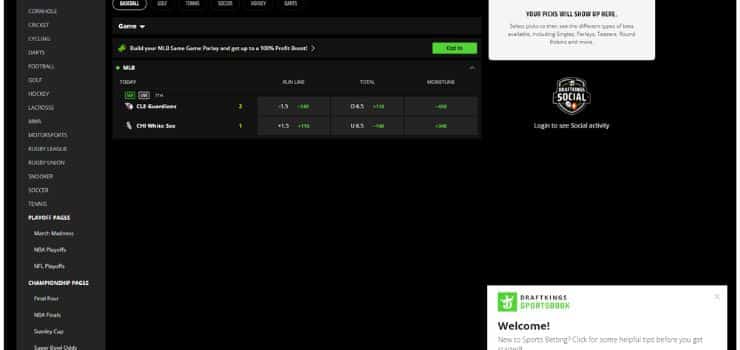 Soccer – Soccer is predominantly accessible through Daily Fantasy Sports on DraftKings. DK Sportsbook provides a sizable market for soccer, and players can explore various prospects based on actual statistical data. The schedule of soccer games is indicated by "Soc" on the menu. While the selection may be limited compared to other sports, soccer enthusiasts can still find exciting betting opportunities by reviewing the comprehensive list available on the DraftKings mobile app or website.
Boxing – Boxing offers a thrilling betting experience as it relies heavily on individual skills rather than team performance, setting it apart from other sports.
MMA – Mixed martial arts (MMA) has gained significant popularity over the years and provides an enjoyable sport to bet on. To make informed wagers, it's essential to closely follow the fighters and their performances.
Ice hockey – Ice hockey betting has experienced a surge in national popularity, attracting a large number of bettors who enjoy wagering on both NHL games and top European leagues, including the Stanley Cup finals. Online sports betting platforms like DraftKings offer convenient options for placing live bets on hockey events, and the sport's brisk action and favorable odds make it particularly captivating.
Golf – Golf has a dedicated following in online sports betting and receives considerable attention from bookmakers. Fans of the sport can place a variety of wagers on golf, including golfer nationality, matchup and event winners, round leaders, futures, prop bets, parlays, and live betting events.
Lacrosse – While lacrosse is a fast-growing sport, it is relatively less common among sportsbooks compared to others. DraftKings, however, stands out as one of the few US bookmakers that include lacrosse as an option. The sport can be categorized into field lacrosse and box lacrosse. Field lacrosse is played outdoors, typically on football fields, with 11 players on each team, including a goaltender. Box lacrosse, on the other hand, is an indoor game played with six players
Bonuses You Can Find on DraftKings Sportsbook in Pennsylvania
DraftKings has a host of bonuses and promotions ongoing for Pennsylvania bettors to take advantage of. Bonuses tend to change on a daily and weekly basis, so it's worth checking the promotions tab or the homepage to find the latest on the sports betting app homepage. Popular bonuses you will typically find on DK Sportsbook in Pennsylvania include;
Sign-up Bonus – The sign-up bonus is a widely offered bonus by online sportsbooks including DraftKings. It is granted to new customers upon registration. The bonus may come in the form of complimentary bets, match deposit bonuses, or a combination.
Risk-Free Bonus – A risk-free bonus presents an excellent opportunity to try out DraftKings without risking your own cash. This bonus is typically extended to new customers and involves placing bets that are protected against losses. In the event of a lost bet, DraftKings Sportsbook refunds the stake up to a certain amount.
Free Bet Promotion – The free bet promotion sometimes found on DK Sportsbook in PA stands as another favored bonus provided by online sportsbooks. Existing customers often receive these bonuses, which can be utilized to place bets on any sporting event. It is important to note that free bets generally carry certain restrictions, such as minimum odds or a maximum stake.
Cashback Bonus – A DraftKings cashback bonus is a regular promotional offer that reimburses a percentage of your losses over a specified timeframe. As an illustration, a sportsbook might present a 10% cashback bonus on weekly losses. This serves as a valuable method to recover some of your losses and prolong your gaming experience.
Boosted Odds Bonus – The boosted odds bonus is a limited-time promotion that provides improved odds for a specific bet. This offer can significantly increase your potential winnings and is worth considering.
Matched Bet Promotion – The matched bet promotion is a type of bonus where DraftKings matches your initial bet up to a predetermined amount. For instance, if you place a $50 bet, you will be granted an additional $50 in free bets.
Matched Deposit Incentive – The matched deposit incentive is a promotion in which DK Sportsbook matches your initial deposit up to a specified amount. For instance, if you deposit $100, you will be credited with an additional $100 as a bonus fund.
College Sports on DK Sportsbook in Pennsylvania
Yes, you can bet on college sports on DK Sportsbook in Pennsylvania. You can find all the most popular college teams including Pennsylvania colleges and universities. This means that you can place wagers on college basketball, football, and other collegiate sports through licensed sportsbooks in Pennsylvania, both online and at physical locations.

It's worth mentioning that some restrictions may apply to specific college events or types of wagers, such as in-game prop bets on individual college athletes.
Who Oversees DraftKings Sportsbook in PA?
Is DraftKings the largest sportsbook in Pennsylvania?
Can I use my friend's account on DraftKings in Pennsylvania?
Does DraftKings Sportsbook in Pennsylvania offer horse race betting?
.