Looking to bet on sports at Caesars Sportsbook in New York? We've got you covered. Read on to learn all you need to know including, how to sign up, what to expect, plus the kind of sports and bets offered by Caesars Sportsbook NY, and much more.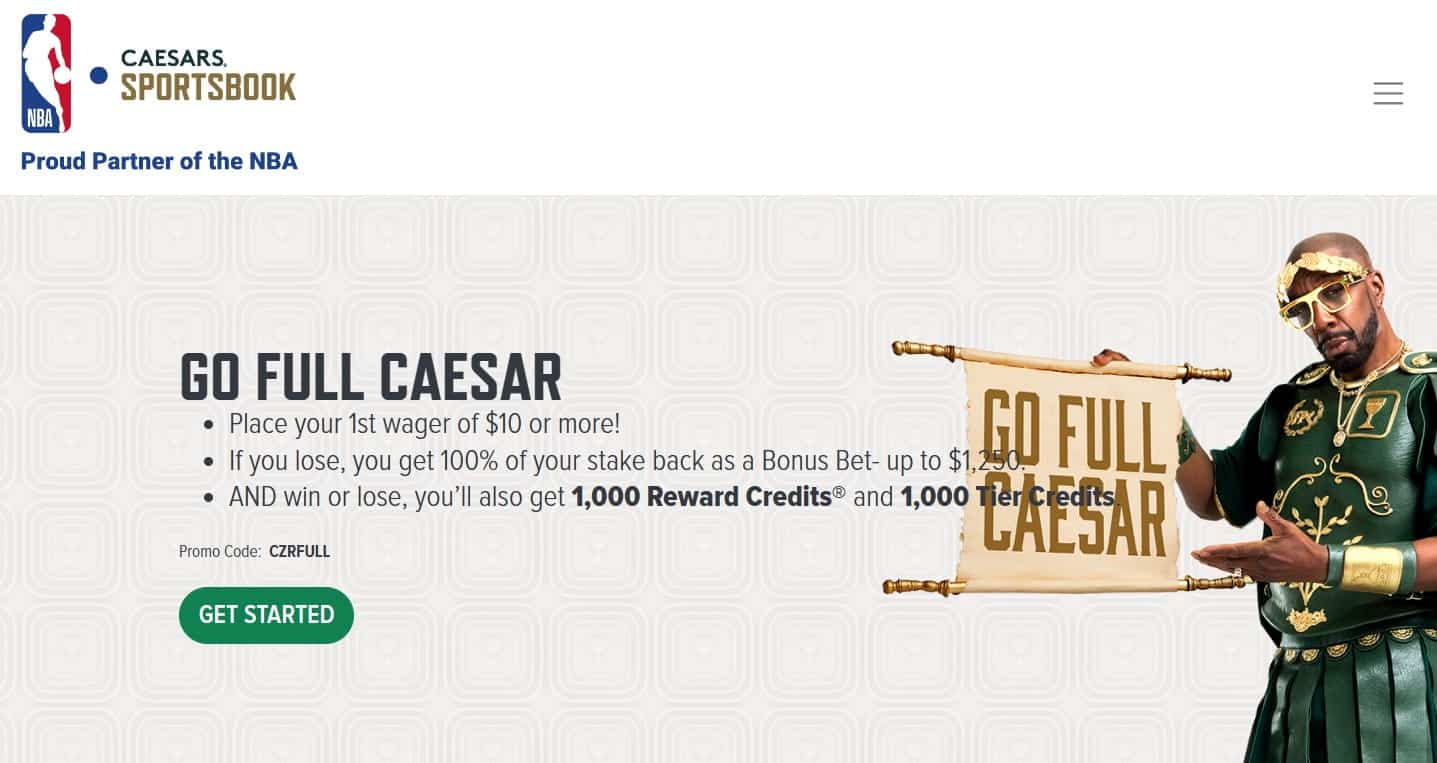 Is Caesars Sportsbook Legal in New York?
Yes, Caesars Sportsbook is legal in New York, having been licensed by the New York State Gaming Commission. You can legally bet using Caesars Sportsbook NY both online or in a physical retail location.
Sports on Caesars Sportsbook in NY
Caesars Sportsbook proudly boasts a wide variety of sports betting options and is partnered with many major sporting organizations like the NFL, NBA, NHL, CBS Sports, and ESPN. 
Having partnerships with these brands means that users can bet on any of the associated sports, including:
College Football Betting on Caesars Sportsbook in New York
Caesars Sportsbook does allow for College Football betting, but as with all college sports in New York, betting on New York-based college teams is not allowed. 
Even with the strides in betting legalization in New York, with sports betting being legalized state-wide in 2013, the first sportsbook opened in 2019, and mobile sports betting being legalized in 2022, betting on New York-based college teams is still prohibited.
However, New York bettors are allowed to bet on college teams outside of New York. If you support a non-local team, you may bet on them legally, as long as your bet doesn't breach any other guidelines or laws. For example, New York bettors are not allowed to make player prop bets for college games, even for teams outside of New York. Caesars Sportsbook NY continue to offer good line odds too, as they face competition from the likes of BetMGM in New York.
Horse Race Betting on Caesars Sportsbook NY
Caesars Racebook is not available in New York as of the time of writing. In 2022, Caesars Racebook launched in Ohio and Florida, so keep an eye open, as it could open in New York in the future.
Does Caesars Sportsbook in New York have an online casino?
Yes, Caesars Sportsbook in New York has an online casino app that offers a huge range of game and slots, including the popular Starburst slots game.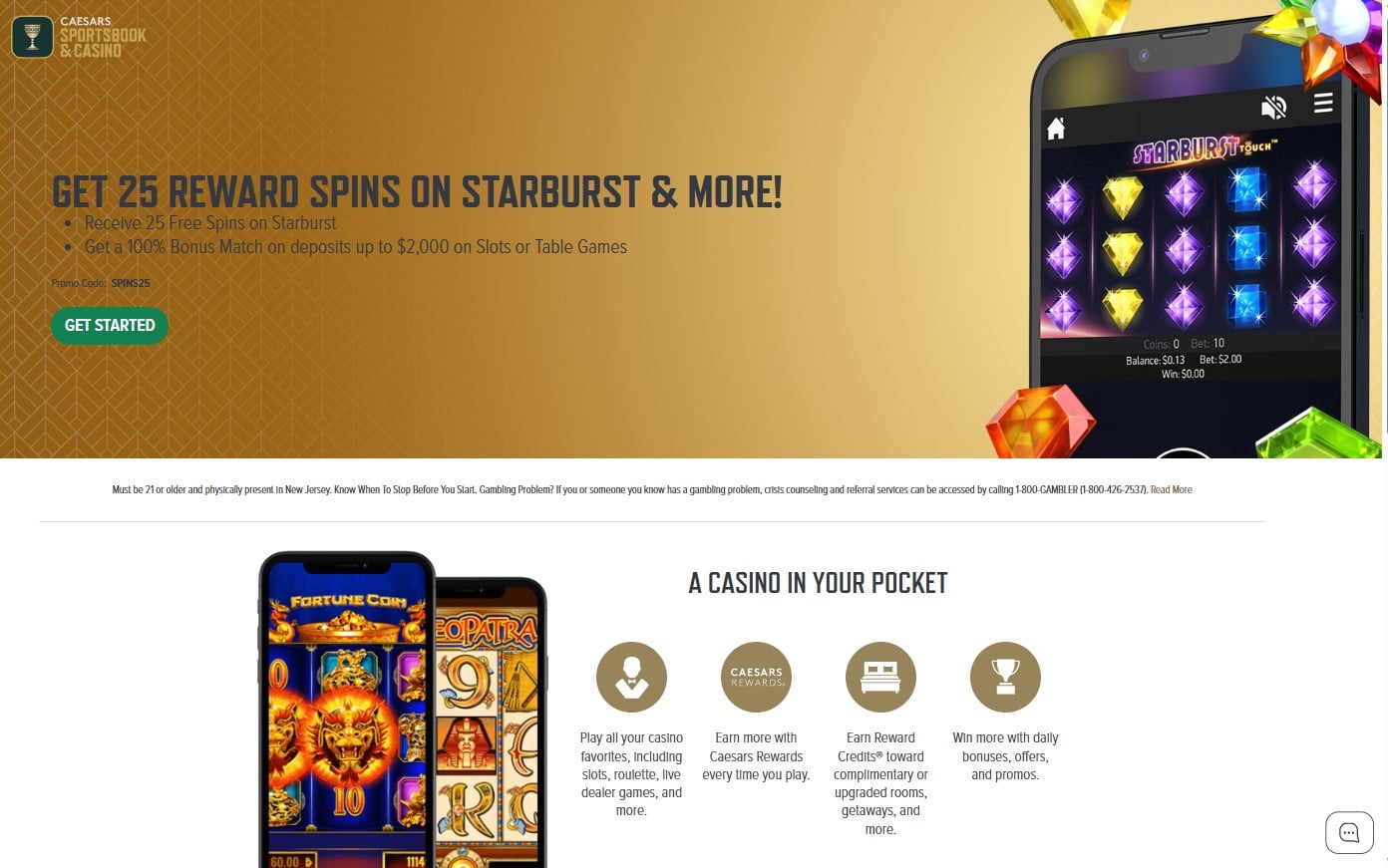 There is also a Sportsbook app that boasts sign-up bonuses and frequent offers and Caesars Sportsbook promo codes. Easily available on both Android and iOS devices, Caesars online casino app is very simple and easy to use, making it one of the best sports betting apps in the market.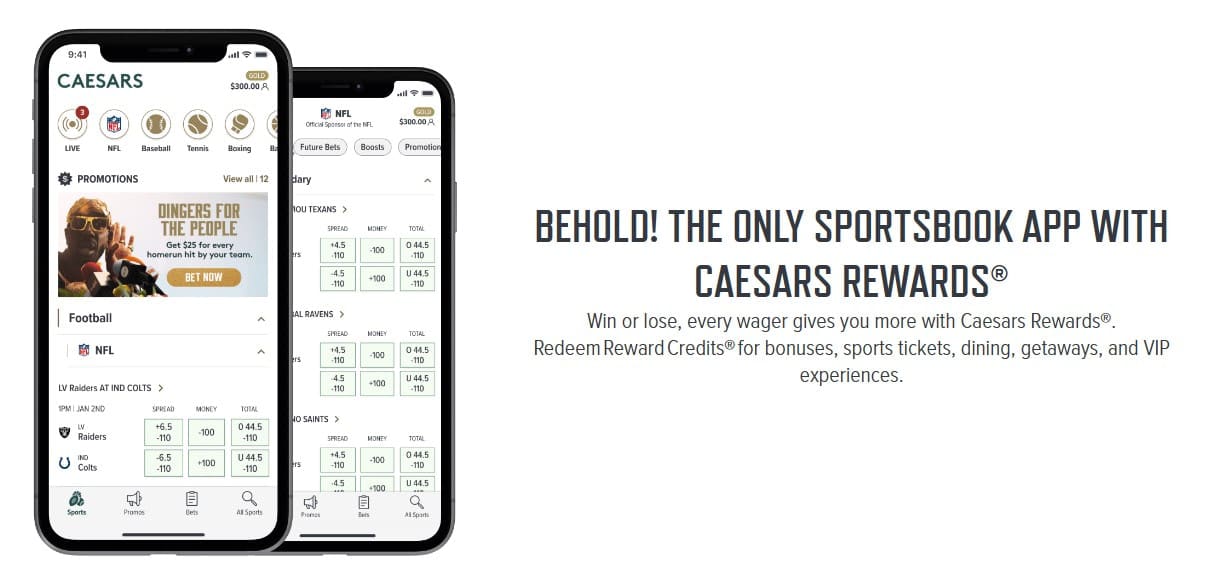 Pros and Cons of Caesars Sportsbook in NY
Now that you know some of the basics of what Caesars Sportsbook New York offers, it's time to consider the pros and cons of using it as a betting platform. Using the points below can help you to decide if Caesars Sportsbook is the betting provider best suited for your needs.
Pros:
Available on both Android and iOS
Wide variety of offers and promotion
Part of a well-known brand
Live NFL streams on the app
Free deposits
Cons:
Min. limits on deposits and withdrawals
Less live betting options than other sportsbooks
Regular Bonuses on Caesars Sportsbook in New York
The Caesars NY app displays frequent bonuses and Caesars Sportsbook promos, including offers like:
Sign-up bonuses

: Sign- up bonuses can be many types of bonuses including a free bet or deposit match bonus, etc. 

Odds boost bonuses

: Odds boost bonuses will alter the odds of a bet, thus increasing the winnings you could make on the wager.

Top-up bonuses

: Top up bonuses can include matching a deposit, offering boosted odds, or even offering a risk-free bet on the first bet placed after a top-up.

Rewards Program

: Rewards bettors for using services from any Caesars service, including their hotels, while their popular Caesars Rewards includes a six-tier program.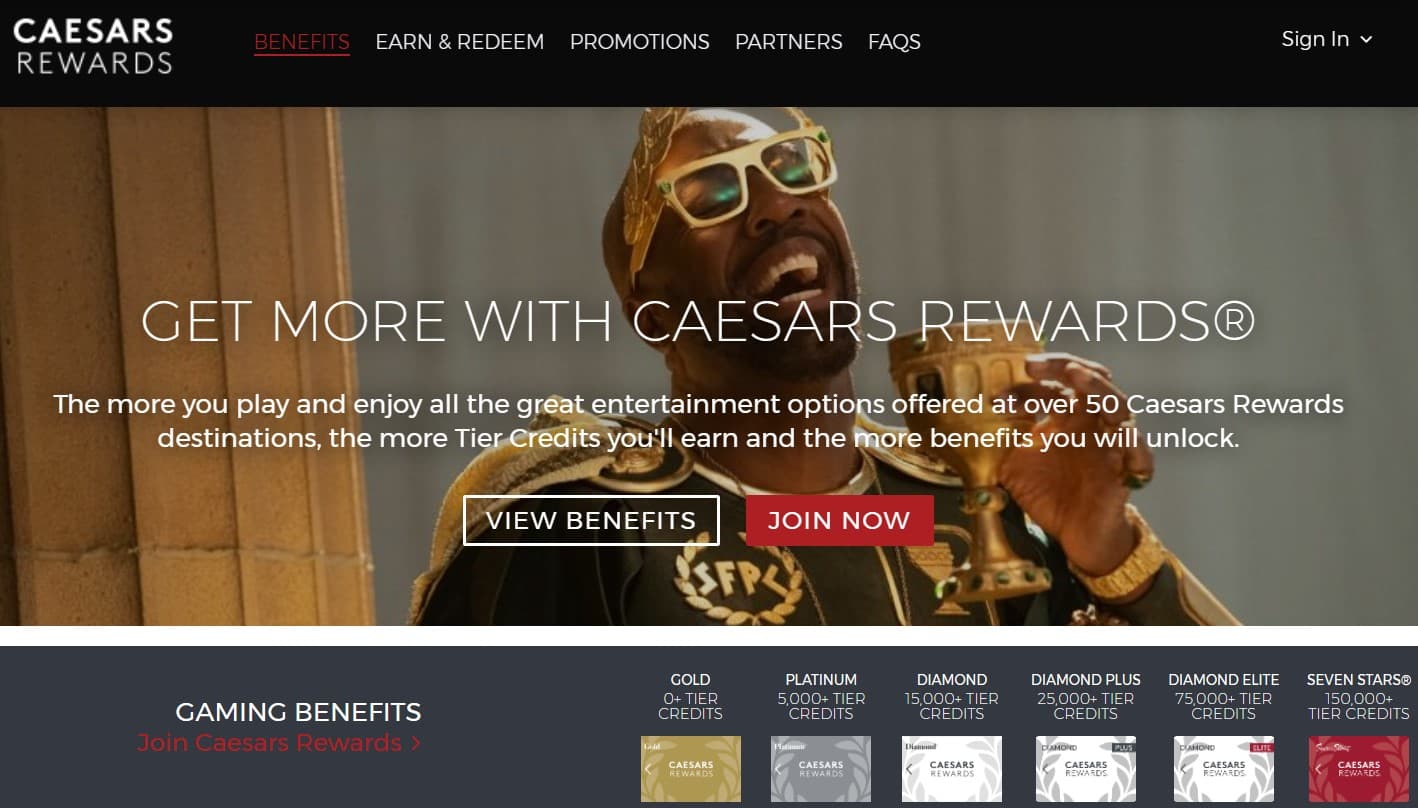 Types of Bets Available on Caesars Sportsbook New York
Moneyline Bets – Moneyline bets are all based around the value of $100. Positive numbers such as +160 indicate how much you stand to bet if you wager $100, in this instance, a $100 wager, if successful, would win $160. Negative numbers indicate how much you'd need to wager to win $100, for example, if the odds were –30, you'd only need to wager $30 to win $100 with a winning bet.
Spread Bets – Spread bets are based not just on who wins or loses, but the exact points difference at the end of a game. You can bet on how much the winners will be ahead at the end of the game (If they are the favourite) or bet on whether the underdogs can keep the game close to, or even win over the favourite.
Prop Bets – Proposition bets (Prop bets for short) are bets on things outside of just the end result of a match. You can bet on the performance of a single player, or a specific event in the match.
Parlays – Parlay bets are combinations of multiple bets, for example, if you are betting on a soccer tournament, you could bet on two or more teams to win their current rounds. A parlay bet is only a winning bet if every condition of the bet is a win. If even one team you bet on loses, you lose the whole parlay wager.
Futures – Futures bets are early predictions on the end result of a long event, such as the Super Bowl. You can bet early on in the Super Bowl about who you think might be the ultimate winner of the event.
Teasers – Teasers work similarly to parlays but give you the option of adjusting the point spread in your favour. To reflect this added boost to your odds of winning, they typically pay out less than parlays. You will still lose your bet if any of your bets fail, though.
Over/Under – Over/Under bets are bets based on the score of a game rather than an individual team's performance. When placing an over/under bet, you'll be provided with a number by the sportsbook, and you have to wager whether the total combined score of both teams will be over, or under that number.
How to Sign Up for Caesars Sportsbook in NY
If you want to place any bets with Caesars Sportsbook NY, you'll need to first make an account. In order to do that, you'll have to follow the steps listed below:
1: Go to Caesars Sportsbook.
2: Click on the drop-down list, then either scroll down to New York or type it into the box manually, then press Continue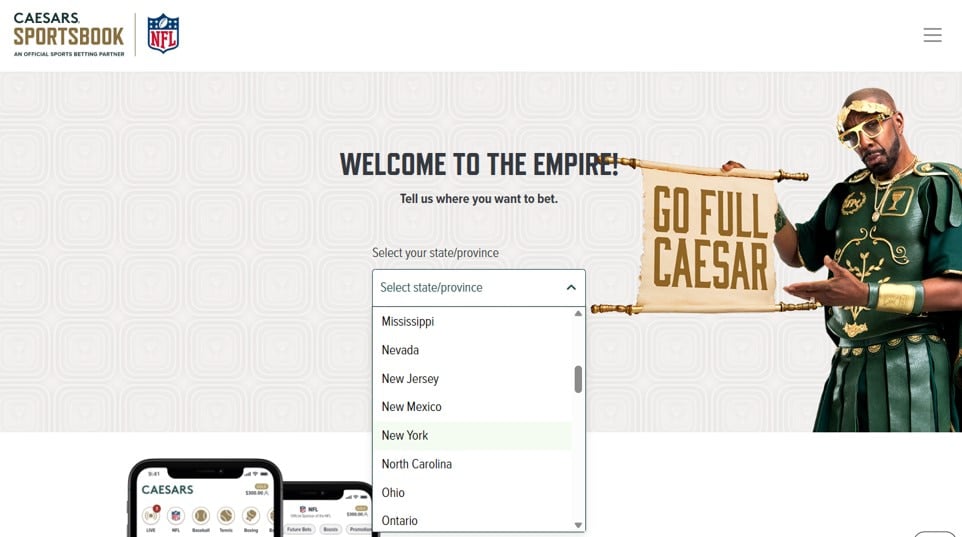 3: Quickly check the page for any applicable offers.
4: If there is a Caesars Sportsbook promo code, you can click it, or click the sign-up button in the top right.
5: Input the required information such as an email address, name, and contact information.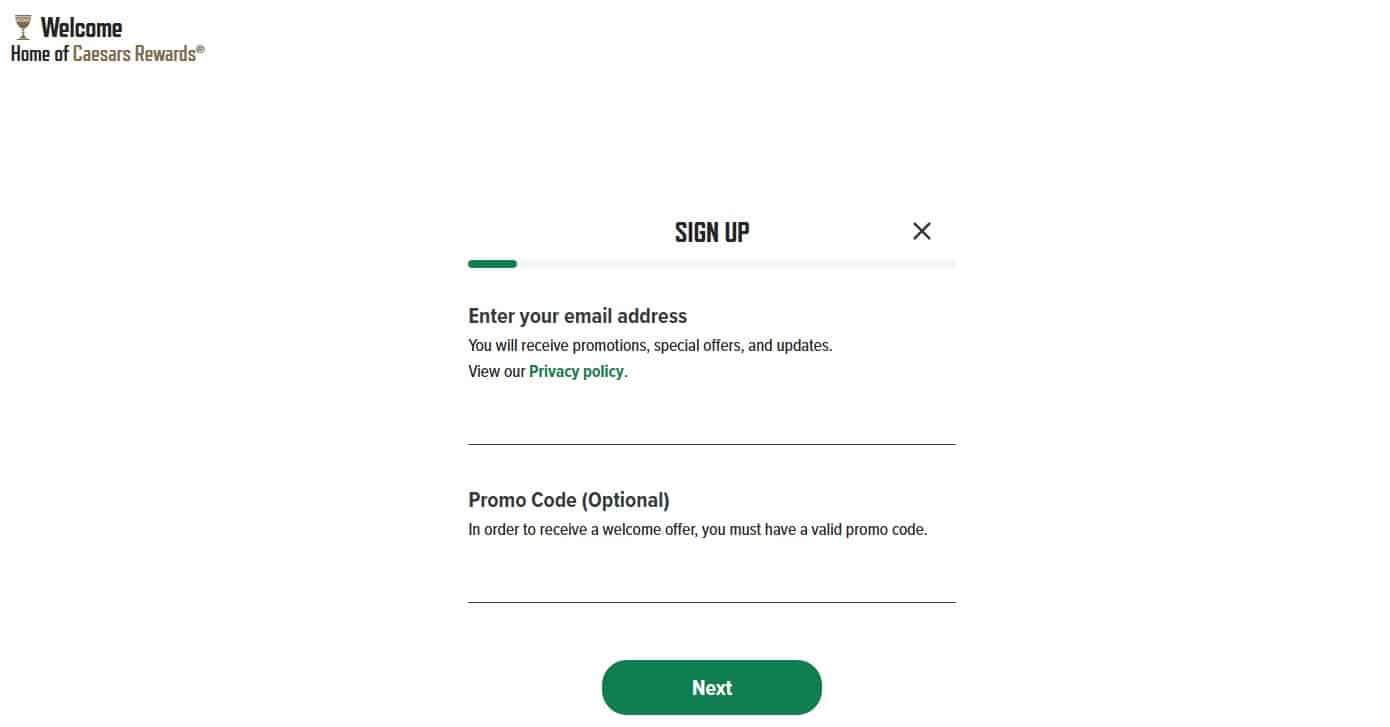 6: You will then be required to either input your existing Caesars Reward Number. If you do not have one, register for one with the required information, such as name, state, postal code, date of birth, and phone number.
7: Once you have registered all of the above information, you will be asked for the last four digits of your social security number.
8: While not required immediately, if you wish to withdraw any winnings, you will be required to verify your identity with a driver's license, passport, birth certificate, or other accepted ID.
 9: With everything registered, you are now free to place bets as you wish, and once you have verified your ID, you may withdraw any winnings.
Caesars Sportsbook NY Contact Details
To contact Caesars Sportsbook in new York, click the  "Contact" or "Support" section, usually found at the bottom of the page on the desktop and in the menu on the app.
Contact Options
Deposit and Withdrawal Options for NY Caesars Sportsbook
Caesars Sportsbook New York offers many deposit and withdrawal options for local bettors. Here are some of the most popular ways New Yorkers can add and withdraw funds to and from their Caesars accounts:
| | | |
| --- | --- | --- |
| Method | Deposit | Withdrawal |
| Visa/Mastercard | ✓ | ✓ |
| Trustly | ✓ | ✓ |
| Discover Card | ✓ | ✓ |
| Skrill | ✓ | ✓ |
| PayNearMe | ✓ | ✗ |
| PayPal | ✓ | ✓ |
| ACH e-check | ✓ | ✓ |
| Sportsbook | ✓ | ✓ |
Caesars Sportsbook Retail Location in New York
There are plenty of online sportsbooks in New York for residents to choose from, although not all of them have in-person sportsbooks. Caesars Sportsbook NY has three locations in New York, they are:
Point Place Casino – 450 452 NY-31, Bridgeport NY 13030 United States
Turning Stone Resort Casino – 5218 Patrick Rd, Verona NY 13478 United States
Yellow Brick Road Casino & Sports Book – 800 W Genesee St, Chittenango NY 13037 United States
Legal Age for Caesars Sportsbook in New York
While the legal age for betting in New York is 18 on a state level, you must be at least 21 years of age to register with Caesars Sportsbook and place bets. This may be due to the fact that the business operates in other states with higher legal ages to bet. 
Is Caesars Sportsbook legit?
What casino games does Caesars Sportsbook offer?
Is there a sign-up bonus?
Does Caesars Sportsbook offer a downloadable mobile app?
What are Caesar's Reward Credits?
Where can I download the Caesars Sportsbook app?