Fanduel Sportsbook in Louisiana is a top options website in the online sports betting industry, offering users an exciting and immersive number of betting options. It is operated by Fanduel Group, a renowned gambling business brand. Along with Louisiana, the sportsbook operates in other locations, including Arizona, Colorado, Indiana, Iowa, Michigan, New Jersey, Pennsylvania, Tennessee, Virginia, West Virginia, and a few others.
With a commitment to providing top-notch services, Fanduel Sportsbook has secured its position as a top 5 sportsbook in every state where it operates. New customers are welcomed with enticing promotional offers, while competitive odds and a wide range of deposit and withdrawal options further contribute to enhancing the user experience.
Our comprehensive Fanduel Sportsbook review covers all the essential aspects, including the pros and cons, enticing odds boosts and promotions, available sports and bet types, alternative options, and more.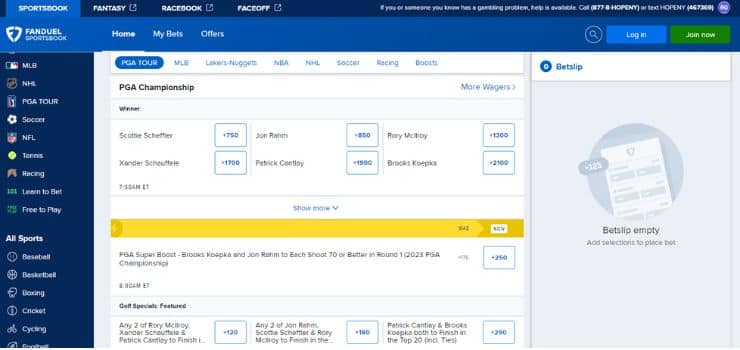 Is FanDuel Sportsbook in Louisiana Legal?
Yes, FanDuel Sportsbook is legal and operates in the state of Louisiana. In November 2020, Louisiana residents voted to legalize sports betting in the state, opening the door for regulated sportsbooks to offer their services. FanDuel Sportsbook, being one of the leading operators in the industry, has entered the Louisiana market and provides a secure and regulated platform for sports betting enthusiasts. Fanduel is one of the eight top sportsbook providers operating in Louisiana.
Louisiana has established a regulatory framework for sports betting, ensuring that operators like FanDuel comply with the necessary licensing requirements and adhere to responsible gambling practices. By operating within the legal framework, FanDuel Sportsbook provides a safe and transparent environment for Louisiana residents to enjoy sports betting activities.
How to Sign Up for FanDuel Sportsbook in LA
Signing up to play on FanDuel Sportsbook in Louisiana is much like any other site you may have been familiar with. However, if you have no prior experience with online betting sites, here's a step-by-step guide to put you through.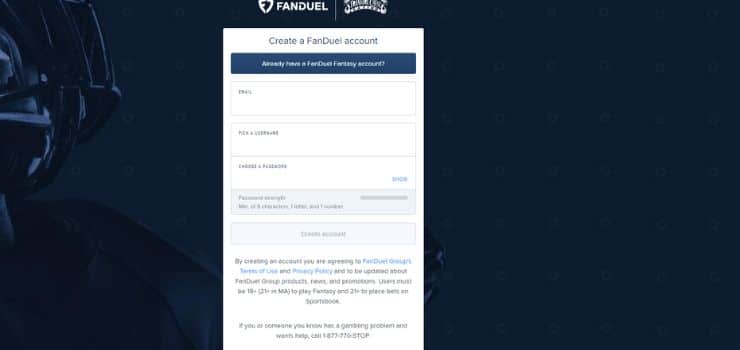 Visit the FanDuel Sportsbook Website: Open your web browser and go to the official FanDuel Sportsbook website designed explicitly for Louisiana residents.
Click on Join: Look for the "Join" button prominently displayed on the homepage. It's usually directed at the home page, but you can check the top right corner to find it; click on it to begin the registration process.
Provide Personal Information: Fill out the required fields with accurate personal information, including your name, email address, date of birth, and contact details. Ensure that the information you provide matches your identification documents.
Create a Username and Password: Choose a unique username and a strong password to secure your account. Make sure to follow any specific requirements provided during the registration process.
Complete the Verification Process: FanDuel Sportsbook may require you to verify your identity to comply with legal and regulatory requirements. This usually involves providing a copy of your identification documents, such as a driver's license or passport.
Agree to Terms and Conditions: Read and accept the terms and conditions and any other relevant agreements presented during the sign-up process.
Make an Initial Deposit: To start placing bets, you'll need to fund your account. FanDuel Sportsbook offers various deposit options, including credit/debit cards, bank transfers, and online payment methods. Choose the option that suits you best and follow the instructions to make your deposit.
Start Betting: Once your account is funded, you can explore the wide range of sports and betting markets available on FanDuel Sportsbook. Browse the available odds, select your desired wagers, and place your bets with just a few clicks.
Horse Race Betting on FanDuel Sportsbook LA
FanDuel Sportsbook in Louisiana does offer horse race betting; users can enjoy the excitement of wagering on horse races alongside traditional sports betting. Horse race betting adds an additional dimension to the sportsbook experience, allowing users to place bets on various horse racing events taking place locally and internationally.
Whether it's the Kentucky Derby, Belmont Stakes, or other notable races, FanDuel Sportsbook provides an opportunity for Louisiana residents to engage in horse race betting and potentially win big. Users can explore the horse racing section of the sportsbook, access race information, view odds, and place bets on their preferred horses.
College Football Betting on FanDuel Sportsbook in Louisiana
Yes, FanDuel Sportsbook in Louisiana offers college football betting, allowing users to wager on their favorite college football teams and games. College football is immensely popular in Louisiana and in the US as a whole, and FanDuel provides an extensive selection of betting options for college football enthusiasts.
Users can find betting markets for various college football events, including regular-season games, bowl games, and even the College Football Playoff. Because Louisiana is home to a few prominent college football teams, like the LSU Tigers, Louisiana Tech Bulldogs, and Tulane Green Wave, users may expect to see betting options for games featuring these teams.
Sports on FanDuel Sportsbook in LA
FanDuel Sportsbook in Louisiana offers a wide range of sports for users to bet on. Whether you're a fan of popular professional leagues or niche sports, FanDuel has you covered. Here are some of the sports you can find on FanDuel Sportsbook:
Football: Fanduel Sportsbook LA allows you to bet on professional football leagues like the NFL and college football games, including Louisiana's beloved LSU Tigers.
Basketball: You also have access to wager on NBA games, college basketball, and international basketball leagues for an exciting basketball betting experience. The options cover your top favorite NBA teams and the local New Orleans Pelicans.
Baseball: Place bets on Major League Baseball (MLB) games on Fanduel Sportsbook Louisiana and follow the action throughout the baseball season.
Soccer: Place bets on the outcomes of popular soccer leagues across Europe, like the English Premier League, La Liga, Ligue 1 Major League Soccer (MLS), and international tournaments.
Hockey: Ice hockey is a top sport for Louisiana bettors to bet on and FanDuel Sportsbook offers a plethora of hockey games to bet on from across the globe.
Tennis: Louisiana bettors can bet on all the major tennis tournaments including Wimbledon, the US Open, and other Grand Slams.
Golf: Betting on golf is a favorite pastime of many Louisiana bettors. With the launch of LIV golf and other major tournaments happening, FanDuel has plenty of gold betting options on offer.
MMA and Boxing: Betting on the UFC, boxing, and other combat sports is doable on FanDuel Sportsbook in LA.
Does FanDuel Sportsbook in Louisiana have an online casino?
No, FanDuel Sportsbook in Louisiana does not currently offer an online casino because online casinos are not legal in Louisiana. However, Fanduel offers online casinos and other slot games in other states where the betting site operates, and it's legal.
FanDuel in Louisiana focuses primarily on sports betting and strives to cover a vast betting market for residents of the state. However, Fanduel may introduce online casino options in the future if it becomes legal and regulated in the state of Louisiana.
Pros and Cons of FanDuel Sportsbook in LA
Like several other sportsbooks you might be familiar with, Fanduel Sportsbooks Louisiana has its benefits and pitfalls. Let's look at some of those:
Pros:
Diverse Sports Betting Options
Competitive Odds and Promotions
User-Friendly Platform
Geographical Restrictions
Cons:
Geographical Restrictions
Limited Casino options
Pros
Diverse Sports Betting Options: FanDuel Sportsbook offers a wide range of sports to bet on, including popular options like football, basketball, baseball, soccer, and more, providing a comprehensive sports betting experience.
Competitive Odds and Promotions: FanDuel gains a competitive edge over other locally available sportsbooks with its competitive odds and attractive promotions. Some of these include sign-up bonuses, risk-free bets, and ongoing promotions for both new and existing users, enhancing the overall betting experience.
User-Friendly Platform: FanDuel website provides an all-immersive experience with an interface that brings you all into the betting experience. The site is intuitive, making it easy to navigate, place bets, and manage your account, even for novice bettors.
Cons
Geographical Restrictions: Access to FanDuel Sportsbook is limited to users physically located within the state of Louisiana due to geolocation restrictions, which means it may not be accessible outside of the state's borders. Fanduel ensures accurate geolocation before allowing users full access to its features.
Limited Casino Options: While FanDuel does offer an online casino in some states, it does not offer any casino options in Louisiana, particularly because it's illegal. So users may have to look elsewhere outside of Louisiana if they need to find slots and other online casino games.
Regular Bonuses on FanDuel Sportsbook in Louisiana
Bonuses you can regularly find on FanDuel Sportsbook in Louisiana include:
Sign-Up Bonus: New users can often take advantage of a sign-up bonus when creating an account on FanDuel Sportsbook. This bonus typically offers a reward, such as a free bet or a deposit match, as a welcome gesture.
Deposit Match Bonus: FanDuel may offer deposit match bonuses, where the sportsbook matches a portion of the user's deposit up to a certain amount. This bonus provides additional funds to wager with, giving players more opportunities to place bets.
Risk-Free Bet: Some promotions may include a risk-free bet, allowing users to place a bet without losing their initial wager. If the bet is not successful, the sportsbook refunds the amount wagered in the form of site credits.
Odds Boosts: FanDuel often provides odds boosts on select games or events, offering enhanced odds for specific outcomes. These boosts can provide increased potential winnings for successful bets.
Loyalty Rewards: FanDuel may offer a loyalty program or rewards program where users earn points based on their betting activity. These points can be redeemed for various rewards, such as free bets, merchandise, or exclusive promotions.
Types of Bets Available on FanDuel Sportsbook in LA
Betting on FanDuel Sportsbook in LA is made all the more exciting with the abundance of bet types available.
Moneyline Bet: A moneyline bet is a straightforward wager on which team or player will win a particular game or event. Odds are assigned to each team or player, indicating the potential payout for a successful bet.
Spread Bet: Spread bet sets a point spread that teams or players must cover or beat. Bettors can choose to wager on the favored team to win by a certain margin (cover the spread) or the underdog team to lose by a narrower margin (beat the spread).
Prop Bet: Prop bets, short for proposition bets, focus on specific outcomes within a game or event. These bets can involve individual player performances, team statistics, or even non-sporting events related to the game.
Parlays: Parlays are a high-risk, high-reward betting option that combines multiple individual bets into a single wager, and winning is on the condition that all individual bets win.
Futures: Futures bets are wagers placed on the outcome of events that will happen in the future, such as the winner of a championship or the season's top scorer. These bets are settled once the event or season concludes.
Teasers: Teasers allow bettors to adjust the point spread or totals line in their favor by adding or subtracting points. However, this adjustment typically comes at the cost of reduced odds or potential winnings.
Over/Under Bet: Over/Under bets focuses on whether a combined score or total points scored in a game will be over or under the predicted score. Bettors can wager on whether the actual total will be over or under the sportsbook's predicted total.
FanDuel Sportsbook Retail Location in Louisiana
FanDuel Sportsbook has up to five retail locations in Louisiana, providing an in-person sports betting experience. These locations offer comfortable seating, multiple screens displaying live sports events, and knowledgeable staff to assist with placing bets. Whether you're a seasoned bettor or new to sports betting, visiting a FanDuel retail location enhances your overall experience. Here are some details about all five locations; you can check Fanduel's website for more info:
Amelia Belle Casino
500 Lake Palourde Road, Amelia, LA 70380
Phone: (985) 631-1742
Delta Downs Casino
2717 Delta Downs Drive, Vinton, LA 70668
Phone: (800) 589-7441
Evangeline Downs Casino
2235 Creswell Lane Extension, Opelousas, LA 70570
Phone: (337) 594-3000
Sam's Town/Shreveport Casino
315 Clyde Fant Parkway, Shreveport, LA 71101
Phone: (318) 424-7777
Treasure Chest Casino
5050 Williams Blvd, Kenner, LA 70065
Phone: (504) 443-8000
Legal Age for FanDuel Sportsbook in Louisiana
The legal age to participate in sports betting, including using the FanDuel Sportsbook platform, in Louisiana is 21. It is crucial to adhere to the legal age requirements and provide accurate age verification information when signing up for an account with FanDuel Sportsbook or engaging in gambling. Violating the age restrictions can result in legal consequences and account suspension. To play sports betting legally in Louisiana, you must ensure you stick to what the laws in your jurisdiction require.
Does FanDuel Sportsbook in LA accept crypto?
Is my money safe on FanDuel Sportsbook in LA?
Is FanDuel the best sportsbook in LA?