Betting on sports online is a favorite pastime of many Virginia residents. Everything you need to know about Virginia online sports betting will be covered below. This includes how to bet on sports online in Virginia, what the best Virginia sportsbooks are, what betting bonuses mean, what the most popular sports teams are in Virginia, and much more.
When it comes to online sports betting in Virginia, the minimum legal age is 21. Bettors must also be physically located within the state's borders to place bets online. Mobile wagering apps are available for use within the state, but placing real-money bets is only permitted when the bettor is physically present in Virginia.
The laws and regulations surrounding sports betting in Virginia are overseen by the Virginia Lottery. They are responsible for issuing licenses to sportsbook operators and ensuring compliance with the state's regulations.
Is Sports Betting Legal in Virginia?
Yes, online sports betting became legal in Virginia in 2021. Bettors can now wager on their favorite sports teams online through licensed sportsbook apps. The Virginia Lottery has approved several sportsbook apps to operate in the state, providing residents with a variety of options for online sports betting.
The laws and regulations surrounding sports betting in Virginia are overseen by the Virginia Lottery. They are responsible for issuing licenses to sportsbook operators and ensuring compliance with the state's regulations. When it comes to online sports betting in Virginia, the minimum legal age is 21. Bettors must also be physically located within the state's borders to place bets online.
Best Virginia Sportsbooks Compared
The best online sportsbooks in Virginia offer a range of features and benefits for bettors. Here are some of the top options:
1. Caesars Sportsbook – Awesome and Ongoing Promos for Bettors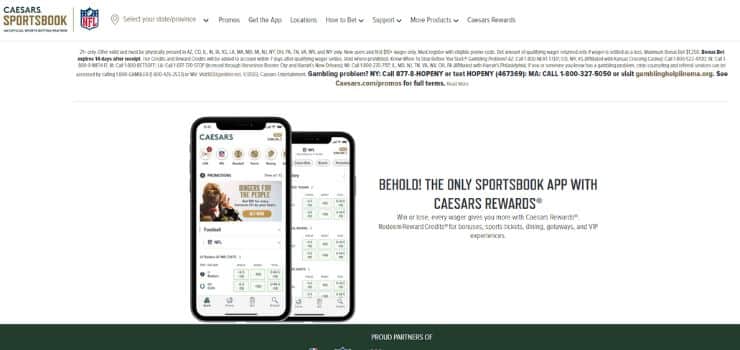 Caesars Sportsbook in Virginia went live on February 3rd, 2021. Though it may have made an online appearance only recently, experienced bettors are fond of the sportsbook from its retail versions.
Extensive betting markets, regular promotions, boosted odds, and attractive bonuses ongoing can be found on the Caesars Sportsbook app. Virginia bettors can also expect a great rewards program, extra bets on birthdays, and free bets.
Pros:
Flawless app and site design
Well-known sportsbook across the US
Live betting feature
Cash-out feature
Cons:
Slow updates for live betting
Withdrawals can be slow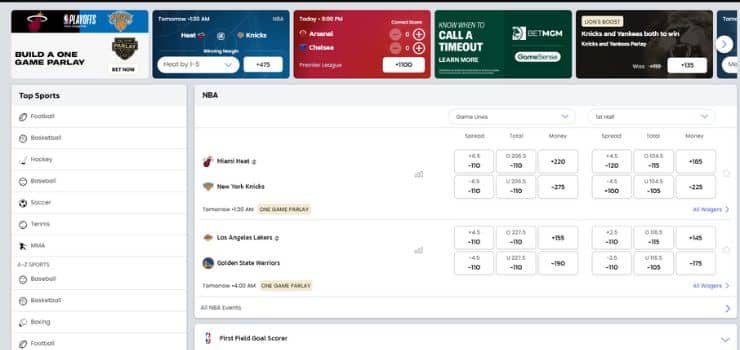 BetMGM Sportsbook in VA offers a flexible approach to open bets. This is something you won't find on other sportsbook apps. Instead, most sportsbooks will offer players the 'Cash Out' option that will allow them to take a reduced payout when certain bets seem unlikely to win. But the BetMGM Sportsbook specifically in New York offers a unique touch to it with its "Edit My Bet" feature.
In addition to the "Cash Out" option, bettors can also change their open bets in many ways. More choices can be added to it and choices can be swapped out. Bettors can also drop parlay legs together, and they can add onto their bet amounts to increase profit potential. BetMGM is leading in the area of offering a large betting variety. It has one of the largest gaming menus of available sports to wager on. There are also various bet types to choose between.
Pros:
Excellent ongoing bonuses
Cash-out option
Parlay legs can be played with other bettors
Cons:
Cluttered pages can be distracting
Bonuses expire quickly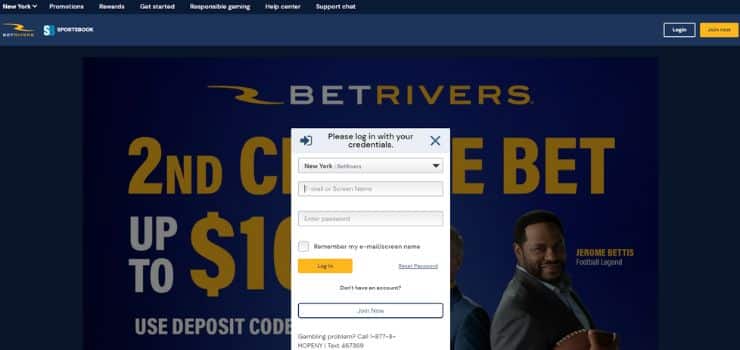 BetRivers Sportsbook offers Virginia bettors the chance to add parlay legs straight from the same game. There's also the option to choose the Jackpot Parlay if players don't mind accepting parlay legs similar to the lottery ticket Quick Pick selections. Then there's the option for players to make their parlay a teaser, so it can improve their winning chances.
iRush Rewards is a program that's exclusive to BetRivers Sportsbook. In addition, BetRivers also offers a host of other features including a Bonus Bank, where bonus money is added after each bet you make. Sports Betting Awards – each bet you make will boost your points and raise your loyalty level. Virginia bettors can also opt for the BetRivers online casino.
Pros:
Low juice on all bets
Bonuses without too many restrictions
Great customer support service
Cons:
Site can lag if high traffic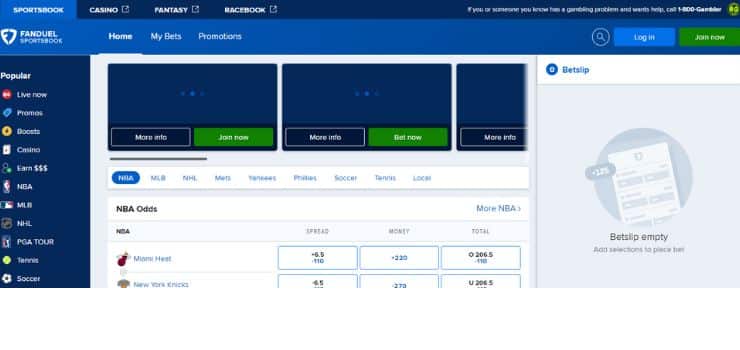 FanDuel Sportsbook went live in VA on the 21st of January 2021. Part of what makes FanDuel Sportsbook a success is the combination it offers players with frequent promotions and easy navigation.
FanDuels features are better than what you'd find with most other sportsbooks. The Virginia sportsbook maintains a utility that allows bettors to observe their bets through a live feed for games.
For bettors looking to bet on their local favorites and other leading events and games, then FanDuel is worth considering. It's an operator that's among the highest-rated options in the US with partnerships existing with several VA pro teams.
Pros:
Sleek and easy-to-use betting app
Competitive betting odds on all sports
Real-time updates on games
Cons:
Rewards program is minimal
Can't cancel a bet after the game starts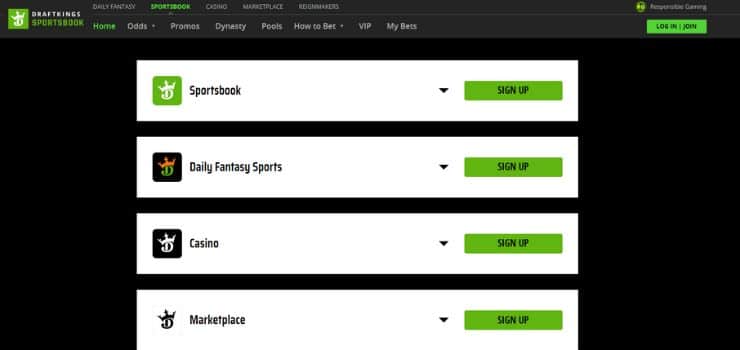 DraftKings Sportsbook is currently live and taking bets in Virginia. One of its unique selling points to it has to do with its betting carousel. This rotating display offers a series of DraftKings bets deemed as the most relevant based on the player's betting history and selected preferences that are in your account profile.
Each player will have a unique experience with the other, therefore this offers a personalized touch to each player's experience. Its sportsbook app is speedy and manageable. And players are able to access and use the same app in every state that it operates in for states in the US.
Eliminating the inconvenience of switching between apps and having multiple downloads. Also, the sportsbook is highly praised for its overall usability. Whether the player is accessing the operator from the web or on mobile, the platforms are incredibly slick, easy to use, and aesthetically pleasing.
Pros:
Diverse bets and sports are available
Awesome VIP program
A known brand with a good rep.
Great promos and bonuses
Cons:
Cluttered looking website
High vig on smaller bets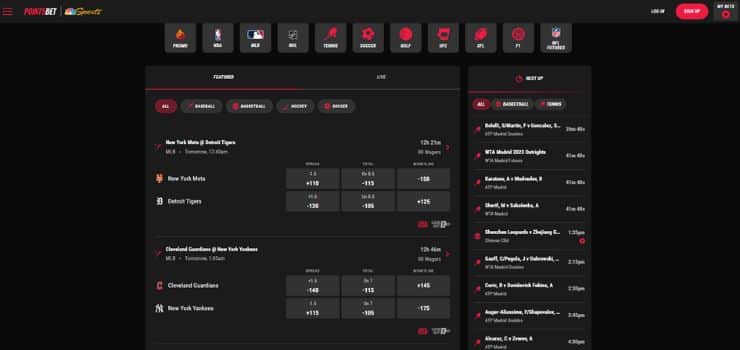 PointsBet Sportsbook in Virginia has a unique distinction when it comes to its signature wager, the "Points Bet". Players can make traditional spread bets on eventual margins of victory. From this, there's great potential for players to win big and, unfortunately, you won't find this feature anywhere else except on PointsBet sportsbooks.
Offering competitive odds that are appealing to Virginia bettors, PointsBet also receives a lot of praise regarding its customer-friendliness and ability to issue refunds if the outcome of a game is exceptionally unexpected.
Pros:
One of the biggest sportsbooks in the US
Great bonuses for new and returning players
Top-notch customer service
Unique points betting system for loyal bettors
Sleek app and website
Cons:
No casino option
PointsBetting can result in you losing more than the original wager
7. WynnBet – Best Rewards System on The Market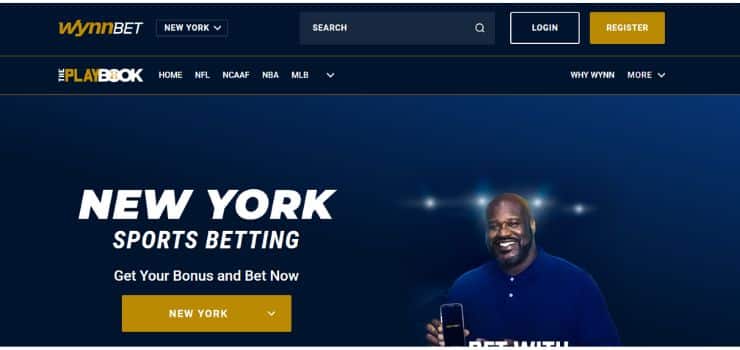 WynnBet Sportsbook – the ultimate destination for sports betting enthusiasts! Launching in Virginia in March 2021, WynnBet has grown to be a bettor's favorite sportsbook. With a user-friendly interface and a wide range of sports markets to choose from, WynnBet offers an unparalleled betting experience for VA bettors. Whether you're a seasoned bettor or just starting out, the WynnBet platform caters to all levels of expertise.
With competitive odds and a variety of betting options, you can place your bets easily with the simple-to-use interface. WynnBet offers a secure and reliable platform so that your transactions are safe and hassle-free.
Pros:
Great rewards system for returning players
24/7 customer service
Reputable and well-known brand
Cons:
2-day withdrawal requirement
8. Sports Illustrated Sportsbook – Sportsbook From The Famous Sports News Site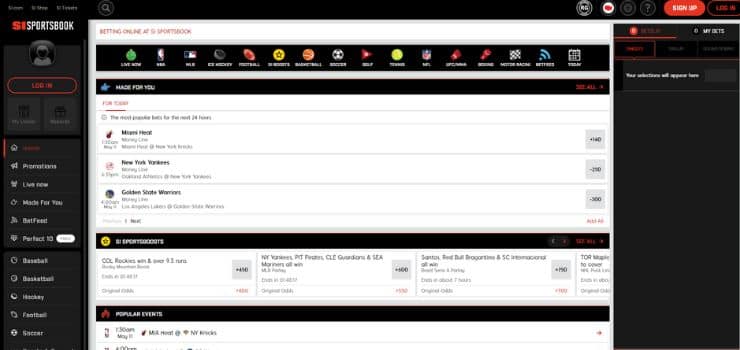 Sports Illustrated Sportsbook also known as the SI Sportsbook is a betting platform that accepts players from the USA. It is a sub-brand of the popular sports news website, which enables it to offer some exclusive features like BetFeed.
The sportsbook has a standard layout: the main sports and shortcuts to vital features are located on the left side of the screen, the matches and betting markets are placed in the middle, and the bet slip is located on the right side. It is also possible to browse specific sports by using the corresponding filters on the top.
The assortment of betting markets available in the SI Sportsbook is vast. The players can wager on victories, totals, money lines, point spreads, and dozens of proposition wagers that are different for every sport. The website accepts Singles, Parlays, and Round Robins wagers. There are dozens of matches in the in-play section available at any given moment.
Pros:
Large sports betting markets
User-friendly app and site
Great promotions and bonuses
Cons:
Withdrawals can take time
Customer service isn't great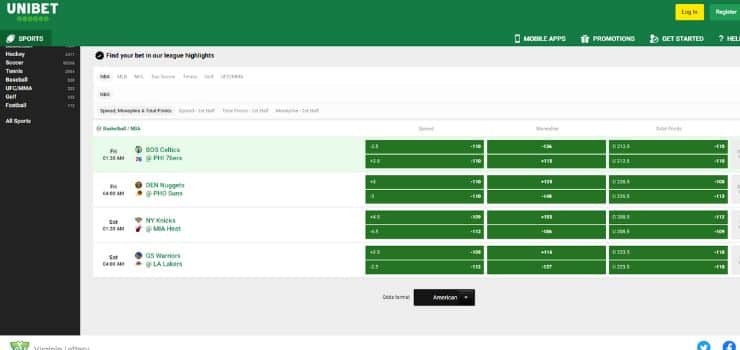 Unibet Sportsbook in Virginia is a versatile platform with a range of features. Catering primarily to casual bettors on first appearances, many more complex betting options are available for those Virginia bettors who are more serious about wagering on sports.
Boasting a distinct greenish design and a user-friendly interface, Unibet's platform stands out from the rest. Unibet has maintained a stellar reputation since it was founded in 1997, and has grown to be a major player in all types of betting in Europe and now the US.
Virginia bettors can engage in exciting in-play betting, and a plethora of bet types including round robins, singles, parlays, and many more.
Pros:
Great rewards system for returning players
24/7 customer service
Reputable and well-known brand
Cons:
2-day withdrawal requirement
10. Hard Rock Sportsbook – Part of The Famous Hard Rock Brand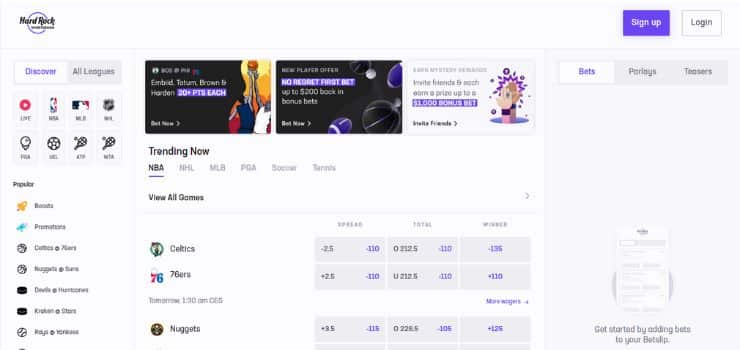 Hard Rock Sportsbook in Virginia is part of the world-renowned Hard Rock International brand. Sports bettors in VA are opting for Hard Rock Sportsbook due to its competitive odds, special bonuses, and extra benefits for bettors to enjoy.
Loyal bettors can take advantage of Hard Rock's VIP program in which you will receive exclusive bonuses and prizes. All the latest Hard Rock promotions and bonuses can be found in the 'Promotions' tab on the main menu.
Hard Rock Sportsbook's website is very simple and easy to navigate. Bettors can use the Bet Slip feature on the right-hand side to make their bets including parlays and teasers. Virginia bettors may find the betting market thin on Hard Rock's sports betting platform but the odds and bonuses make up for where it lacks.
Pros:
Beginner-friendly sports betting platform
Exclusive bonuses and promotions
Well-known brand
Competitive odds on games and matches
Cons:
Payment options are limited
Sports bets are low in comparison to other sportsbooks
11. BallyBet Sportsbook – Gaming Legend for 80 Years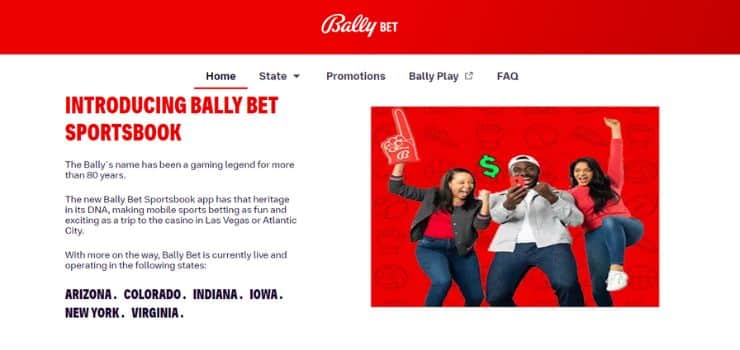 Bally Bet stands as a leading sportsbook in Virginia and across the United States, offering a diverse range of sports betting options alongside a selection of popular casino games. You will find a user-friendly layout, ensuring both novice and experienced gamblers can easily navigate their way around. Additionally, the Bally Bet app is available for iOS and Android devices, allowing users to conveniently access the site and enjoy their favorite games on the go.
When it comes to sports betting, Bally Bet delivers a wide array of options. This includes live in-game betting, competitive odds, and coverage of various sports such as football, basketball, hockey, baseball, and soccer, among others. Furthermore, Bally Bet offers streaming services, enabling you to keep track of live games even when you're away from home.
The casino section of Bally Bet features an impressive assortment of games, including video poker, blackjack, roulette, and slots, catering to the diverse preferences of players. A notable advantage of choosing Bally Bet is its VIP program, allowing users to access exclusive member pricing and various other bonuses, enhancing the overall gaming experience.
Pros:
Unique parlay bets
Easy sign-up
Cons:
Basic looking website
Limited sports betting markets
12. Barstool Sportsbook – Quirky Sportsbook With a Huge Following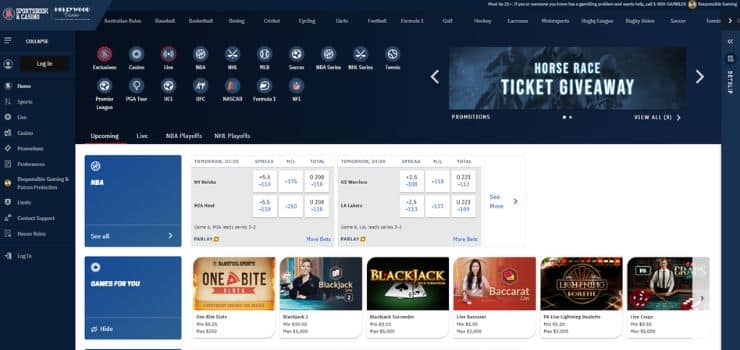 Barstool Sportsbook went live in Virginia on the 10th of April 2021. Virginia bettors are spoilt for the choice of sports to bet on when using Barstool Sportsbook. Packed full of features and betting markets, Barstool stands out from the rest with its 'Preference' feature, allowing you to create your own bets and tailor the sports betting page to how you like.
Designed sleekly without any cluttered pages, Barstool Sportsbook in VA is an easy-to-use betting platform that's suited for beginners and serious sports bettors.
Live betting is available for bettors to place wagers on games as they are happening with the latest competitive odds to match. Easily switch between the sportsbook and the online casino page where you can find live dealer betting options.
Pros:
Custom parlay bets
Live betting feature
Exclusive  unique Barstool promotions
Cons:
Known to limit winning players
13. Golden Nugget Sportsbook – Created by The Legendary Vegas Establishment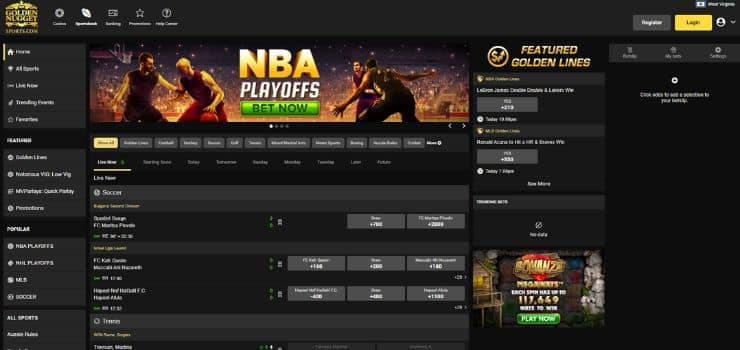 The Golden Nugget Sportsbooks is part of the famous Vegas casino of the same name but was bought over by DraftKings in 2022. Virginia bettors can wager on 15 different sports on the sports betting platform. Many ongoing promotions can be found in the Golden Nugget sportsbook including Golden Lines, Parlay Boost, Next Bet On Us, and many more.
Keep up to speed with the latest games and betting odds with Golden Nugget's Live and Trending Events features. Golden Nugget's betting odds are decent and compete with the big sportsbooks across Virginia.
Poker and an online casino are available on the Golden Nugget platform. Easily switch between the 3 at the touch of a button. Casino players are treated to over 550 slots, blackjack, roulette, video poker, and baccarat.
Pros:
Competitive odds
Live betting feature
Ongoing promotions for returning bettors
Online casino with over 550 slots
Cons:
Cluttered pages
Low sports betting markets
How To Sign Up For a Virginia Sportsbook
Signing up for a Virginia sportsbook is super easy and can be done in a couple of minutes. All you have to do is follow the steps below to do so.
Research VA sportsbooks – Not all sportsbooks in Virginia are the same. Do you want a sportsbook with specific sports? an online casino? a tasty bonus? You can even sign up for more than one sportsbook to take advantage of any bonuses or try each out to see what you like best.
Sign up – Signing up only takes a couple of minutes and is really straightforward. You just need to enter your personal details including name, contact details, etc.
Put a bonus code in – Bonus codes are usually added automatically if you are a new customer. If not, you can find all the latest promo codes on the homepage or promotions tab. Simply enter the unique code and get your bonus.
Deposit – Check the sportsbook has your preferred payment method by going to the cashier tab. Simply choose what payment method you like, enter the details and the deposit amount, and click 'Enter' or 'Confirm'.
Start betting – Navigate to the sports betting page and get familiar with the platform before placing your bets.
Popular Sports Teams to Bet On in VA
Virginia is home to several popular sports teams that fans can support and bet on. These teams include:
Washington Football Team: The Washington Football Team, formerly known as the Washington Redskins, represents the Washington, D.C. metropolitan area and has a large fan base in Virginia. They compete in the National Football League (NFL).
Washington Capitals: The Washington Capitals are a professional ice hockey team based in Washington, D.C. They compete in the National Hockey League (NHL) and have a strong following in
Virginia Cavaliers: The University of Virginia's athletic teams, known as the Cavaliers, are highly regarded in college sports. The Cavaliers have competitive programs in basketball, football, soccer, and other sports. They compete in the Atlantic Coast Conference (ACC) and have a passionate fan base.
Richmond Spiders: The University of Richmond's athletic teams, known as the Spiders, also draw a loyal following in Virginia. The Spiders compete in the NCAA Division I and have teams in various sports, including football, basketball, and baseball.
Virginia Tech Hokies: The Virginia Polytechnic Institute and State University, commonly known as Virginia Tech, have a strong athletic program. The Hokies compete in the ACC and have successful teams in football, basketball, and other sports. Their football team, in particular, has a dedicated fan base.
Richmond Raceway: Motorsports enthusiasts in Virginia can enjoy events at the Richmond Raceway. The raceway hosts NASCAR races and other motorsport events, attracting fans from across the state.
Sports Betting Bonuses You Can Find in Virginia
One significant advantage of utilizing online sportsbooks in Virginia is the availability of bonuses and promotions for customers. These offers provide various benefits such as additional funds, risk-free guarantees, improved odds, enhanced payouts, and other enticing perks. In this article, we will explore the different types of bonuses offered by legal online sportsbooks in the USA, ensuring an enjoyable and rewarding betting experience.
Match Deposit Bonuses: Match deposit bonuses, although less common among new sportsbooks, can still be found at certain online gambling sites. This type of bonus rewards customers with extra funds based on the size of their deposit. Typically ranging from 10% to 100% of the deposit, these bonuses vary depending on the site's terms and conditions.
No Deposit Bonuses: No deposit bonuses encompass a variety of offers. While receiving a standard no-deposit bonus upon signing up is rare, online sportsbooks commonly provide risk-free bets and parlay insurance as part of their no-deposit bonus offerings. This means that if a bet is lost, the customer receives their money back.
Free Bets Bonus: Free bets allow users to place wagers without using their own funds. Typically, these offers have predetermined limits, often around $10 or $20, and users may be required to use the entire free bet in a single wager. If the bet is successful, customers receive only the profits from the payout, excluding the initial free bet amount.
Odds Boost Bonus – Odds boost bonuses on Virginia Sportsbook can increase your winnings substantially if your bet comes in. VA sportsbooks may offer an odds boost bonus on sign-up or as part of an ongoing promotion. During special events like the Superbowl, many sportsbooks in VA will offer boosted odds as a promotion.
Risk-Free Bet Bonus – Risk-free bets are just what you expect. Similar to a free bet bonus, risk-free bets allow you to make a wager without losing the betting amount. Risk-free bets are usually offered as a sign-up bonus for new bettors.
High-Roller Bonus – High-roller bonuses on Virginia sportsbooks can increase your bankroll substantially. Aimed at bettors who deposit over $1k usually, bonuses can include 50% deposit match bonus, so that's 500 bucks added to your account.
Timeline of Sports Betting in Virginia
Sports betting in Virginia has come a long way over the years. With the explosion of online sports betting across the US, it was only a matter of time before Virginia joined the list of states allowing it to take place within its borders.
1989 – Horse race betting legalized in Virginia
2000 – Lottery proceeds fund is voted in by Virginia residents.
2018 – Buying a lottery ticket online was legalized with the launch of an app specifically for buying tickets.
2019 – E-games are added to the app, allowing deposits and withdrawals but you have to be in Bluetooth range of the retailer to play.
2020 – Bill SB384 comes into effect, establishing the Virginia Lottery Fund to oversee sports betting which includes administering licenses.
2021 – Sports betting officially launches on January 21st. Bets are allowed on professional teams and non-college teams.
Virginia Taxes on Sports Betting Wins
Virginia does tax any wins on sports betting, unfortunately. Any gambling wins are subject to a 24% federal tax before Virginia even takes its cut. How much does Virginia tax on sports bet wins? let's take a look at the table below.
| | |
| --- | --- |
| Winnings | Tax Rate |
| <$3000 | 2% |
| $3001 – $5000 | $60 + 3% of excess over $3000 |
| $5001 – $17000 | $120 + 5% of excess over $5000 |
| $17'001 +  | $720 + 5.75% of excess over $17'000 |
Who regulates sports betting in Virginia?
Is it safe to bet on sports online in VA?
What's the best sportsbook in Virginia?