Betting on a sport can add to the thrill of the experience of watching it. But through which sportsbook? BetMGM Sportsbook is the main online sports betting destination for all major professional sports. 
You can participate in online sports wagering in Louisiana, and BetMGM offers their sportsbook right across Bayou State. BetMGM Louisiana is considered one of the best mobile wagering platforms on the market for new and seasoned bettors, plus it is also licensed and safe to play.
The whole idea of a sportsbook is to facilitate sports betting and provide a complete betting experience for fans of all different sports. BetMGM also offers different bet types, such as props and moneylines, alongside great odds – but, if you're not thoroughly convinced, check out some of the reviews on their website.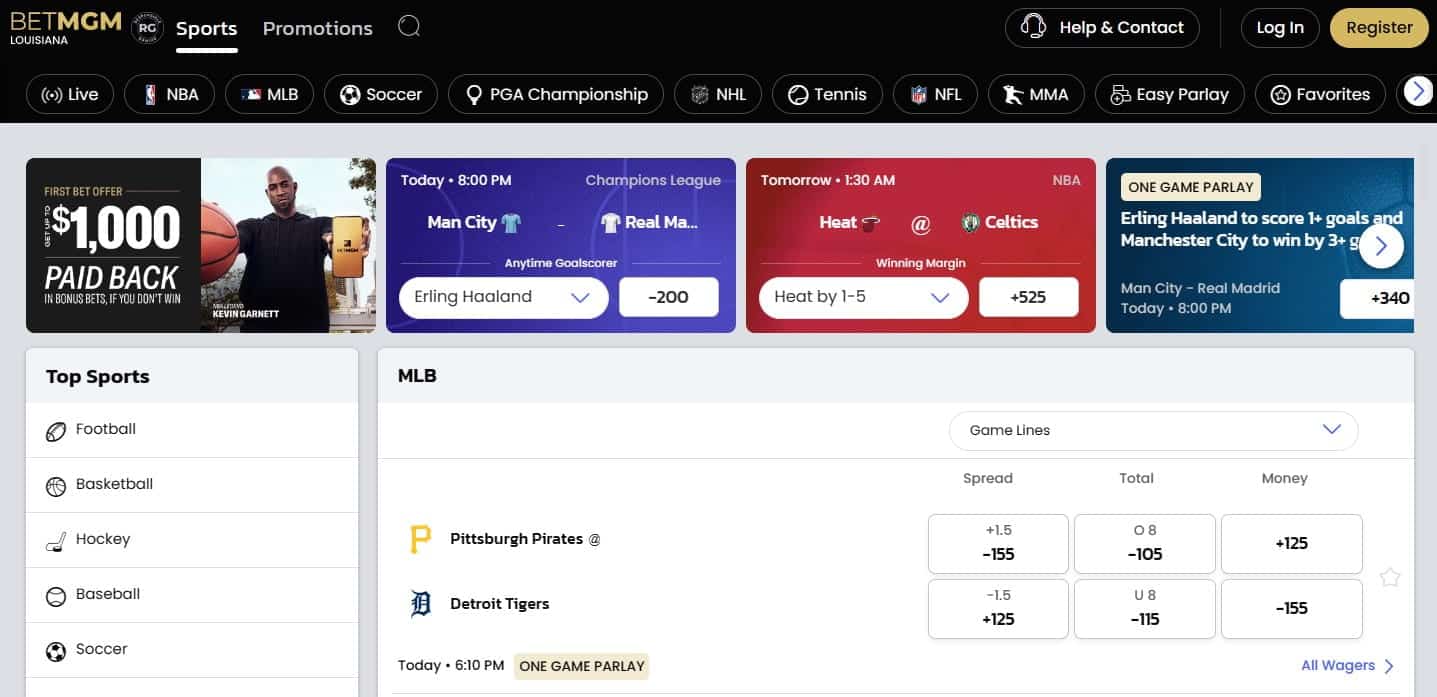 Is BetMGM Sportsbook in Louisiana Legal?
Yes, BetMGM Sportsbook in LA is legal. BetMGM launched its online sportsbook in Louisiana on January 28, 2022, making sure that sports betting in the state was legalized and regulated. It is legal in 55 of 64 parishes. 
BetMGM was legalized in Louisiana when Gov. John Bel Edwards signed two sports betting bills into law. With the Louisiana Sportsbook, bettors can take advantage of a wide range of betting markets and wager types.
Horse Race Betting on BetMGM Sportsbook LA
Mobile horse racing betting lets you bet on horses with your iPhone, Android, iPad, and other mobile devices. BetMGM Sportsbook LA offers this service. 
Once you've made a deposit, you choose the track and race of your choice. You are shown the horses and the available bet types with their base amounts. BetMGM Horse Racing will bring you all the thrills of betting on the races in the state of Louisiana. 
In fact, anyone new to horse race betting will benefit from a full promotional lineup. Bettors in Louisiana can find BetMGM promo codes linked to certain incentive offers. These promo codes activate any available offers.
College Football Betting on BetMGM Sportsbook in Louisiana 
College football betting on BetMGM Sportsbook in LA is a popular pastime for many local bettors. There are levels of college football in the National Collegiate Athletic Association (NCAA). College football has a huge fan base in Louisiana.
Even if you've never bet on college football, BetMGM makes it straightforward with its easy-to-use app. 
Sports on BetMGM Sportsbook in LA
That's the thrilling thing about BetMGM in Louisiana – you can bet on lots of sports, but also leagues such as the NFL and NBA, among others. Apart from major sports leagues and games, such as football, with Louisiana sportsbooks, you can place wagers on many sports, some of which are:
Soccer. MLS, English Premier League, and UEFA Champions League A lot of research has to go into soccer bets. You have to understand the teams, and skills of the players and also keep up with player injury reports, transfer news, and other elements.
Golf. PGA Tour, PGA Tour Champions, LPGA Tour, PGA European. The fun thing about betting on golf is that there is always some unknown pro competing, with bettors believing they can get lucky with high odds.
Auto racing. NASCAR, IndyCar, and Formula One Auto are examples. Auto racing is one of the most popular sports in the world. There are a number of wagers that bettors can make on auto racing. Race winner is the most popular, where you simply bet on the winning driver.
Does BetMGM Sportsbook have an online casino? 
Yes, BetMGM Sportsbook has an online casino. It is one of the best online casinos in the USA. Apart from the intro bonus for new customers to BetMGM, you always get word of promotions to win even more. 
You can expect excellent game quality and variety. The online casino offers a great user experience with bonuses, promotions, and a variety of payment methods. It also offers features such as  –
prize draws, contests, and lots of huge cash prizes. In fact, the online casino has paid record-breaking jackpots.
Pros and Cons of BetMGM Sportsbook in LA
BetMGM Sportsbook is one of the highest-rated sportsbooks in LA and the rest of the USA. Bettors love the variety of sports and bet types. The cool thing about the sportsbook is that the only major drawback is that you must be at least 21 years old to join.
Every good thing has at least some cons, and we take a look at some pros and cons of BetMGM Sportsbook –
Pros:
BetMGM is one of the most trusted and established sportsbooks in the United States.
Competitive odds
Ongoing promotions
Many deposit and withdrawal methods
Mobile app is available for iOS and Android
Regular Bonuses on BetMGM Sportsbook in Louisiana 
BetMGM has an array of sports betting bonuses for those betting at the online sportsbook. We take a look. The terms and conditions on the main BetMGM Sportsbook Louisiana bonus are simply a case of placing a minimum bet of $10 on any game or sports event. 
Welcome Bonus: A common bonus offered by BetMGM sportsbook to new Louisiana customers when they sign up and make their first deposit. It often comes in the form of a matched deposit bonus, where the sportsbook matches a percentage of the initial deposit, providing extra funds for betting.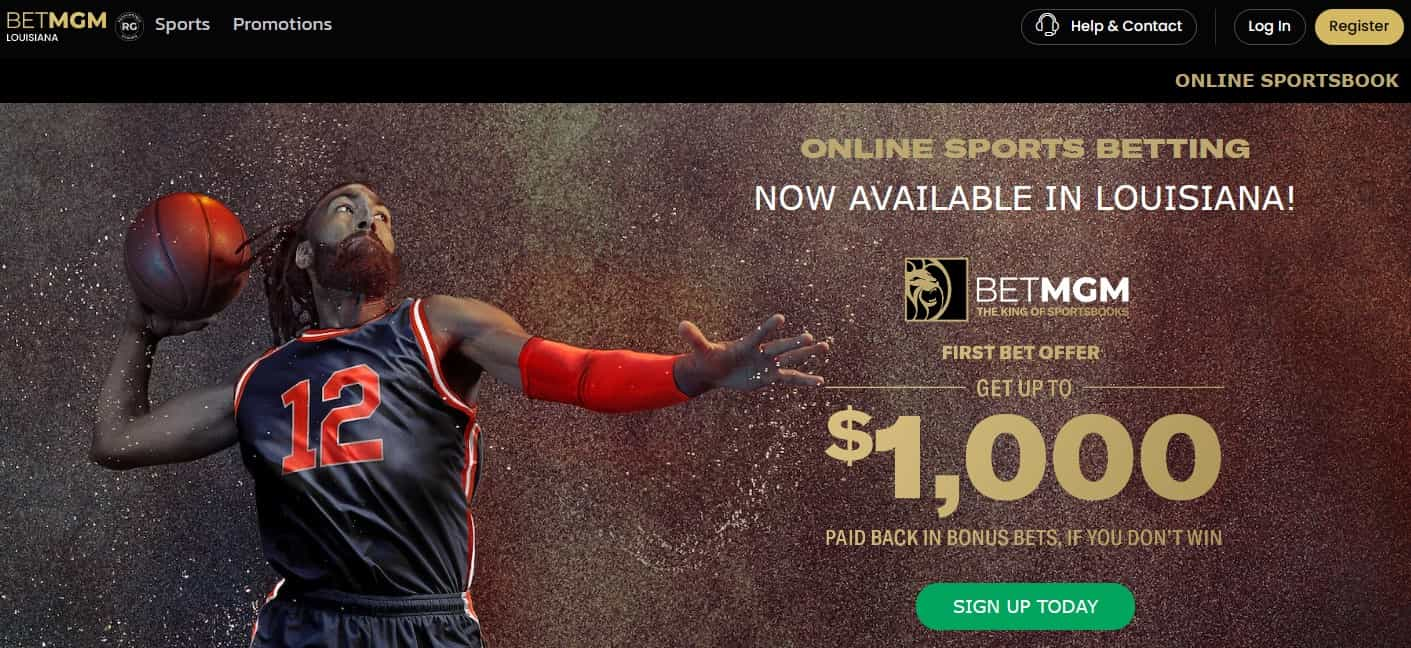 Free Bet Bonus: Free bet bonuses in LA give players a specific amount of free bets to use after meeting certain requirements, such as making a qualifying bet or deposit. Free bets allow bettors to place wagers without risking their own money, with potential winnings paid out as real cash or bonus funds.
No Deposit Bonus: A bonus that doesn't require any initial deposit. It provides new customers with a small number of bonus funds or free bets upon registration, allowing them to try out the sportsbook without spending their own money.
Reload Bonus: Reload bonuses are designed to reward existing BetMGM customers for their loyalty. It offers a bonus on subsequent deposits made after the initial deposit, encouraging bettors to continue using the sportsbook's services.
Cashback Bonus: With a cashback bonus, players receive a percentage of their net losses back as bonus funds. This type of bonus provides a safety net, reducing the overall risk of losing and giving bettors a chance to recoup some of their losses.
Enhanced Odds: Also known as price boosts or odds boosts, this bonus increases the odds on specific events or outcomes, providing higher potential winnings for successful bets. BetMGM Sportsbook in Louisiana often offers enhanced odds on popular games or high-profile events to attract bettors.
Accumulator Bonus: An accumulator, or parlay, bonus rewards bettors for placing bets on multiple selections. If all the selections in the accumulator win, BetMGM offers a bonus payout based on a percentage of the winnings, incentivizing players to take on higher-risk bets.
Refer a Friend Bonus: A refer-a-friend bonus encourages existing customers to refer their friends or acquaintances to join the sportsbook. When the referred friend signs up and meets certain criteria, both the referrer and the referred friend receive a bonus, typically in the form of free bets or bonus funds.
Remember to carefully review the terms and conditions associated with each bonus, including wagering requirements, minimum odds, and any time limitations, to ensure you fully understand how to qualify for and utilize the bonus effectively.
BetMGM Rewards member. You're automatically enrolled in MGM Rewards, the loyalty program of MGM Resorts. You can redeem Rewards Points for bonus credits toward casino, sports, or poker play at BetMGM. You can also convert them into MGM Rewards Points redeemable for complimentary entertainment, hotel stays, or food and beverages.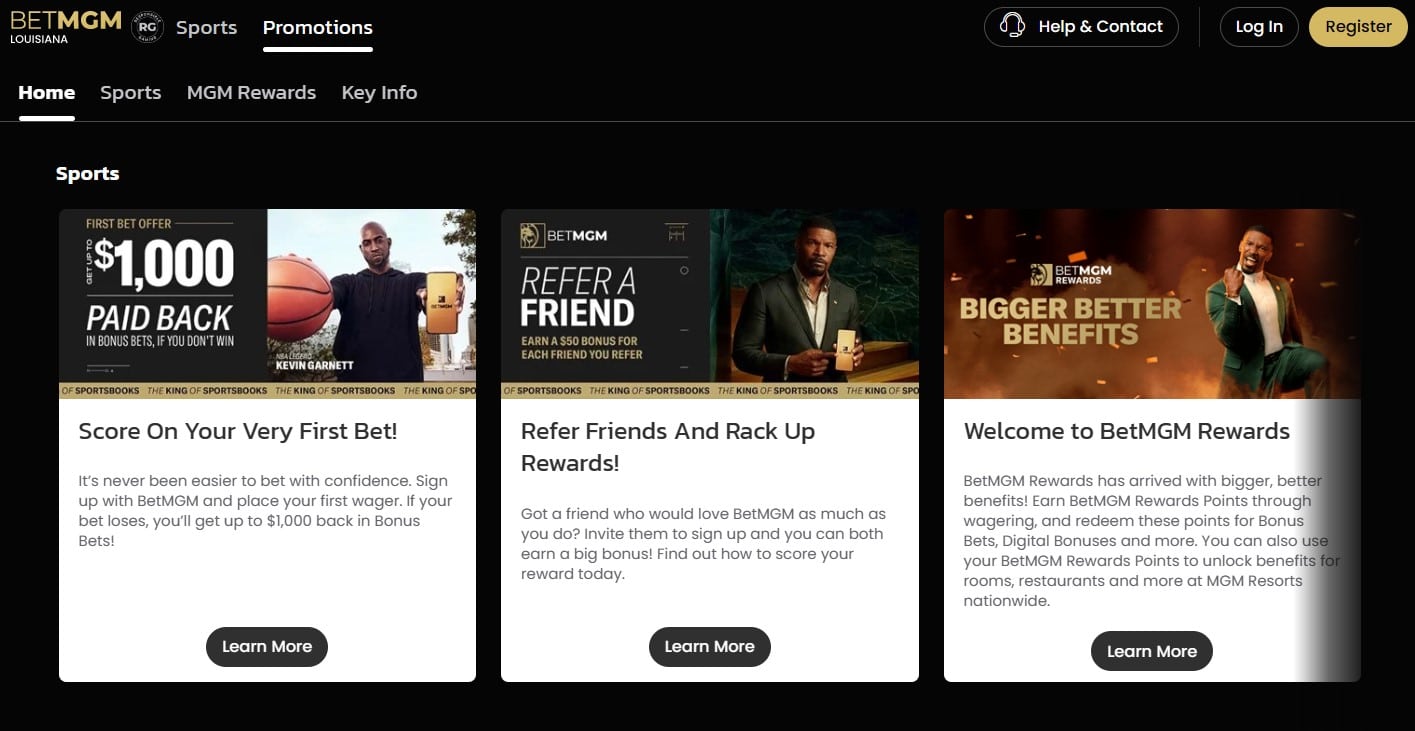 Types of Bets Available on BetMGM Sportsbook in LA 
BetMGM Sportsbook in Louisiana has all the usual bet types you will find on sportsbooks plus more.
Moneyline bet. Moneyline bets are the simplest bets, and they are always the first bets listed in a sportsbook. These bets vary in the odds they give, but they are generally simple to understand at a baseline level.
Spread bet. A spread bet is roughly a bet on how much the favorite team will win. With a spread bet, you allow the sportsbooks to make two unbalanced teams more balanced. They take points from their favorite team and give them to the underdog. They're labeled with a plus or minus. The minus means the team has to win by more than the number specified. The plus sign means the underdog team, and they must lose or win by less than the specified number.
Prop bet. Prop bets are wagers that often include individual player performance stats or team performance without affecting the final result. You can find different props available for various sports.
Parlays. A parlay bet is where several wagers are combined into a single bet, usually increasing the odds. Every leg of a parlay bet must hit to win. Here is an example of BetMGM's 'Easy Parlay' in the MLB:
Futures. You wager on events that will take place in the future. A typical example is the Super Bowl winner or World Series.
Teasers. With a teaser kind of bet, you can change the lines of two bets by a set amount. It's a wager where the bettor adjusts multiple totals in an advantageous way.
Over/Under. It's a bet on whether a statistic for a game will be higher or lower than a quoted amount. The most common type of over-under bet is on the combined score of two teams in a match.
How to Sign Up for BetMGM Sportsbook in LA
Louisania bettors can sign up for BetMGM Sportsbook in LA by following these steps. It literally takes just a few minutes.
Go to the BetMGM site or download the app

– The BetMGM app is available to install on Google Play. Once you download it, you simply click on the 'register' button in the top right corner to get started.

Register. You'll be taken through a typical sign-up process and asked to type in some information. If you're visiting Louisiana and you live in another state, still put in your real, permanent address. It is legal to bet when you're visiting Louisiana from another state. The information required will be – Name, address, date of birth, last four digits of the SSN.


Input promo code

: Once your account is verified, you will receive BetMGM's welcome offer. To take advantage of the bonus bet offer, you have to make a deposit of at least $10.

Deposit

– Click on 'Deposit' to add funds using your preferred method. Make your first cash bet. If you don't win, your account is credited with bonus bets equal to the amount of your loss within 72 hours. 

Place a bet. Once you're in the DK app, click on the bet that you want next to the team you want to bet on.
BetMGM Sportsbook Retail Location in Louisiana
There is no retail address mentioned, You can place bets online, and the state also has a number of retail sportsbook locations at racetracks and riverboat casinos, some of which include Delta Downs Racetrack and Golden Nugget Lake Charles Hotel & Casino.
Legal age for betting on BetMGM Sportsbook in LA?
The legal age for betting on BetMGM Sportsbook in LA is 21. BetMGM will require you to provide evidence that you are of legal age by asking you to provide either a photo ID or your social security number. You won't be able to withdraw any winnings until you have proved you are 21 or over.
FAQ
Is sports betting legal in Louisiana?
What sports will I be able to bet on in Louisiana?
Can I cash out with Betfred?