FOX Bet has emerged as a leading platform, offering residents of Indiana an exciting and seamless betting experience. In this article, we will delve into the various aspects of FOX Bet Indiana, including its pros and cons, how to sign up, what sports you can bet on, types of bonuses, and other info to help you start betting – such as the highly popular Fox Bet Super 6 game.
Fox Sports is the company behind FOX Bet Sportsbook in Indiana, which is of course, remains fully licensed and safe to play for Indiana residents. Offering a plethora of sports, competitive odds, and an easy-to-use interface, FOX Bet Sportsbook is packed full of features for Indiana bettors.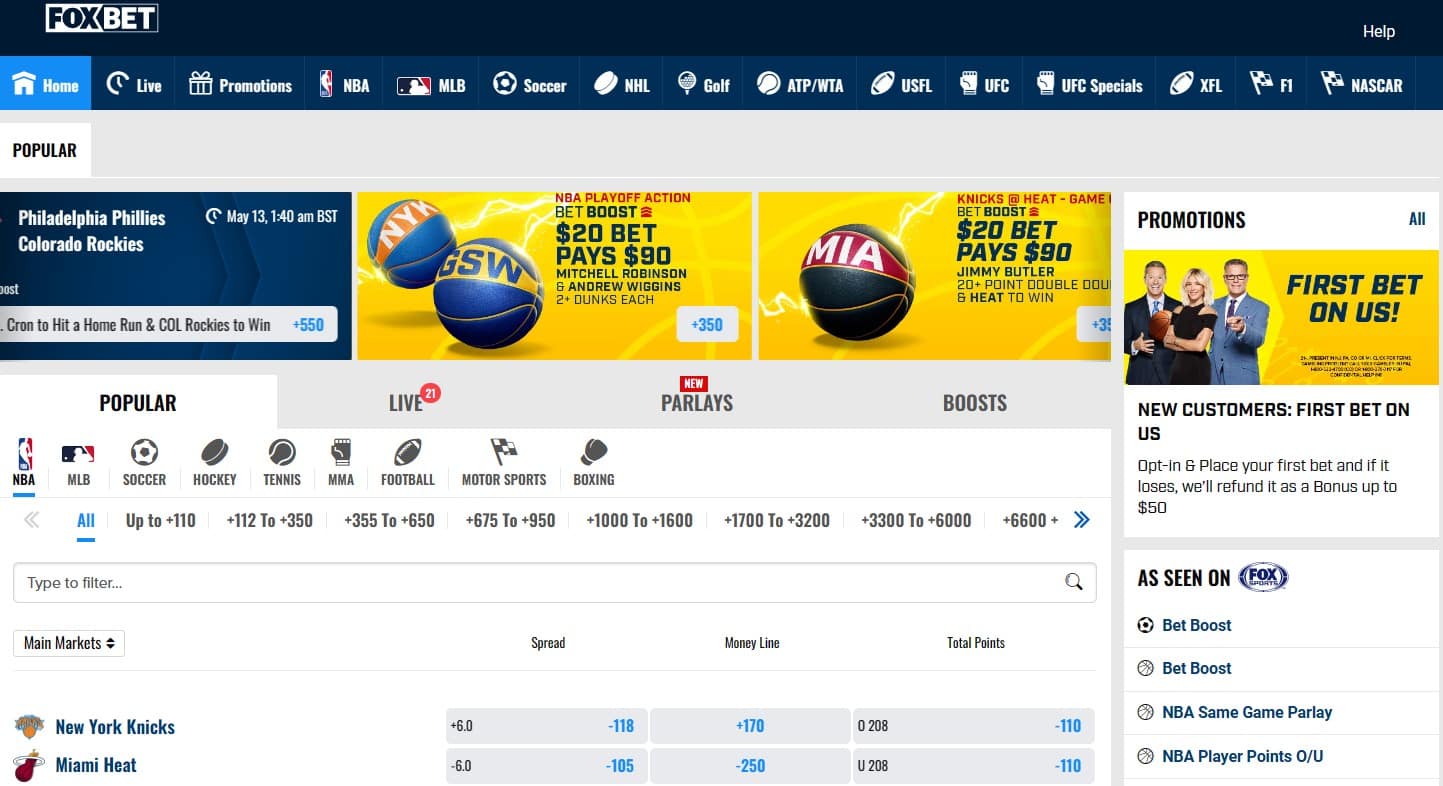 Is FOX Bet Legal in Indiana? 
Yes, Fox BET Indiana is legal. A  new law was implemented in Indiana, specifically Indiana Bill H 1015, to regulate both retail and online sports betting.
Currently, most of Indiana's physical casinos, including riverboat casinos, have introduced sportsbooks on their premises. Additionally, each live venue has the opportunity to apply for up to three licenses for online sports betting platforms.
Given its national partnership with Penn National Gaming, FOX Bet has established a licensing agreement with either Hollywood Casino in Lawrenceburg or Ameristar Casinos in East Chicago.
Timeline of FOX Bet Sportsbook Indiana 
Here is a timeline outlining the major events and milestones of FOX Bet in Indiana:
October 3, 2019: FOX Bet announces its entry into the Indiana sports betting market. The partnership between Fox Sports and The Stars Group (now Flutter Entertainment) brings the FOX Bet brand to Indiana.
September 1, 2020: Online sports betting officially launches in Indiana. FOX Bet is among the operators to receive a license from the Indiana Gaming Commission, allowing them to offer online sports betting services to Indiana residents.
September 3, 2020: FOX Bet Indiana goes live and becomes available to customers within the state. The platform offers a wide range of sports betting options and features, including live betting, competitive odds, various promotions and FOX Bet promo codes.
October 2020: FOX Bet Indiana continues to gain popularity among Indiana bettors, attracting users with its user-friendly interface and association with the well-known Fox Sports brand.
December 2020: As the NFL season reaches its peak, FOX Bet Indiana experiences increased user activity and engagement due to the platform's coverage of football events and various betting options.
March 2021: FOX Bet Indiana expands its offerings by adding new sports to its platform, including basketball, baseball, soccer, tennis, golf, hockey, and more. This expansion provides users with a broader selection of sports to bet on.
June 2021: FOX Bet Indiana introduces a range of bonuses and promotions to enhance the betting experience for users. These include welcome bonuses, free bets, odds boosts, reload bonuses, and potentially a VIP or loyalty program.
Available Sports on FOX Bet Indiana
FOX Bet Indiana covers a wide range of sports to cater to diverse interests. Some of the popular sports available for betting on the platform include:
Football (NFL, college football): FOX Bet provides an exciting range of betting options for football enthusiasts, covering both the NFL and college football. You can dive into the action by placing bets on point spreads, over/under, player props, and futures, adding a whole new level of excitement to every game.

Basketball (NBA, college basketball): With FOX Bet, basketball fans can elevate their game experience with a plethora of betting opportunities for the NBA and college basketball. From predicting game outcomes to engaging in live betting and exploring player performances, FOX Bet keeps you engaged and entertained throughout the season.

Baseball (MLB): Experience the thrill of America's favorite pastime with FOX Bet's comprehensive coverage of Major League Baseball (MLB). From placing bets on individual games to making season-long predictions, tracking player statistics, and more, FOX Bet offers a range of options that enhance your love for baseball.
Soccer (Major League Soccer, international leagues): FOX Bet caters to the passionate soccer community by providing extensive betting options for MLS and various international leagues. Whether you're predicting match results, goal totals, player performances, or engaging in tournaments, FOX Bet ensures that the excitement of soccer reaches new heights.
Tennis: Immerse yourself in the world of tennis with FOX Bet's betting options for major tournaments and matches. Whether it's the Grand Slam events or other high-profile competitions, you can place bets on match winners, set scores, and various prop bets, adding an extra layer of thrill and anticipation to every serve and volley.
Golf: FOX Bet takes your golf experience to a whole new level by offering a wide array of betting opportunities for professional tournaments. From predicting outright winners to following individual player performances, round outcomes, and more, FOX Bet brings the excitement of golf betting right to your fingertips.
Hockey (NHL): Get in on the fast-paced action of the National Hockey League (NHL) with FOX Bet's diverse range of betting options. From wagering on game outcomes to predicting player performances, goal totals, and other enticing prop bets, FOX Bet ensures that every NHL game is an exhilarating experience.
MMA (UFC): Step into the electrifying world of mixed martial arts (MMA) with FOX Bet's thrilling betting options, specifically focusing on the Ultimate Fighting Championship (UFC). Place bets on fight outcomes, round results, and other exciting prop bets to intensify your enjoyment of MMA events.
Motorsports (NASCAR, Formula 1): Rev up your excitement with FOX Bet's extensive coverage of motorsports, including popular events like NASCAR and Formula 1. Whether you're betting on race winners, podium finishes, driver matchups, or other race-related outcomes, FOX Bet ensures that the thrill of high-speed competitions is magnified.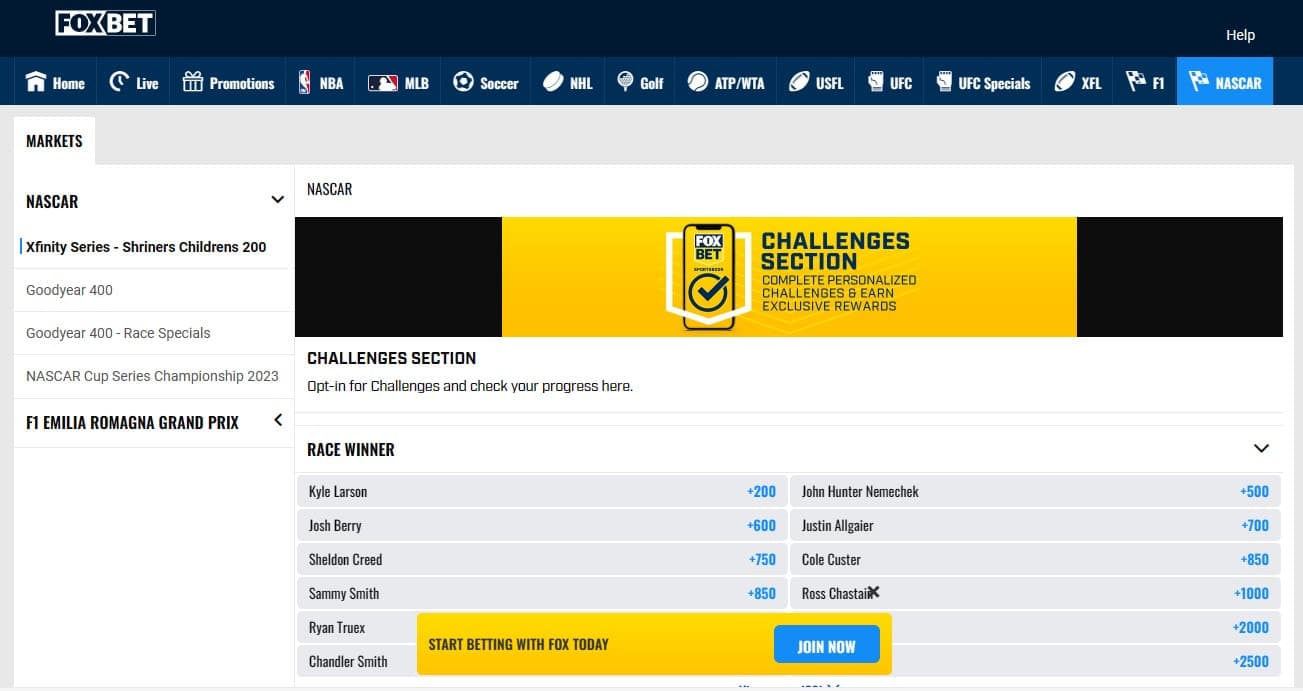 Boxing: Feel the adrenaline rush of boxing with FOX Bet's dedicated betting options. Whether you're predicting fight outcomes, round results, or engaging in other enticing prop bets, FOX Bet adds an extra layer of excitement to every bout, keeping you on the edge of your seat.
Rugby: FOX Bet caters to the passionate rugby community by offering a wide range of betting opportunities for various leagues and tournaments. From predicting match winners to exploring point spreads, player performances, and other intriguing prop bets, FOX Bet ensures that the thrill of rugby events is taken to new heights.
Cricket: Immerse yourself in the world of cricket with FOX Bet's exciting betting options, covering international matches, tournaments, and domestic leagues. Whether you're predicting match outcomes, tracking individual player performances, or exploring other cricket-related markets, FOX Bet enhances your love for the sport and keeps you engaged.
eSports: Join the ever-growing world of eSports with FOX Bet's comprehensive coverage of popular video game competitions.
Types of Bonuses Regularly Available on FOX Bet Indiana

FOX Bet Indiana offers a variety of exclusive bonuses and FOX Bet promo codes to enhance the betting experience and provide added value to its users. Here are some common types of bonuses you can expect to find on the platform:
Welcome Bonus

: You can often receive a welcome bonus upon signing up and making your first deposit on FOX Bet Sportsbook in Indiana. Welcome bonuses may come in the form of free bets, deposit matches, or risk-free bets.

Free Bets

: FOX Bet Indiana occasionally offers free bets, allowing users to place bets without using their own funds. If the bet wins, you receive the winnings, and a loss won't affect your account balance.

Odds Boosts

: Odds boosts bonuses increase the amount you will win if your bet comes in. FOX Bet Indiana offers odds boosts on a range of sports and games on a regular basis. 

Reload Bonuses

: Reload bonuses are specifically designed to reward returning players when they deposit – first-time not included. 

VIP and Loyalty Programs

: FOX Bet Indiana has a loyalty program that rewards you with perks, personalized offers, and exclusive perks, such as personalized offers, extra customer support, boosted odds, and more.

Free Games: FOX Bet Super 6 – Get all six picks right to win the jackpot! If nobody hits the jackpot, you can win thousands of dollars in guaranteed prizes.
Pros:
Interface ensures easy navigation
Wide range of sports
Same game parlays
Live betting and streaming
Competitive odds
Secure and trustworthy
Cons:
Withdrawal processing time
Odds could be more competitive
Notable Features on FOX Bet Sportsbook's App 
The FOX Bet app is amongst the best sports betting apps, and offers several notable features that enhance the overall betting experience for users.
Availability

: The FOX Bet app is accessible to both iOS and Android users. iOS users can download it directly from the App Store, while Android users have the option to download it from the FOX Bet website or the Google Play store – ideal for those looking to play the FOX Bet Super 6.

Speed

: The developers have put considerable effort into ensuring swift performance. Selected bets are promptly added to the bet slip, which is especially crucial for in-game betting. However, loading larger pages may take some time.

Stability

: Our experience with the app has been smooth, without any disconnections or noticeable lag.

Appearance

: The sportsbook app boasts an aesthetically pleasing design, reminiscent of the web-based platform. The combination of blue and yellow on a white background creates a visually appealing interface. The app utilizes space efficiently, minimizing unnecessary clutter.
View/Layout: The app offers a user-friendly layout without any distracting elements. Each major sport, such as NFL, NBA, and MLS, has its own dedicated tab, ensuring easy navigation. The home page prominently displays upcoming games. The bet slip is neatly organized within a hamburger menu, preventing visual overload. Accessing the help section and enabling the FOX Bet live chat feature is also straightforward. However, the home page has become busier due to the addition of FOX Sports-focused features.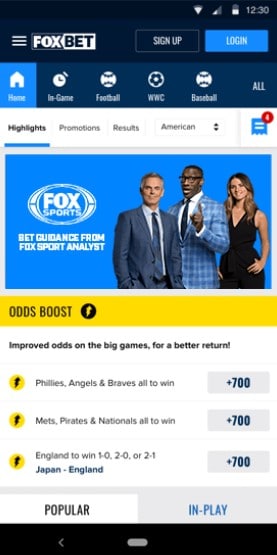 Responsiveness

: The app's buttons are highly responsive to touch, sometimes even overly so. Once users become accustomed to the sensitivity, this should not pose any issues.

Bet Slip/Building

: To place a bet, users first need to locate their desired event. Tapping on the desired wager prompts a betting slip to appear. At this point, users have two options. They can either place a single bet immediately or continue searching for additional bets to create a parlay (two or more selections) or round-robin (three or more selections) bet. The bet slip also allows users to remove bets effortlessly, with a simple tap of an icon.

Cash-Out Option

: FOX Bet Indiana provides a cash-out feature that allows users to settle their bets before the event has concluded. This feature gives you more control over your betting experience, enabling you to secure a portion of your potential winnings or minimize losses.

In-Depth Statistics and Insights

: The platform offers comprehensive statistics, analysis, and insights for various sports. These tools can assist you in making more informed betting decisions by providing valuable information about teams, players, and past performance.

Super 6 Free-To-Play Contest:

What is The Legal Age to Bet On FOX Bet in Indiana?
To engage in legal Indian sports betting on FOX Bet's Sportsbook, individuals must be at least 21 years old or above. It is essential to be physically located within the state's borders to place real-money bets. However, account deposits and management can be conducted from anywhere, irrespective of whether one is within Indiana or not.
Being a permanent resident of the Hoosier State is not a requirement for participating in sports betting activities.
How to Sign Up to FOX Bet Indiana:
Signing up on FOX Bet is a straightforward process:
Go to the FOX Bet website or download the mobile app from the App Store or Google Play Store.

Click on the "Sign Up" or "Join Now" button to initiate the registration process.

Provide the required personal information, including your name, email address, date of birth, and the last four digits of your Social Security number, as required by the Indiana Gaming Commission.

Create a unique username and password for your account.

Agree to the terms and conditions and confirm that you are of legal gambling age.

Complete the registration process by verifying your email address.

Bet on sports

FOX Bet Indiana Contact Details
To contact FOX Bet Sportsbook in Indiana, click the  "Contact" or "Support" section, usually found at the bottom of the page on the desktop and in the menu on the app.
Contact Options
24/7 Live Chat

: Look for a FOX Bet live chat icon or button on the website or app. Click on it to initiate a live chat session with a customer support representative who can assist you in real-time.

Email: If you prefer to contact FOX Bet via email, send your query to [email protected]
Phone Number:

Unfortunately, you can't contact FOX Bet Indiana by phone.

Social Media: FOX Bet responds to customer queries on its Twitter: https://twitter.com/FOXBetCare
Deposit and Withdrawal Options on FOX Bet Indiana
FOX Bet Indiana offers many deposit and withdrawal options for local bettors. Here are some of the most popular ways Indiana bettors add and withdraw funds to and from their FOX Bet accounts: Apple Pay, Rapid Transfer, Skrill, Netelle, Visa, Mastercard, Mypaysafecard, Wire transfer, Direct Bank Transfer & Trustly.
| | | |
| --- | --- | --- |
| Method | Deposit | Withdrawal |
| Visa | ✓ | ✓ |
| Mastercard | ✓ | ✓ |
| PayPal | ✓ | ✓ |
| Skrill | ✓ | ✓ |
| PayNearMe | ✓ | ✗ |
| VanillaDirect | ✓ | ✗ |
| Instant eChecks | ✓ | ✓ |
| Instant Bank Transfer | ✓ | ✗ |
Final Thoughts
In conclusion, FOX Bet Indiana has established itself as a leading platform in the state, offering residents a seamless and exciting chance to place a FOX sports bet. With its user-friendly interface, a wide range of sports, competitive odds, and a secure platform, FOX Bet Indiana provides a comprehensive betting solution for Indiana bettors.
One of the standout features of FOX Bet Indiana is the diverse selection of sports available for betting. From football, basketball, and baseball to soccer, tennis, and golf, the platform covers a wide array of sports to cater to different interests. Users can enjoy live betting, access in-depth statistics and insights, and even participate in eSports betting.
While there are some areas for improvement, such as withdrawal processing time, the overall experience on FOX Bet is positive. With a stable and responsive app, easy navigation, and multiple deposit and withdrawal options, FOX Bet ensures that users can enjoy a convenient and enjoyable betting experience.
Can you win real money at FOX Bet?
What casino games does FOX Bet offer?
Is there a Rewards system in the casino?
Does FOX Bet offer a downloadable mobile app?
Can I deposit using Bitcoin at FOX Bet?
How long are withdrawals at FOX Bet?
Is there a welcome bonus at FOX Bet?