Hey, there sports fans in Maryland! If you're curious about whether you can bet legally on your favorite sports teams online, you're in luck. In this article, we'll cover all the information you need to know. Everything from legal aspects, how to place a bet, Maryland teams you can place a bet on, and other questions you may have, have been covered.
Can You Bet On Sports Legally in Maryland?
Yes, you can bet on any sport legally in Maryland. Maryland voters approved a ballot initiative to legalize sports betting sometime in 2021. The state legislature passed a bill outlining the rules for online sports betting in Maryland for the same year. Do bear in mind, though, that you can only use licensed bookmakers in the state to place bets. The Maryland Lottery and Gaming Control Commission will be in charge of regulating sports betting now that Governor Larry Hogan has officially passed the legislation into law.
Best Sportsbooks in Maryland
Maryland bettors are able to bet on their favorite sports teams through many of the state's sportsbooks. Find out all you need to know about the available sportsbooks in Maryland below.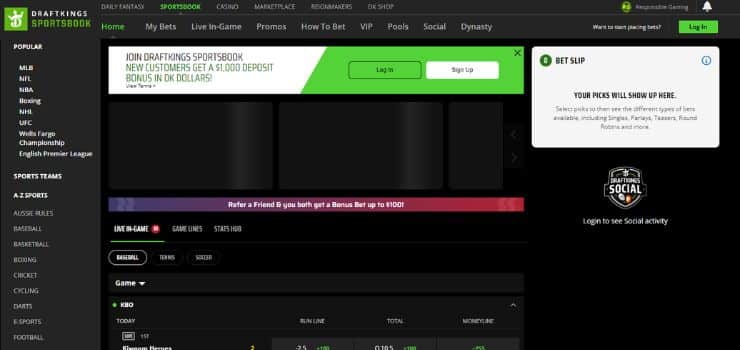 DraftKings Sportsbook in Maryland is jam-packed with features for sports bettors. Originally DK Sportsbook was only for Daily Fantasy Sports but has since grown into an all-around sportsbook that is a favorite across the US.
Live betting is one one the key features that DK Sportsbook excels in. You can check out betting markets and the latest odds for games that are live. Not to mention, DraftKings also offers a selection of live-streaming options for many sports but with a particular focus on the NFL and NASCAR leagues, which is ideal for bettors seeking popular types of NFL betting markets.
DraftKings is the place to be if you want to place a bet on Daily Fantasy Sports in Maryland, and you can do it for as little as $1. Those with a bigger bankroll can place wagers on DFS up to $5000.
Pros:
Pros
Early cash-out feature
Live streaming of many games
Online casino for Maryland bettors
Stellar reputation across the US
Cons:
Reward system can be difficult to understand
No phone support
2. Barstool Sportsbook – All-Round Awesome Sportsbook Packed With Features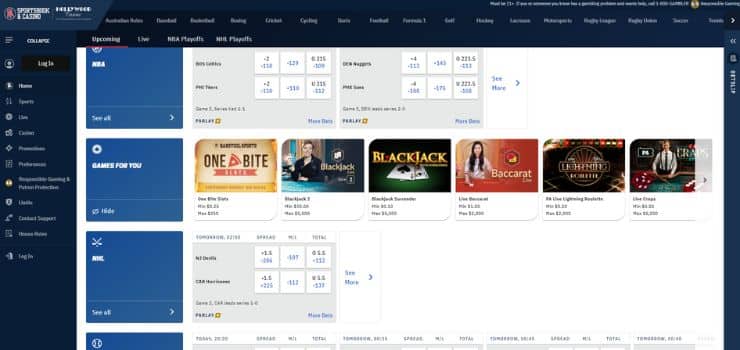 Barstool Sportsbook launched in Maryland on November 23rd, 2022. Sports bettors in Maryland can take advantage of Barstool's high welcome bonuses that are usually available for new sign-ups. Excellent features you will find on Barstool Sportsbook in MD include live betting, Quick Pick 6, and early cash-out.
Bonuses on Barstool are unique compared to other sportsbooks in Maryland. Bettors benefit from good sign-up bonuses and ongoing promotions. You can usually find daily promotions on the Barstool Exclusive tab which can be easily found on the homepage.
Barstool also offers a live betting tab in which you can bet on a plethora of different sports as they are happening. You will find sports from all over the world including European soccer, men's and women's tennis, boxing, and many more. Expect to find all the mainstream sports on Barstool along with more obscure sports like table tennis and squash.
Pros:
Sleek and user-friendly site and app
Same game parlays available
Generous welcome bonuses
Ongoing promotions for regular bettors
Cons:
Odds are low compared to other MD sportsbooks
3. FanDuel Sportsbook – Play Against Your Friends With The Face Off Feature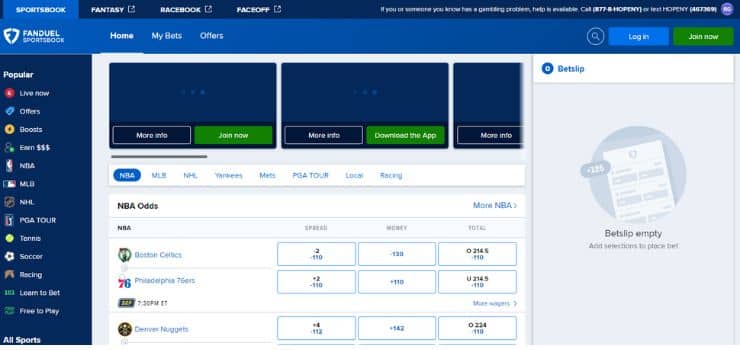 FanDuel Sportsbook in Maryland launched when online sports betting became legal in the state on 23rd November 2003. Getting in early, and being one of the most recognizable sportsbook brands in America helped FanDuel become one of the top Maryland sportsbooks in the state.
Find a plethora of sporting markets available on FanDuel Sportsbook with many different teams available to choose from. Bettors can opt for the sportsbook, Daily Fantasy Sports, horse race betting, or check out the FanDuel online casino. Switching between each betting type is quick and easy on FanDuel's simple-to-use website.
Face Off is a popular feature with Maryland bettors on FanDuel Sportsbook. Compete against random players or your friend for cash prizes by playing some of your favorite games.
Pros:
Horse race betting is available
Create custom parlays
Uncluttered and easy-to-use interface
Cons:
Loyalty program lacks compared to other sportsbooks
4. BetMGM Sportsbook – Awesome Live Streaming Feature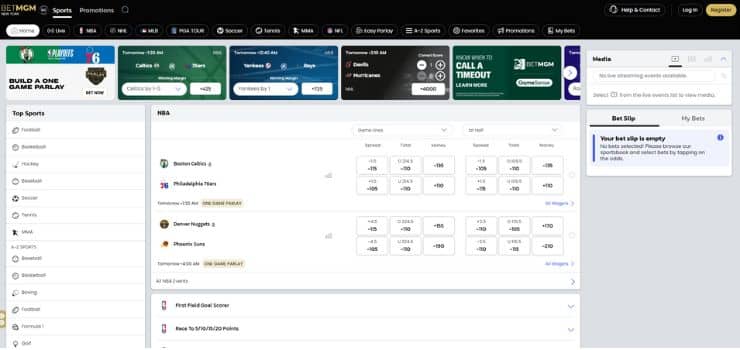 BetMGM Sportsbook joined the rest of the top Maryland sportsbooks in the country by launching in MD on the 23rd of November 2023. Part of the MGM Resorts brand, the US online sportsbook is available in most states including Maryland.
Choose from a plethora of sports markets to bet on including the NFL, NHL, NBA, college football, and many more. Live streaming is usually available for major sports games and you can bet on the games live with the latest competitive odds.
Find the latest bonuses and promotions by clicking the 'Promotions' tab on the menu. You can usually get bonuses for specific games, big tournaments, or discounts to use at the BetMGM resorts.
Pros:
Live streaming for many games and sports
Online casino is available
Competitive odds on all sports
Cons:
User interface isn't great
Restrictions on account if consistently winning
5. Caesars Sportsbook – Staple in the American Sports Betting World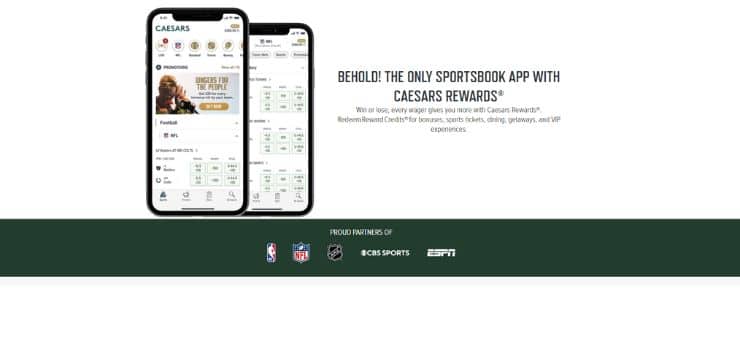 Caesars Sportsbook in Maryland is a favorite amongst local bettors who can have peace of mind they are betting with a well-known brand in the American gambling industry. The retail sportsbook is the biggest in the US, and since Caesars decided to get in on the Maryland sports betting online market they have continued to improve and compete with the best in the market.
Caesar Rewards is a unique points system that awards bettors even when they lose. Points can be used for gifts, cash back, or used at Caesars retail location.
Offering a wide range of betting options, Caesars Sportsbook includes moneyline bets, point spread bets, over/under bets, prop bets, and futures bets. Users can also bet on live games with in-play betting options.
Caesars Sportsbook mobile app is available for both iOS and Android devices, offering users a convenient way to place bets on the go. The app has a user-friendly interface and offers all the same features as the desktop version of the betting platform.
Pros:
Unique rewards system
Part of the biggest retail sportsbook in the US
Live betting feature
Cons:
Live betting can lag if high traffic
6. BetRivers Sportsbook – Attractive Bonuses For New and Returning Players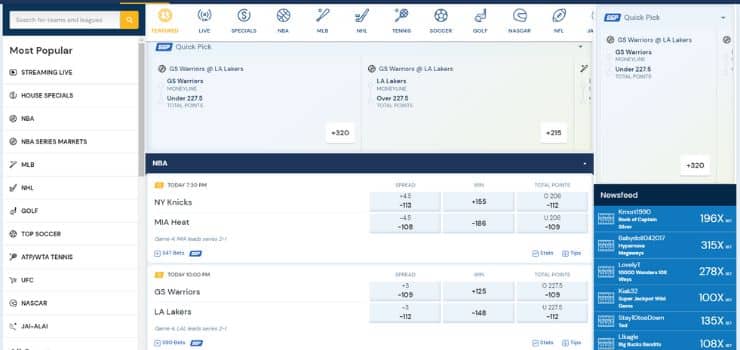 BetRivers Sportsbook in MD provides a seamless betting experience for users who wish to place bets before or during a sporting event. Packed full of sports betting Maryland features including live betting and streaming, no maximum bet, sports betting bonuses for new and returning users, and a plethora of sports to bet on.
The platform offers various betting options, including the ability to watch live streams and place bets simultaneously, making it a one-stop shop for Maryland sports betting online enthusiasts.
BetRivers has one of the best sports betting apps that can be downloaded on Apple and Android devices, allowing Maryland bettors to place bets at the touch of a button.
Pros:
Awesome ongoing rewards and promos
Live betting feature
Beginner-friendly app
Cons:
Bet slip section looks clogged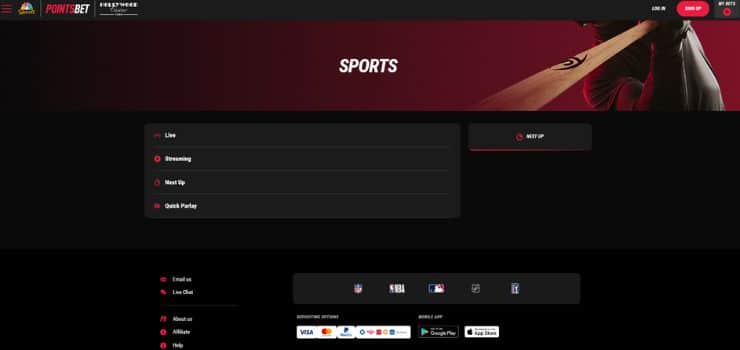 PointsBet Sportsbook in Maryland is a perfect platform for new bettors looking to try their hand at sports betting. Catered to more of a fun and casual bettor, PointsBet offers some great bonuses on signing up.
All your favorite Maryland sports teams can be found on PointsBet, with live betting and streaming features that allow you to place wagers on games as they are happening with the latest odds.
What makes PointsBet stand out from other Maryland sportsbooks is the PointsBetting system. If your bet wins by 3 units, you will win 3 times your initial wager. This goes for whatever amount of units you win by.
The downside to the PointsBetting system is that it also works the same if you lose. If your bet loses by 3 units, you lose 3 times your initial bet. Many bettors enjoy the risk/reward factor of PointsBetting as it can make Maryland sports betting even more exciting.
Pros:
Unique and exciting PointsBetting system
Beginner-friendly
Ongoing promos and bonuses
Live betting and streaming features
Cons:
Website on a desktop can be slow
8. BetFred Sportsbook – UK Sportsbook Breaking Into The US Market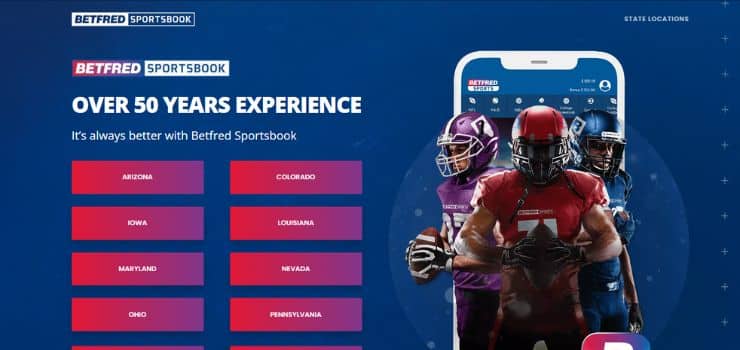 BetFred Sportsbook in MD has grown in popularity after launching in the US quite recently. New to America, but well-known across the pond, Betfred has been around since the 60s in the UK. All the sports you would expect to see on any decent Maryland sportsbook are available. Sticking to its roots, you will have a plethora of European soccer betting markets to wager on.
Maryland bettors can bet on the website or download the Android app or app from the Apple Store. All three are designed with the user in mind as the platform is fresh and easy to find what you're looking for.
Live betting is available with the latest odds updated constantly. Betting odds offered on BetFred Sportsbook in Maryland are competitive with all the big-name sportsbooks in the state. Currently, BetFred doesn't have an online casino in Maryland or anywhere in the US.
Pros:
Fresh looking design
Plethora of soccer betting markets
Cons:
Live features can be slow on app
No online casino
How to Bet on Sports in MD
Are you ready to place a bet on your favorite Maryland team? We've outlined a step-by-step guide to help you get started on placing a bet online in Maryland.
Find a Maryland Sportsbook – First things first, you'll need to find a licensed sportsbook in Maryland. Maryland has tons of sportsbooks where you can place bets physically or online. Some popular online options include BetMGM, Draftking, PointsBet, Barstool, Betfred, BetRivers, and FanDuel sportsbook. Some of these Maryland sportsbooks also have mobile apps that make it easier to be up to date with games while you place your bets.
Sign up – Once you've found a sportsbook that you like, you can now create an account where you can place your online bets. You'll need to provide some basic personal information as you sign up. It's nothing more than your name, date of birth, and email address.
Enter a Promo Code – Many Maryland sportsbooks offer promo codes for new users that can give them free bets or other bonuses. Enter those promo codes when signing up so you can take advantage of such offers and bonuses. We also covered some of the bonuses that you can take advantage of.
Deposit – Next, you'll need to fund your account. You can fund your account by using any of the payment options available. Sportsbooks like BetMGM offer bank transfers, debit or credit cards, and Paypal as options.
Bet on Sports – Now that you've funded your account, you are ready to place your bet. Sportsbooks like BetMGM, Fanduel, and Barstool, offer a wide range of betting options, including moneyline bets, over or under bets, and much more – it's also worth noting that smart bettors stick to the sharpest sportsbooks.
Popular Maryland Teams to Bet On
If you're confused and don't know which team to bet on, here are some popular Maryland teams to consider if you're looking to place a bet.
Washington Commanders: The Washington Commanders are a football team based in the Washington metropolitan area. They play in the National Football League, NFL, as a member of the National Football Conference, NFC, East Division. The Commanders play their home games at FedXField in Maryland's Landover. The commanders are valued by Fobes at $5.6 billion, making them the league's sixth most valuable team as of 2022.
Baltimore Ravens: Baltimore Ravens are another professional NFL team. Since they were founded in 1996, they have taken home two championships. They also have a history of multiple titles and playoff appearances. M&T Stadium hosts their home games.
Delmarva Shorebirds: Delmarva Shorebirds are a minor league baseball team that plays in the South Atlantic League. Their home field is in Salisbury. They play their home games at Arthur W. Stadium. Since they were founded, they've won two South Atlantic League championships, in 1997 and 2000. They were named MiLB.com team of the year in 2019.
Baltimore Orioles: Baltimore Orioles are one of America's professional baseball teams. They're based in Baltimore and they participate in Major League Baseball (MLB) as an American League East Division member club.
Maryland's Terrapin's Men's Basketball Team: The University of Maryland's men's basketball team, the Maryland Terrapins, competes in NCAA Division I competition. Kevin Willard is the team's head coach and the team's home games are held at College Park, Maryland's XFINITY Center. The 2023-24 roster has lined up their star players, including Donta Scott, Jahmir Young, Julian Reese, and Ian Martinez.
Types of Online Maryland Sports Betting Bonuses
With the betting industry booming in the US and over $60 billion wagered in 2022, here has never been a better time to open an account and take advantage of the available bonuses.
Online betting sportsbooks in Maryland offer various bonuses that are designed to attract new users and retain existing ones. These bonuses are as good as they sound. These are a few examples of such Maryland online sports betting bonuses you'll find at the state's sportsbooks:
Sign-up bonus: Sportsbook will give new clients a sign-up bonus in exchange for opening an account. Free bets and no deposit bonuses are all possible bonus options when you sign up.
No-Risk Bonus: A no-risk bonus is an incentive that sportsbooks give to new users that ensures them a refund in the event that their initial bet is unsuccessful. This means the sportsbook will refund you your money if you lose your first bet.
Free Bet Bonus: Free bet bonuses are a kind of bonus offer that sportsbooks give their first-time users so they can place a bet without risking any of their own money. It's like a gift from the sportsbook to you. They give you some money to place your first bet, this way you can try betting without risking your own money.
Cashback bonus: A cashback bonus is a kind of bonus a sportsbook offers customers that gives them a percentage of their losses back in the form of a bonus. The bonus is typically credited to the user's account within a certain time frame. This means if you lose a bet, you'll get it back within a specific time.
Boosted Odds Bonus: A bonus with boosted odds is a promotional type where the odds for a certain bet are increased, potentially increasing the user's rewards. Usually, a customer who chooses this bonus gets something more than they were meant to, if they win a bet.
Matched Bet Bonus: Matched bet bonuses are another promotional sort of bonus where a customer gets a free bet that is equal to the amount of their first bet. So, if you bet $10 on a team, you get another $10 bet for free.
Matched Deposit Bonus: Another bet promotion where the sportsbook matched a percentage of your first deposit, up to a certain amount. If you deposit $100 and the sportsbook offers a 50% matched deposit bonus, you'll get an extra $50 to bet with!
Can you Bet On Horse Racing Online in Maryland?
Yes, you can legally bet on horse races online in Maryland.
The Preakness Stakes, one of the three races in the Triple Crown, is held every year at Pimlico Race Course. It's one of the many tracks in Maryland where you can place bets on horse races, which can also be done through online sportsbooks that offer horse race betting. And, if you're after some pointers then check out some horse racing betting systems and strategies.
You can place bets on horse races in sportsbooks like DraftKings, BetMGM, PointsBet, and TVG. Bear in mind that TVG does not offer a wide range of Maryland sports betting options but rather focuses on horse racing specifically.
Legal Age for Online Sports Betting in Maryland?
Who regulates online sports betting in Maryland?
Can you bet on college sports in Maryland?
Timeline of Sports Betting in Maryland
Online sports betting in Maryland has come a long way since it was put forward by legislators. The battle to fully legalize sports betting in the state wasn't easy. Let's look at some of the key dates for Maryland bettors being allowed to bet on their favorite sports teams.
November 2020 – Legalizing Maryland sports betting is overwhelmingly voted in favor of
February 2nd, 2021 – Sports betting House Bill 940 is put forward for legislators to consider.
May 2021 – Bill 940 is signed by Governor Larry Hogan, officially legalizing sports betting in Maryland.
December 2021 – Maryland launches in-person sports betting.
June 2022 – Gov. Hogan calls on SWARC to finally allow online sports betting in MD.
September 2022 – Maryland sports wagering panel is created to accept and reward applications from betting operators in the state.
November 16th, 2022 – 10 betting operators are awarded a license by the Sports Wagering Application Review Commission.
November 21st, 2022 – Online sports betting has a 'soft launch' in Maryland.
November 23rd, 2022 – Online sports betting is officially launched in Maryland.
February 6th, 2023 – Senate Bill 620 is put forward, preventing higher education establishments from being sponsored or entering into a contract with online Maryland sports betting companies. On the same day as Bill 620 is introduced, another bill is spearheaded to oversee all sports betting-related content in the state of Maryland. Bill 621 will allow the Maryland Lottery and Gaming Commission to accredit influencers and betting experts, etc. licenses, and permission to publish content.
Maryland Online Sports Betting Conclusion
Since it became legal in 2021, Maryland online sports betting has really taken off in the state. You can quickly and securely place your bets thanks to the large selection of online sportsbooks available.
Remember to do your research and choose a reputable sportsbook that offers a wide range of betting options and bonuses before you start placing bets.
Don't be irrational when betting and bet responsibly. Set limits for yourself and never bet more than you can afford to lose. Even if certain bonuses can afford you a little percentage in return.
To ensure a safe and enjoyable betting experience, it is important to stay up to date on the latest laws and regulations as the industry keeps growing and changing while also abiding by the current laws and regulations.